Today's special #JulyWhole30 guest post is from Melissa Joulwan, author of Well Fed cookbook series and bloggess at The Clothes Make the Girl
Great Ingredients: No Recipe Required
I love the process of making up new recipes or devouring other peoples' cookbooks for inspiration, shopping for the perfect ingredients, and spending a few hours playing in the kitchen, but when life gets very busy or stressful, I need to make my kitchen time as simple as possible. Sure, I want our food to taste good, but I don't have the time or inclination to be super creative when life's a pressure cooker. Sometimes you just gotta eat.
Yesterday, I rubbed a whole chicken with za'atar and garlic, threw it (literally! I threw it!) into the slow cooker, and 4 hours later, plucked the meat from the bones and shoved it in the refrigerator. As unglam as that sounds, today it was part of a very delicious, very nutritious, very fast lunch. Alongside the chicken on the plate, we had hearts of palm, Persian cucumber, and a handful of fresh cherries that were super plump and tart.
That on-the-fly meal got me thinking: maybe other busy people ould also like some ideas for delicious meals — that don't require a recipe — that you can throw together from whatever ingredients you have on hand. As a cookbook author, it might seem nutty for me to say this, but you don't need a recipe to prepare stunningly tasty food. I give you… Great Ingredients: No Recipe Required.
Great Ingredients: The Shopping List
To improvise meals from Great Ingredients, you first need to have your kitchen stocked with Great Ingredients. I'm assuming you know already that you need to have protein ready to go — grilled/roasted chicken, grilled steak, a bunch of browned ground beef, a pork shoulder that's been roasted in a slow cooker (all of which can be cooked simply with salt, pepper, and garlic powder), canned salmon/tuna/sardines/smoked oysters, hard-boiled eggs — these are all your basic protein pals. To go along with them, here are some ideas for veggies and condiments that elevate your plate from blah to BLAM!
Canned/Jarred Goodies
hearts of palm
artichoke hearts
roasted red bell peppers
asparagus
black & green olives
pickles and/or cornichons
pepperoncini
(By the by, if you took all of the things in the list above and tossed them in a bowl with extra-virgin olive oil, vinegar, salt, and pepper, you would have a delicious chopped salad that would complement any cooked meat. Just sayin'…)
Pantry Goodies
whole nuts: almonds, macadamia, Brazil, pistachio, cashew, pecan, walnut
pepitas
coconut flakes
dried apricots
raisins
extra-virgin olive oil
great vinegars: balsamic, cider, champagne, rice
salsa
Produce Goodies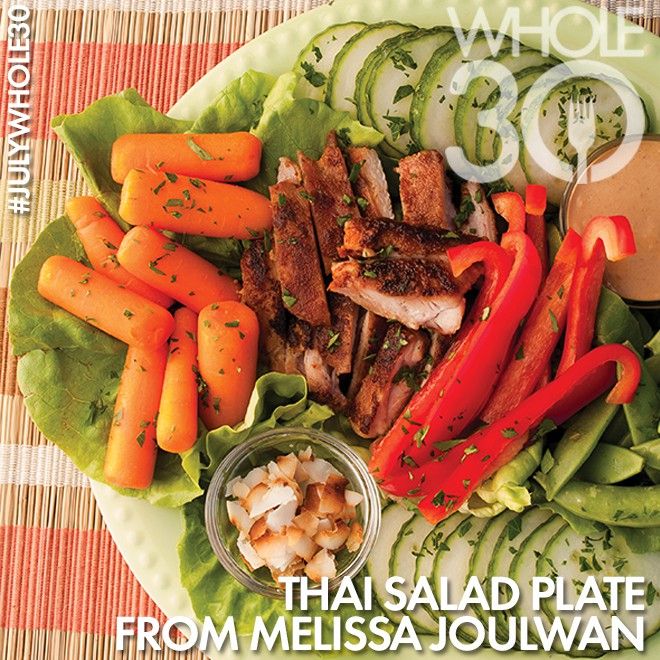 Great Ingredients: Cold Composed Plates*
*NOTE: Some of these ideas are made better by having a delicious sauce on the side, which may require recipe, unless you already have it memorized (Hello, Sunshine Sauce! Hey, Paleo Olive Oil Mayo!) or are willing to just wing it and experiment on your own.
At times of extreme business and/or stress, I love meals that come together fast and can be eaten cold or mostly cold. But here's the thing: If I call my meal a "salad," I feel deprived. Instead, I play a mental trick on myself and call it a "Thai Salad Plate" or an "Antipasto Plate." Suddenly, I feel like I'm dining in some totally kickass café where they only serve food I like.
With the ingredients listed above, you could make dozens of combinations, based on your preferences. Here are just a few ideas to get you started — obviously, you can make whatever combos your imagination and refrigerator serve up:
Thai Salad Plate (pictured): cooked chicken, cucumber, carrots, Caramelized Coconut Chips, Sunshine Sauce
Country Chicken Platter: cooked chicken, red grapes, raw green bell pepper, seedless cucumber, little pickles
Middle Eastern Feast: cooked chicken, tahini dressing, cucumbers, olives, dried apricots, almonds
Cuban Platter: roast pork; pan-fried plantains; diced avocado and tomato; raisins & pepitas mixed together with salt
Nearly Nicoise: tuna, steamed green beans, black olives, hard-boiled egg, minced parsley, drizzled with extra-virgin olive oil or a dollop of mayo
Vietnamese Platter: cooked steak or ground beef; slaw of red bell pepper, carrot, cabbage with rice vinegar & fish sauce; minced mint & basil; cashews
Antipasto Plate: sardines, roasted red peppers, olives, pepperoncini, hearts of palm, artichoke hearts; drizzled with the oil from the sardines; minced parsley
California Plate: cooked chicken, hard-boiled egg, avocado, pepitas, raisins, artichoke hearts
Smoked Salmon Platter: smoked salmon, hard-boiled egg, olives, cornichons, bell pepper strips & cucumber spears, blueberries & blackberries
Mexican Fiesta: chicken/pork/steak, olives, avocado, salsa, jicama strips, bell pepper strips… sprinkled with lime juice & fresh cilantro; pepitas on the side
Plus… you can always make tuna salad, salmon salad, chicken salad, or egg salad with homemade mayo, and surround it with raw veggies and pantry yummies like hearts of palm, artichoke hearts, roasted red peppers, etc. and make a beautiful deli platter.
Great Ingredients: Diner Plates
I grew up in rural Pennsylvania during the late '60s and early '70s, so I ate in a lot of diners. And every menu included what I think of as a "diner plate:" meat, starch, vegetable, salad. It may occur to you as you read that that (a) it looks familiar and (b) it's not a bad way to go. While diner plates may not seem as sexy at first glance as Paleo Pad Thai or Bora Bora Fireballs, they're high-quality meals that are good for you… kind of like the good guy in a romantic comedy who wins the girl in the end.
Just pick your protein, add a reasonable amount of starchy veg*, toss a steam-sautéed veggie with fat and garlic, and serve a salad on the side, dressed with vinegar, olive oil, salt, pepper, and za'atar. So easy; so good!
*Sweet potato shortcut: Wash a sweet potato and poke it with a fork a few times. Wrap it in a paper towel and microwave 8-10 minutes, until it yields to pressure when you squeeze it. Cut in half and top with duck fat, coconut oil, or ghee — or cut into 1/2-inch cubes and quickly brown in a skillet with your fat of choice and a healthy sprinkling of salt.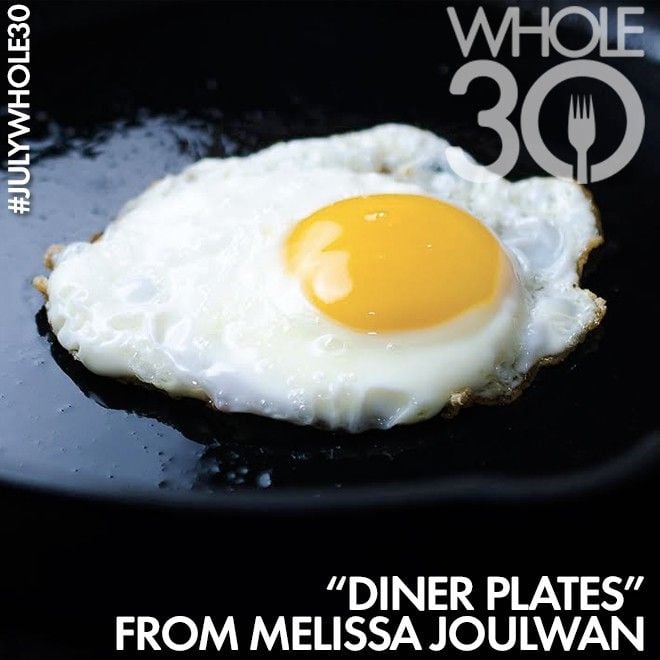 More 'Great Ingredients' Ideas
Finally, here are a few non-recipe recipes from some of my favorite paleo people to help you enjoy a Great Ingredients Dinner.
Plus…
---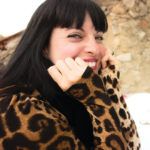 Melissa Joulwan is the author of the Whole30-approved cookbooks Well Fed: Paleo Recipes For People Who Love To Eat and Well Fed 2: More Paleo Recipes For People Who Love To Eat, and the blog The Clothes Make The Girl where she writes about her triumphs and failures in the kitchen, in the gym, and in life. Connect with her on Facebook, Twitter, and Instagram.
Melissa Urban
Co-Founder / CEO
Melissa Urban is a 7x New York Times bestselling author (including the #1 bestselling The Whole30) who specializes in helping people establish healthy boundaries and successfully navigate habit change. She has been featured by the New York Times, People, the Wall Street Journal, Forbes, The Today Show, and Good Morning America, and is a prominent keynote speaker on boundaries, building community, health trends, and entrepreneurship. She lives in Salt Lake City, UT with her husband, son, and a poodle named Henry.