This is the fifth (bonus!) post in our Instant Pot Pressure Cooker recipe series. This counter top appliance is popular among our Whole30 community, and Whole30 compatible Instant Pot recipes are one of our most-requested resources on social media. Sarah Steffens, our in-house recipe creative, is sharing her favorite recipes for nourishing, delicious Instant Pot dishes—Whole30 compatible, of course!
Our Whole30'ers in the Northern Hemisphere are currently smack in the middle of summertime. In most places, that means the goal becomes: use the oven as little as possible. One strategy is to do most of your Whole30 meal prep on the grill (if you missed last week's Whole30 kabob recipe, you can snag it here!). Another idea is to do as much cooking as you can in your Instant Pot.
[Tweet "Summery + light Fresh Dill Chicken Salad for these hot summer days! Recipe on the #Whole30 blog now."]
With that in mind, we're sharing this fresh and delicious chicken salad recipe from Sarah Steffens, the perfect light yet satisfying Whole30 lunch for those hot and humid summer days.
Fresh Dill and Walnut Chicken Salad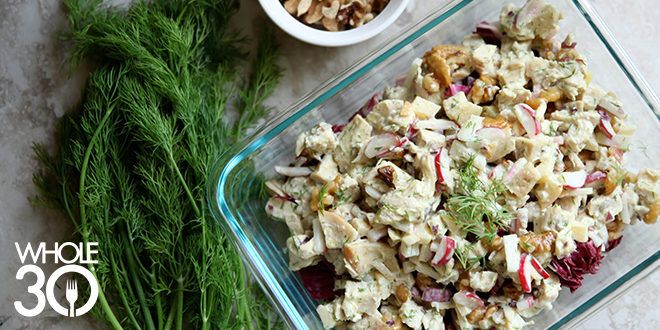 Ingredients
1/2 cup of Whole30 Approved Primal Kitchen mayo, or Whole30 compatible mayo of your choice
1 tsp. of sea salt
Dash of white pepper
1 lb. of Instant Pot Shredded chicken
4 radishes, minced
1 carrot, peeled and minced
1/2 cup of fresh dill, minced
1 cup of walnuts, chopped
2 Tbs. of red onion, finely minced
1 head of radicchio, chopped
Your favorite greens (for serving)
Instructions
MIX mayo, sea salt and pepper in a large bowl. ADD the rest of the ingredients and gently toss until combined. SERVE over a bed of your favorite greens.
Note: this recipe will keep in a sealed container in your refrigerator for four days.
Some links in this post are affiliate links, meaning Whole30 makes a small commission on items purchased via these links. Thank you for supporting our Whole30 Approved partners.
---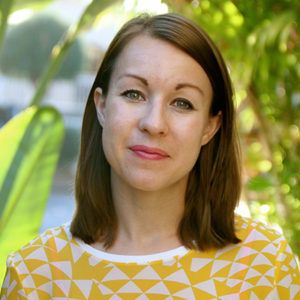 Sarah Steffens has a B.A. in Business Administration, Public Relations from The Master's College in Southern California. After years of experimenting with nutrition and recipes in her own kitchen, she now works as a Personal Chef in Los Angeles, cooking meals that support her client's intention to physically and mentally thrive. She has catered several independent film sets, making it her goal to optimize the energy and well-being of each creative crew. She is the in-house recipe creative for the Whole30, and the creator of the Savor and Fancy blog. When Sarah is not cooking Whole30 and Autoimmune Protocol meals, she is likely exploring mid-century sites in L.A., taking photographs, listening to an audio book or hiking at Griffith Park.
Save
Save
Save
Save
Save
Save
Save
Save