Try these Whole30 Jerk Shrimp Tacos in Plantain Wraps for an incredible summer dish that takes just 15 minutes of prep!

For this Caribbean-inspired taco dish, we nested succulent, jerk-seasoned shrimp in soft plantain tortillas. Next, we topped it with lime, mango, avocado, tomatoes, onions, and cilantro. Finished off with a bit of fresh and crunchy lettuce, and you've got a taco that will excite your tastebuds with every bite.
The jerk marinade adds great flavor to this dish. You can easily make fresh Whole30 compatible Jerk Marinade by combing some aromatics and warm spices. Or you can try our shortcut of amping up a Whole30-compatible spice blend with some fresh aromatics. Or simply use a prepackaged Whole30 compatible store-bought Jerk marinade. You just can't go wrong.
For the shrimp, choose peeled and deveined jumbo shrimp or keep the skin on if you are grilling it over an open flame.
Green plantains are the best choice for plantain tortillas. Choose green plantains with a hint of yellow for the best texture and flavor.
Are plantain tortillas Whole30 Compatible?
These single-ingredient plantain tortillas are Whole30 compatible. Made with just boiled plantains, crushed and shaped into tortillas, they do not break the pancake rule. This of it as similar to eating crushed plantains.
Tips for Plantain Wrap Prep:
If the plantain mixture becomes sticky after blending, try drizzling it with a bit of avocado oil while shaping.
Adding a bit of oil to the hot skillet prevents the tortilla from sticking and burning while cooking.
Don't have a tortilla press? You can use a rolling pin to roll the plantain out between parchment paper, then cut it into a tortilla shape using a small plate and a knife.
Substitutions:
You may substitute the plantain tortillas with lettuce leaves for an easy Whole30 compatible "tortilla" option.
This recipe is a guest post from Althea Brown of Metemgee.
Jerk Shrimp Tacos in Plantain Wraps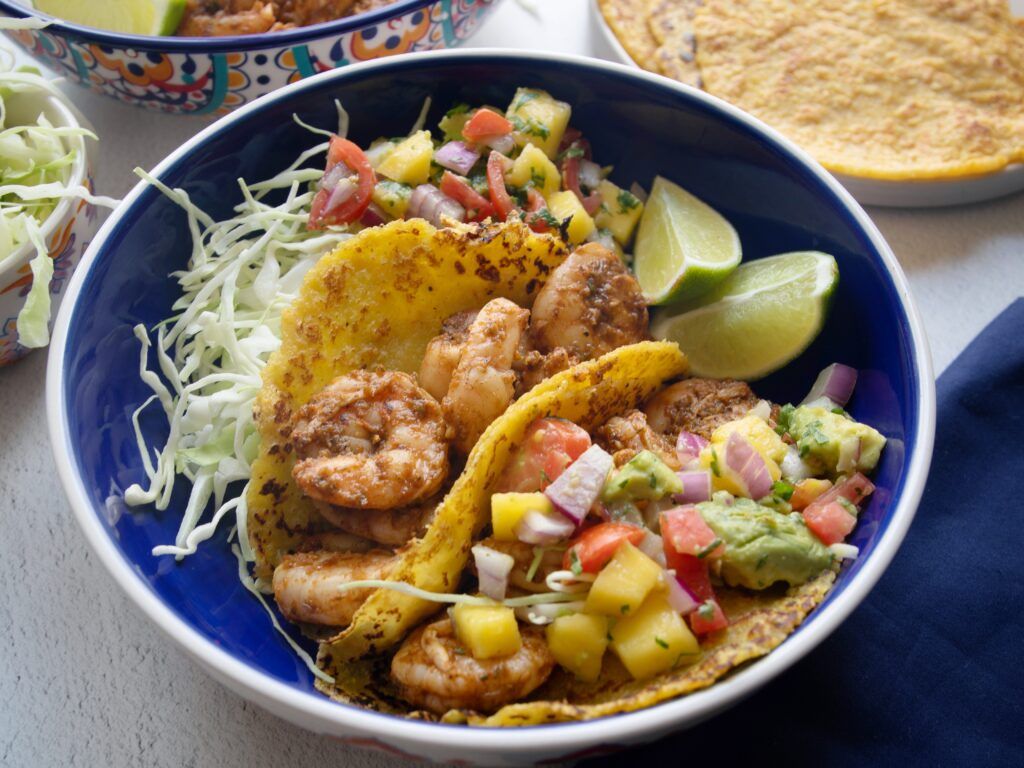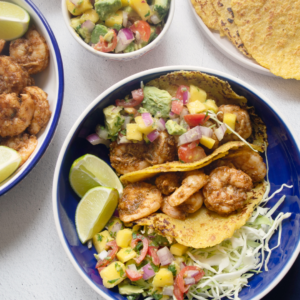 Jerk Shrimp Tacos in Plantain Wraps
Ingredients
1/2

yellow onion

3

garlic cloves

2

scallions

2

sprigs thyme

1/2

habanero pepper

2

limes

2

Whole30 Compatible Jerk Seasoning Blend (I used Primal Palate's)

3

tbsp

avocado oil

divided

1

tbsp

coconut aminos

1

lb

jumbo shrimp

peeled and deveined

2

green plantains

with a hint of yellow

6

cups

water

1.5

tsp

table salt

avocado cooking spray or compatible alternative

1

firm yellow mango

diced

1/2

red onion

diced

1

medium tomato

diced

1

hass avocado

diced

1/4

cup

cup cilantro

finely chopped

1/2

tsp

coase salt
Instructions
MAKE the jerk marinade by adding onion, garlic, scallion, thyme, habanero (if using), juice from 1 lime and the Jerk seasoning blend to a food processor. Cover and process for about a minute. Drizzle in a tablespoon of avocado oil and the coconut aminos while it is blending.

ADD the jerk marinade to the shrimp and mix to combine. Set aside and let marinade while you prep the other ingredients.

PEEL the plantains and cut them into 2 inch rounds. Then add the plantains, 6 cups of water and 1 teaspoon of table salt to a deep saucepan. Add the saucepan to high heat and bring to a boil uncovered. Continue to boil until the plantains are fork tender, then drain (reserving a ¼ cup of the liquid). Allow the plantains to cool completely before moving to the next step.

ADD the plantains and ½ teaspoon of table salt to a food processor and blend until it comes together to form a dough ball. Sometimes, you may need to add some of the liquid reserved earlier (1 tablespoon at a time) to help soften the plantains while processing.

Separate the blended plantains into 8 pieces. Add some oil to your palms, then roll the plantains into 8 small balls.

USING a tortilla press, gently press the plantain balls between sheets of parchment paper. Then add a skillet to medium heat. When it is hot, almost to the point of smoking, rub a light coating of avocado oil over the pan, then add the pressed plantain tortillas to the hot skillet. Cook for about 1 ½ minutes, then flip and cook for another 1 ½ minutes. Remove from the heat and rest between a tea towel, to keep warm. Repeat the steps to cook the remaining tortillas.

COOK the shrimp by adding a grill pan or skillet to medium heat. When it is hot spray with avocado cooking spray, then add the marinated shrimp in a single layer. Cook for 3 minutes, then flip the shrimp and cook for another 2-3 minutes. Remove from the heat and set aside.

MAKE the mango salsa by combining the diced mangos, red onions, tomatoes, avocado, cilantro, Juice from 1 lime and coarse salt in a small bowl. Mix together.

ASSEMBLE your Jerk Shrimp Plantain Tacos by adding some shrimp to the plantain tortillas, then topping it with shredded cabbage and the mango salsa. You may top it off with some compatible ranch dressing or sour cream for added creaminess.
Althea Brown
Recipe Creator | Metemgee
Althea Brown is a recipe developer and food blogger specializing in Guyanese and Caribbean food. She has a Masters in Public Administration and spent many years in Corporate Human Resources roles before taking time off to spend with her family. She spends most of her days recreating traditional Guyanese and Caribbean recipes into Whole30 recipes. She believes that culture and food traditions are important parts of your food journey. When she is not cooking up delicious meals for family and friends, she is caring for her three children and enjoying life in colorful Colorado.