Whether you've been part of the Whole30 community since the beginning or are just joining us (welcome!), chances are you know and love Autumn Michaelis. Our Whole30 Digital Content Producer and mom of five (yes, five!) boys, Autumn has been sharing budget- and family-friendly Whole30 and Paleo meals on her blog Wholefoodfor7 for years—and in August 2022, she released the latest Whole30 Endorsed cookbook, Whole Food For Your Family. To say we're psyched is an understatement.

Complete with more than 100 recipes that everyone at your kitchen table will love, Autumn's book also shares her go-to tips for saving time and money when feeding a family, as well as her hacks for tackling picky eaters. We're confident it'll be your go-to every day of the week—but just in case you need convincing, you'll be sold after making this Enchilada Dip Bake (which is straight out of the book!).
---
Whole30 Loaded Breakfast Potatoes
This hearty breakfast keeps my boys full and well-fueled for the whole morning (and that's no small feat, as four of them are 6' tall or taller!). I loved it when my 6'4" 14-year-old, after eating this for breakfast, said, "Wow, I am actually full!" It goes so quickly in our house, we have to portion it so everyone gets some.
This recipe came as a result of my husband doing an egg-free Whole30. It definitely took some creativity to get outside the Whole30 "eggs for breakfast" mentality. His favorite breakfasts were hashes like this one, full of protein and veggies.
Like most hashes, this recipe is very flexible. To save time, you can swap the fresh potatoes, onions, and peppers for 2 ½ pounds of compatible frozen potatoes O'Brien (small, cubed potatoes with peppers and onions already in the mix). If making that swap, simply combine all the ingredients in one large saucepan over medium-high heat and cook until crispy (no need to pre-steam the potatoes).
If you have a hard time finding Whole30 compatible bacon or ham in your area, use an equal amount (1 pound total of breakfast meat) of whatever compatible breakfast sausage or meat that is accessible to you. Vary the breakfast meat used based on your family's preferences and what you have on hand. For extra protein, you can add some scrambled eggs to the pan after the potatoes are crispy, cooking until set. Or you can serve the potatoes topped with cooked eggs to stretch the servings.
Tips and tricks:
Don't have a pan big enough to cook this dish altogether? Simply cook the breakfast meat (ham and bacon) in one pan and the potatoes in another. If cooking the potatoes separately, first coat the second pan with 2 tablespoons of olive or avocado oil over medium heat, and then add the potatoes. I also have tossed the potatoes with 2 tablespoons of oil and cooked them in my air fryer at 375 for 15-20 minutes while the breakfast meat was cooking (*if air frying the potatoes, add the onions and peppers to the breakfast meat to cook for the last 10 minutes). Once cooked, combine the breakfast meat and potatoes together in a large dish and serve.
This dish freezes fantastically, making it a great one to meal prep or easy to stash away for a later day any servings you don't finish off that week. Simply portion out the extra servings and freeze in a sealed container for up to 3 months.
Loaded Breakfast Potatoes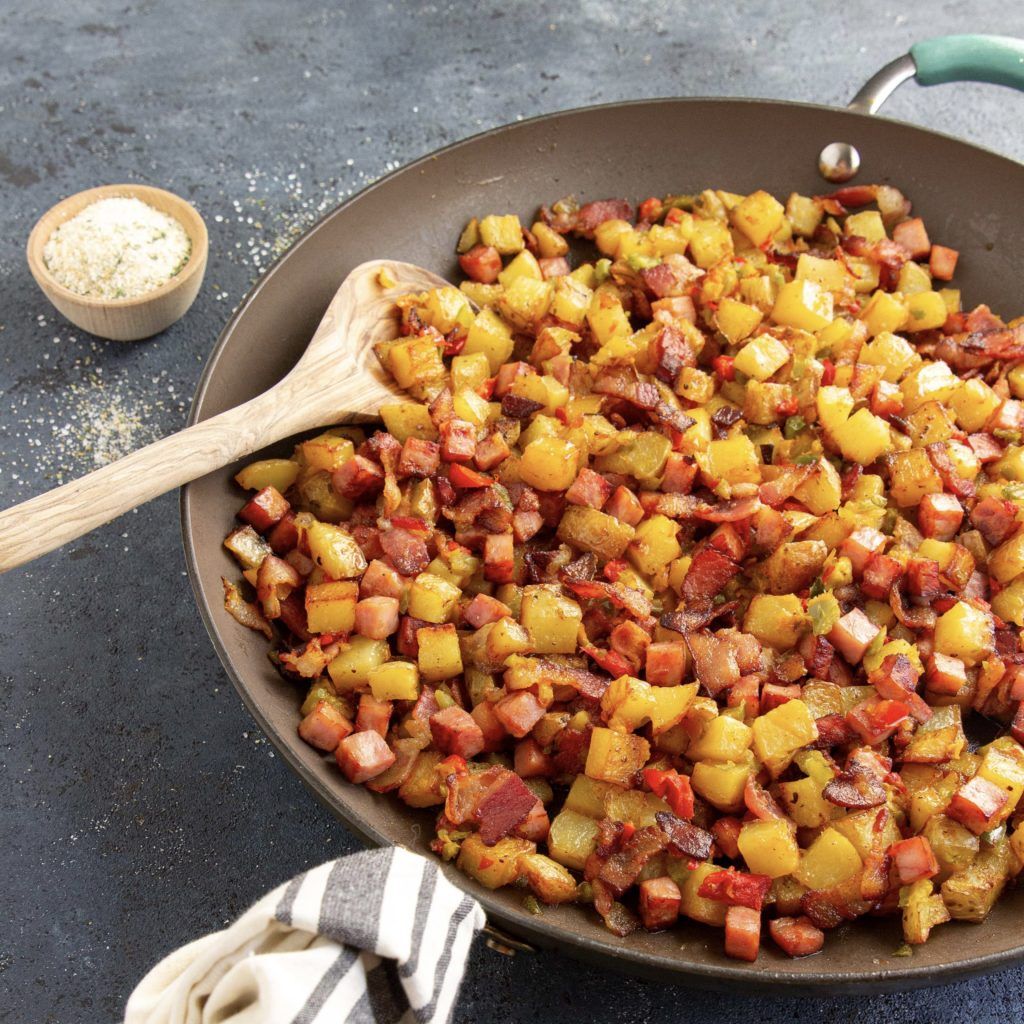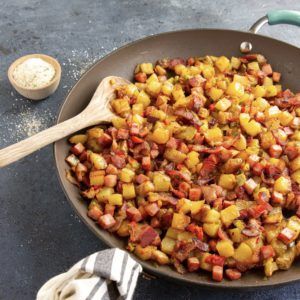 Loaded Breakfast Potatoes
Ingredients
1/2

lb

ham

chopped into small 1/2-inch pieces

1/2

lb

bacon

chopped into small 1/2-inch pieces

2

lb

Yukon gold potatoes

diced into 1/2-inch pieces

2

tsp

garlic salt

2

cups

finely chopped fresh or thawed frozen peppers and onions

2

tbsp

coconut oil, melted (or sub other high-heat cooking oil)
Optional
Salsa or ketchup

for serving
Instructions
COOK the ham and bacon in a large saucepan over medium heat, until crispy, 17 to 18 minutes.

WHILE the meat is cooking, place the potatoes in a 2- or 3-quart glass dish and add 1/4 cup water.

COVER with microwave-safe plastic wrap and steam in the microwave for 6 minutes, until the potatoes are tender and easily pierced with a fork or knife. (Or use your preferred steaming method.)

DRAIN the water and pat the potatoes dry. Set aside.

TRANSFER meat from the saucepan to a bowl, then place the oil and increase the heat to medium-high. Add the chopped potatoes in a single layer and sprinkle with the garlic salt. Let the mixture cook for 10 minutes without stirring, allowing the potatoes to get crispy.

FLIP the mixture, top with the peppers and onions, and cook for another 10 minutes, until the veggies are tender and the potatoes are crispy.4 Add the ham and bacon to the pan and serve hot.

ENJOY with salsa or ketchup if desired.
You Might Also Like…
Some links used in this post are affiliate links, meaning Whole30 makes a small commission off of purchases made via our link. Thank you for supporting our Whole30 partners.
---
Autumn Michaelis
Recipe Creator | Whole Food for 7
Autumn Michaelis is an ACSM Certified Exercise Physiologist, with a B.S. in Exercise Science from BYU. Though exercise was her first love in the health world, nutrition has become her passion. She created the blog Wholefoodfor7, sharing easy and budget-friendly Whole30, Paleo, and gluten-free + dairy-free recipes for families. In August 2022, Autumn released the newest Whole30 Endorsed cookbook, Whole Food for Your Family. She is mom to 5 boys (yes 5!) and when not in the kitchen can be found adventuring, hiking, and tearing up the dance floor.