There are many reasons you might need an eggless Whole30 breakfast, and we've got you covered! These Chicken Breakfast Meatballs are gluten-free, dairy-free, and nut-free, and a great start to your day. They are quick to prepare and cook. Pop them in the oven or air fryer and finish getting ready for your day!
Sugar-free breakfast sausage or bacon can sometimes be hard to find in your local grocery stores and isn't always accessible to everyone doing a Whole30. This breakfast protein allows you to make it yourself without a lot of work. These Chicken Breakfast Meatballs combine ground chicken, shredded apple, mashed sweet potatoes, coconut flour and spices for a delicious protein option. The sweet additions of apple and sweet potatoes are balanced with the savory spices in a perfect egg-free combination you'll enjoy any meal of the day. Delicious for breakfast or dinner!
We love making meatballs in the air fryer, as they turn out so juicy. And also, we included oven directions if you prefer yours cooked in the oven. Make sure the apple is very finely diced to better mix into the texture of the meatball. We did this with a small mini food processor. The variety of apple doesn't make much of a difference, though we chose a sweet apple with a Fuji. Keep in mind to not overmix your ingredients, which can make meatballs tough and less moist.
To make quick mashed sweet potatoes:
Pierce a large sweet potato with a fork several times. Place in the microwave for at least 5 minutes on high. Check and see if the potato is soft all over to the touch. If not, cook an additional minute, repeating as needed. Remove from the microwave and cut in half. Scoop out soft potato flesh away from the skin and mash into a small bowl. Discard or compost the potato skins.
SUBSTITUTIONS:
Can use an equal amount of white potato mashed potatoes instead of sweet potato mash.
Can substitute ground turkey instead of ground chicken.
Chicken Breakfast Meatballs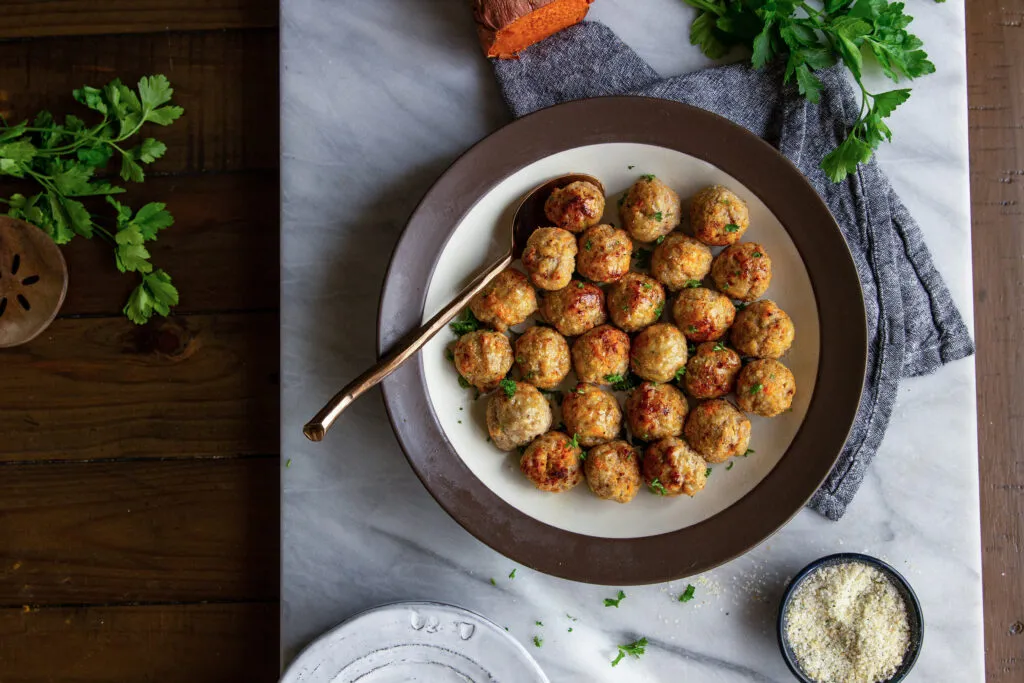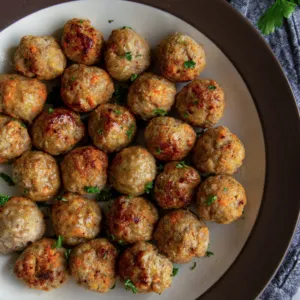 Chicken Breakfast Meatballs
Our tender Whole30 Chicken Breakfast Meatballs are the perfect balance of savory and sweet. Get ready for your new favorite eggless breakfast!
Ingredients
1

lb

ground chicken

1/2

cup

mashed sweet potatoes

1/3

cup

finely chopped peeled apple

1/4

cup

coconut flour

2

tsp

garlic powder

2

tsp

onion powder

1.5

tsp

salt

1/2

tsp

pepper
Instructions
COMBINE all ingredients in a medium bowl, being careful not to overmix. We usually do this step with our hands. Shape into 30 1 ½ tablespoon meatballs.

AIR FRY in a single layer at 350 for 8-10 minutes or until cooked through and browned.

Or BROIL in the oven on a rimmed baking sheet lined with parchment and a cooling rack set inside for 10-12 minutes, until browned, flip and then broil the other side for 2-3 minutes.
Autumn Michaelis
Recipe Creator | Whole Food for 7
Autumn Michaelis is an ACSM Certified Exercise Physiologist, with a B.S. in Exercise Science from BYU. Though exercise was her first love in the health world, nutrition has become her passion. She created the blog Wholefoodfor7, sharing easy and budget-friendly Whole30, Paleo, and gluten-free + dairy-free recipes for families. In August 2022, Autumn released the newest Whole30 Endorsed cookbook, Whole Food for Your Family. She is mom to 5 boys (yes 5!) and when not in the kitchen can be found adventuring, hiking, and tearing up the dance floor.