Let's put together two things Whole30ers love: eggs + ranch! Egg bites are easy, flexible, portable, and freeze great. And a fantastic way to rev up the flavor in your egg bites? Adding Whole30-compatible ranch dressing right into the egg mixture!
The flavor combination possibilities are endless with this recipe. We've shared three possible combinations below, but feel free to get creative and use what is accessible to you!
These dairy-free and gluten-free ranch egg bites can be baked in a muffin tin, resulting in a fluffy, crispy egg bite. Or, if you have a silicone egg mold for your Instant Pot, you can go that route for more of a sous-vide result (similar to those you find at a trendy mainstream coffee shop).
Mix it up!
Eggs are usually easy to find and budget-friendly. You'll want 1 ½ cup total of mix-ins of your choosing: Whole30 compatible bacon or sausage, fresh or frozen peppers and onions, spinach (tip: you don't have to cook the spinach first – add it in fresh and chop up!), chorizo, pico de gallo – make it your own!

For an extra flavor punch, top your egg bites with avocado and drizzle more ranch or Whole30-compatible hot sauce.
Can't find compatible garlic salt? Use 1 teaspoon salt + ½ teaspoon garlic powder instead.
These are fantastic to make ahead and store in the fridge or freezer in a sealed container and pull out and reheat as needed. Air frying them to reheat is a great way to keep them from drying out when you reheat!
Dairy-Free Ranch Egg Bites, 3 Ways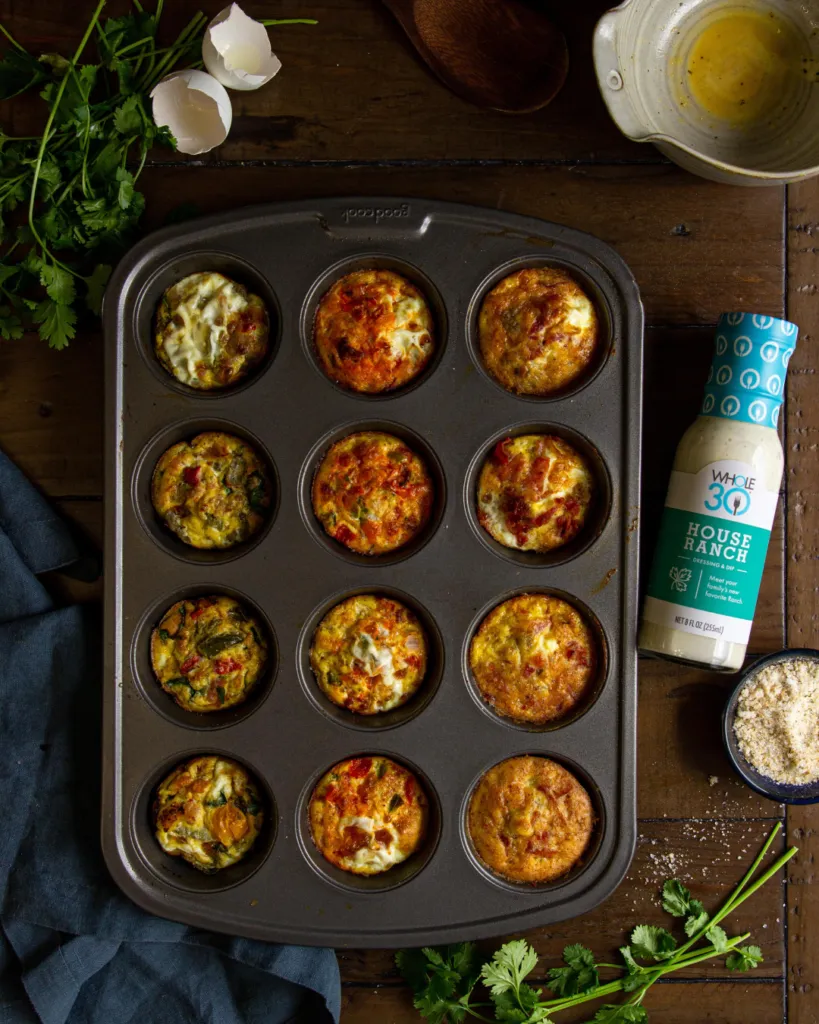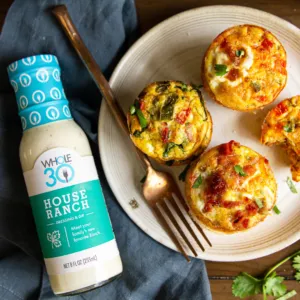 Dairy-Free Ranch Egg Bites
Equipment
1 Instant Pot

optional (for Instant Pot variation)

1-2 Instant Pot Silicone Egg Mold

optional (for Instant Pot variation)

1 Instant Pot Wire Rack

optional, if egg molds don't have handles (for Instant Pot variation)
Ingredients
8

large eggs

1/4

cup

Whole30-compatible ranch dressing

1

tsp

garlic salt

1/2

tsp

onion powder

1/4

tsp

black pepper

1 ½

cups

fillings of choice
Filling Options
¾ cup crumbled compatible bacon + ¾ cup compatible sausage

¾ cup chorizo + ¾ cup pico de gallo

¾ cup finely chopped fresh spinach + ¾ cup frozen or fresh chopped peppers and onions
Instructions
PREHEAT oven to 425 degrees Fahrenheit. Spray a muffin tin generously with cooking spray.

COMBINE eggs, ranch, and seasonings in a medium bowl. Whisk together until well combined.

DIVIDE filling evenly among prepared muffin cups.

POUR egg mixture into muffin cups, dividing evenly among the cups.

BAKE at 425 for 15 minutes or until eggs are set.

TO FREEZE: Store in a sealed container for up to 3 months.
Instant Pot Instructions
PREPARE as above, but use a silicone Instant Pot mold. Seal top of egg molds with silicone lids that came with the molds or foil, stacking two egg molds on top of each other.

POUR 1 cup water into the bottom of your Instant Pot.

PLACE wire rack inside your Instant Pot (if your egg mold does not include a carrier that lifts it off the bottom of the Instant Pot).

PUT egg molds on top of the rack and seal the Instant Pot.

COOK on Manual (high) for 8 minutes. After 8 minutes, do not release the steam for 10 minutes (called a "natural release"). After 10 minutes, release the steam and remove the molds.
You Might Also Like…
Some links used in this post are affiliate links, meaning Whole30 makes a small commission off of purchases made via our link. Thank you for supporting our Whole30 partners.
---
Autumn Michaelis
Recipe Creator | Whole Food for 7
Autumn Michaelis is an ACSM Certified Exercise Physiologist, with a B.S. in Exercise Science from BYU. Though exercise was her first love in the health world, nutrition has become her passion. She created the blog Wholefoodfor7, sharing easy and budget-friendly Whole30, Paleo, and gluten-free + dairy-free recipes for families. In August 2022, Autumn released the newest Whole30 Endorsed cookbook, Whole Food for Your Family. She is mom to 5 boys (yes 5!) and when not in the kitchen can be found adventuring, hiking, and tearing up the dance floor.