From Whole30 headmistress Melissa Urban: We don't lend our Whole30 stamp of approval or trademark to many book projects. I need to have a close personal relationship with the author, their recipes must be within in the spirit and intention of our program, and they have to be closely connected to their community and ours.
So when Mark Sisson texted me (okay maybe his marketing manager emailed me, but he HAS texted me before) to see if we could collaborate on the new Primal Kitchen Cookbook, it was an immediate "HECK YES." Mark is one of the people I've admired throughout my whole career, and he's been a friend and mentor for many years. His community is thriving under his leadership; he's incredibly well-connected and provides so much service through his blog, books, recipes, and Primal Kitchen products. And once he sent us a sneak peek of the recipes… we may have drooled on our keyboards just a little.
Working with the Primal Kitchen team on this project was a joy. Our own Jen Kendall reviewed their recipes for compliance, noted where certain ingredients didn't fit, and made recommendations for variations to make a dish Whole30-compatible. And the final product… whether you're on your first or sixth Whole30 or just looking for new recipes to spice up your food freedom, The Primal Kitchen Cookbook won't disappoint.
Need convincing? (You don't, but humor me.) Here's a sneak peek recipes from the cookbook—Whole30 Approved, of course. Bon appetit!
Want to win a copy of The Primal Kichen Cookbook for yourself? Scroll to the end of this post to find out how you can enter to win your very own copy, signed by Mark and Melissa!
Creamy Spiced Turmeric Chicken Thighs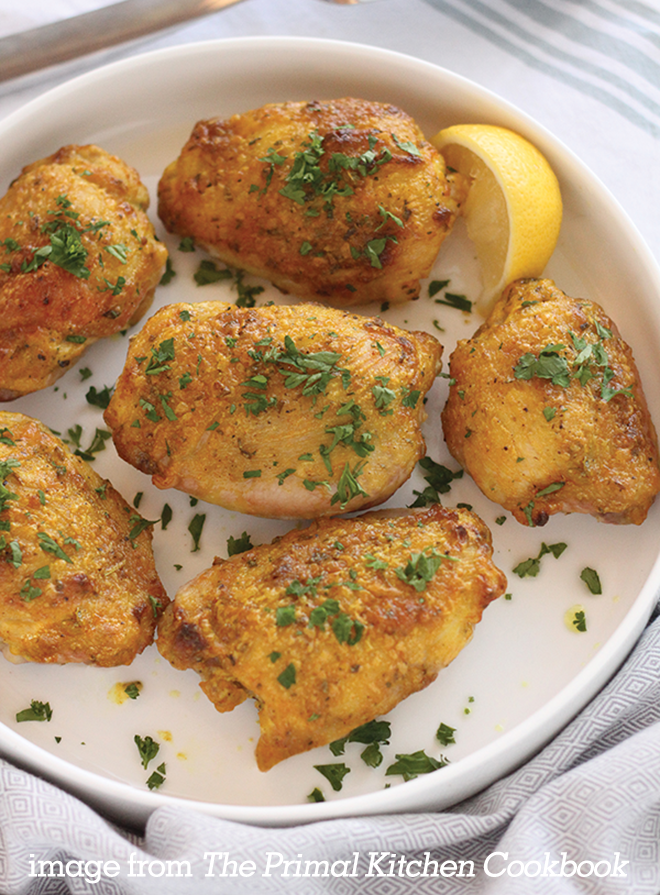 Note from Mark: Roasting bone-in chicken thighs is one of the many pleasures the primal lifestyle has to offer. Crispy skin, melt-in-your-mouth chicken… does it get any better? It certainly does with this unique blend of spicy Chipotle Lime Mayo, turmeric, lemon juice, herbs and black pepper! Rich in anti-inflammatory curcumin, this dish helps your body heal while pleasing your palate. It is simple to prepare, yet yields complex flavors sure to tempt even those who've always thought they did not enjoy mayonnaise. Try it for yourself and discover how rewarding roasting chicken really is.
Ingredients
6 organic bone-in chicken thighs
2 tablespoons ghee
1/2 cup Primal Kitchen Chipotle Lime Mayo
1 teaspoon sea salt
1 teaspoon ground turmeric
1 teaspoon dried Herbs de Provence
1 teaspoon dried onion powder
1/2 teaspoon dried garlic powder
1/4 teaspoon ground black pepper
1 tablespoon fresh lemon juice
Fresh parsley, for garnish
Fresh lemon wedges, for garnish
Instructions
PREHEAT oven to 350 degrees
RINSE chicken thighs and pat dry with a paper towel. Rub chicken with ghee and arrange on a baking tray lined with parchment paper, or in a cast iron skillet.
TO make the Spiced Turmeric Herb Sauce, add Chipotle Lime Mayo, salt, turmeric, Herbs de Provence, onion powder, garlic powder, pepper, and lemon juice to a medium-size mixing bowl, and whisk until well combined. The turmeric will make the sauce a rich golden color (be careful not to get the sauce on your clothing, because turmeric does stain!).
USING a baker's spatula, coat each chicken thigh with the Spiced Turmeric Herb Sauce.
PLACE chicken in the oven and roast uncovered for 40 minutes. After 40 minutes, turn on your broiler to high and cook for 5 more minutes. The broiler will give your chicken a delicious crispy finish, while the sauce traps the chicken's juices, ensuring a super satisfying meal.
SERVE chicken thighs on a platter and garnish with freshly minced parsley and lemon wedges
Win a copy of The Primal Kitchen Cookbook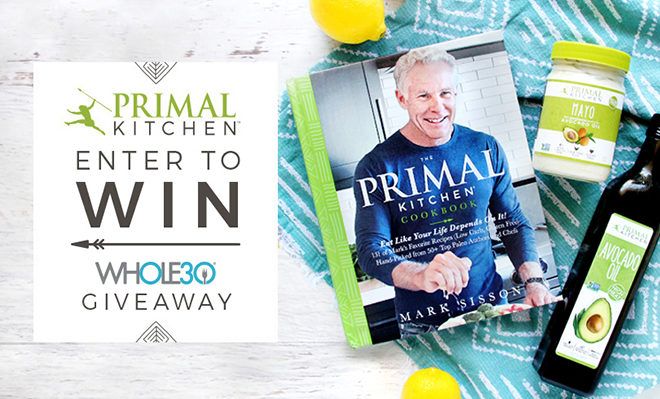 We partnered with the Primal Kitchen team to give away 10 copies of The Primal Kitchen Cookbook, signed by Mark AND Melissa!
Click here to enter.
Text excerpted from The Primal Kitchen Cookbook © 2017 by Mark Sisson. Reproduced by permission of Primal Blueprint Publishing. All rights reserved.
Some links in this post are affiliate links, meaning Whole30 makes a small commission on items purchased via these links. Thank you for supporting our Whole30 Approved partners.
Save
Save
Save
Save
Save
Save
Save
Save
Save
Shanna
Chief Content Officer
Shanna Keller, our Chief Content Officer, hails from Boise, Idaho, where she lives with her husband Alan and a poorly-behaved terrier named Olly. She has spent her career telling stories of life transformation on social, web, e-mail and print media platforms. In addition to celebrating Whole30 successes and stories online, Shanna loves to cook, read, and climb.