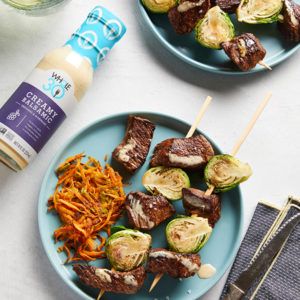 Smoky Beef and Brussels Sprouts Kebabs with Sweet Potato Hash Browns
Ingredients
1 1/4

lbs

beef sirloin, cut into 1 1/2-inch pieces

1

tsp

smoked paprika

1

tsp

coarse black pepper, divided

1/4

cup

WHOLE30 Creamy Balsamic Vinaigrette

12

oz

Brussels sprouts, trimmed, halved if large

2

tbsp

extra-virgin olive oil

2

cloves

garlic, minced

1

tsp

coarse salt
For the Sweet Potato Hash Browns
1/2

jalapeño, seeded if desired

2

scallions, root ends trimmed and chopped into 2-inch pieces

12

oz

sweet potatoes

4

tbsp

extra-virgin olive oil

1/2

tsp

coarse salt

1/2

tsp

coarse black pepper
Instructions
MAKE the Kebabs: In a large plastic resealable bag, combine the beef with smoked paprika and black pepper. Seal bag; toss to coat. Add the vinaigrette; seal bag and toss to coat. Marinate in the refrigerator at least 2 or up to 3 hours. 

MEANWHILE, place the Brussels sprouts in a large microwave-safe bowl or dish. Cover and cook on high for 3 minutes to soften. Drizzle with the oil; add the garlic, salt, and ½ teaspoon of the black pepper; toss to coat. 

MAKE the Sweet Potato Hash Browns: In a food processor fitted with the chopping blade, combine the jalapeño and scallions. Cover and process until chopped. Change to the shredding blade, and shred potatoes. Transfer potato mixture to a large bowl; drizzle with 3 tablespoons of the oil and season with salt and pepper; toss to combine. 

IN a large nonstick or cast-iron skillet heat 1 tablespoon of the oil over medium heat. Working in batches if necessary, drop the sweet potatoes onto the hot skillet in 4 mounds, about 1 1/4 cups each; flatten slightly. Cook until potatoes are crisp and golden brown on the bottom, about 10 minutes. Turn potatoes over, and cook until bottom is golden brown, about 5 minutes more. 

MEANWHILE, preheat the grill or a grill pan to medium heat. Remove the beef from the marinade; discard the marinade. Thread the beef and sprouts alternately on metal or wooden* skewers, allowing at least 1/2-inch between pieces. Place kebabs on the grill rack. Grill, turning once halfway through, until cooked to desired doneness, 8 to 10 minutes for medium. 

SERVE the kebabs with hash browns. 

*If using wooden skewers, soak in water for 30 minutes before using.