There is so much to love about this recipe from The Whole30 Cookbook. It makes the most of fresh, wild-caught salmon fillets, which are in season right now. It's bursting with spring flavor, featuring herbs and citrus. And most important, it's a quick, weeknight-friendly dish that only requires one pan.
[Tweet "In celebration of salmon season, we're sharing a special #Whole30 recipe from The #Whole30Cookbook."]
This preparation of broccoli transforms this familiar veggie into oven-roasted "steaks." As you slice the broccoli lengthwise to create the "steaks," save any florets that fall away for a stir-fry or salad—or simply eat them as a snack dipped in a little Whole30 Approved Ranch dressing.
One-Pan Herb-Crusted Roasted Salmon with Roasted Broccoli Steaks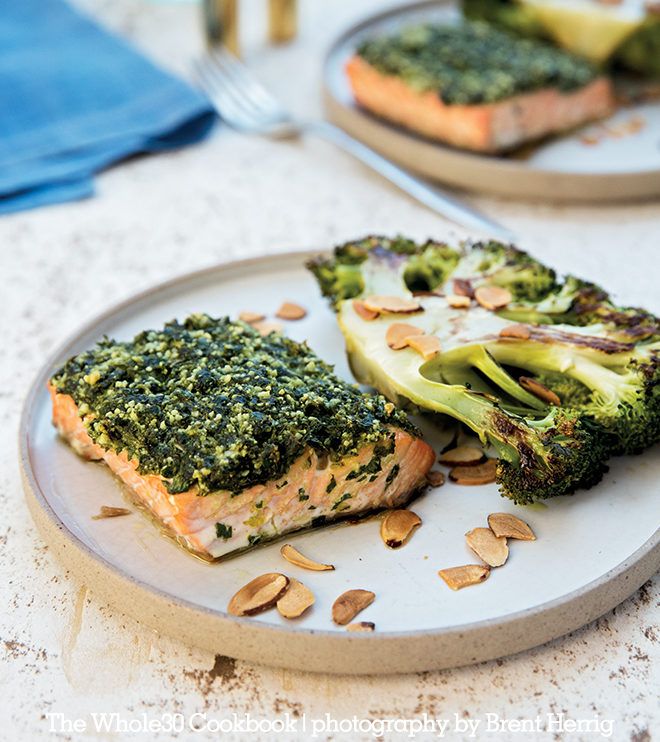 Ingredients
1/2 cup fresh basil leaves
1/2 cup fresh parsley leaves
6 tablespoons extra-virgin olive oil
1 tablespoon fresh lemon juice
1 teaspoon salt
1 teaspoon black pepper
1/2 teaspoon grated lemon zest
1/4 cup almond flour
2 salmon fillets (6 ounces each)
3 small heads broccoli with the stems attached (about 1 pound total)
1/2 cup sliced almonds, toasted
Instructions
PREHEAT the oven to 400°F. Combine the basil, parsley, 4 tablespoons of the oil, lemon juice, ½ teaspoon of the salt, ½ teaspoon of the pepper, and the lemon zest in a blender or food processor. Cover and pulse until smooth. Pour the herb mixture into a bowl and stir in the almond flour.
PLACE the salmon fillets in a large roasting pan or on a rimmed baking sheet. Pack the herb mixture on the top of each fillet.
TRIM the broccoli stems to about 3 inches below the florets. Slice the broccoli heads lengthwise into 1-inch-thick slabs (two or three slabs per head), cutting from the bottom of the stems through the crown to preserve the shape of the broccoli. Brush both sides of each broccoli slice with the remaining 2 tablespoons olive oil and sprinkle with the remaining ½ teaspoon salt and ½ teaspoon pepper. Arrange the broccoli in a single layer in the pan around the salmon.
ROAST the broccoli and salmon for 25 minutes, until the salmon just barely starts to flake when pulled apart with a fork and the broccoli is lightly browned, turning the broccoli once halfway through roasting. Sprinkle the broccoli with the toasted almonds before serving.
Post photography by Brent Herrig
Text excerpted from The Whole30 Cookbook © 2016 by Melissa Urban. Reproduced by permission of Houghton Mifflin Harcourt. All rights reserved.
Save
Find The Whole30 Cookbook Wherever Books are Sold
THE WHOLE30 COOKBOOK
More than 150 Delicious and Totally Compatible Recipes to Help You Succeed with the Whole30 and Beyond
Still think the Whole30 is a diet? Not with recipes like these.
In this cookbook, best-selling author and Whole30 co-creator Melissa Urban delivers over 150 all-new recipes to help readers prepare delicious, healthy meals during their Whole30 and beyond.
Whether you've done the Whole30 once or five times—or just want to make a variety of satisfying, nourishing meals—this book will inspire you to change your life in 30 days with the Whole30 program.
Say good-bye to mundane meals with The Whole30 Cookbook. These mouth-watering recipes will help you reset your health while filling your life with delicious good food." — DANIELLE WALKER, New York Times best-selling author, Against All Grain and Meals Made Simple
DETAILS
Purchase: Amazon , B&N , Indie Bound , Powell's , BAM , Hudson , Indigo , Amazon.ca , Amazon.uk , iBooks
Shanna
Chief Content Officer
Shanna Keller, our Chief Content Officer, hails from Boise, Idaho, where she lives with her husband Alan and a poorly-behaved terrier named Olly. She has spent her career telling stories of life transformation on social, web, e-mail and print media platforms. In addition to celebrating Whole30 successes and stories online, Shanna loves to cook, read, and climb.