Applegate's Whole30 Approved hot dogs are already a Whole30 summer staple at your cookouts and on camping trips. Now there's an exciting new addition to the Applegate lineup, and it's the perfect thing for grilling season. Meet The Great Organic Blend Burger.
[Tweet "Meet the Great Organic Blend Burger from @applegate, your grill's new summer BFF #Whole30 #Whole30Approved"]
The Great Organic Blend Burger comes in two varieties, with only three ingredients in each: 100% organic grass-fed beef or organic and humanely raised turkey, both blended with organic mushrooms, and rosemary extract (to preserve freshness). Adding mushrooms makes the burgers super juicy and flavorful, and helps you add more veggies to your plate, too!
It cooks up quickly from frozen, making it a delicious and easy protein option. Just add your favorite toppings and seasonings, wrap with some lettuce, or serve atop some veggies for an easy Whole30 meal.
Whole30 recipe creative Sarah Steffens created this tasty Banh Mi-inspired recipe to complement the burger's delicious umami flavor. Enjoy!
Banh Mi Burger featuring the Great Organic Blend Burger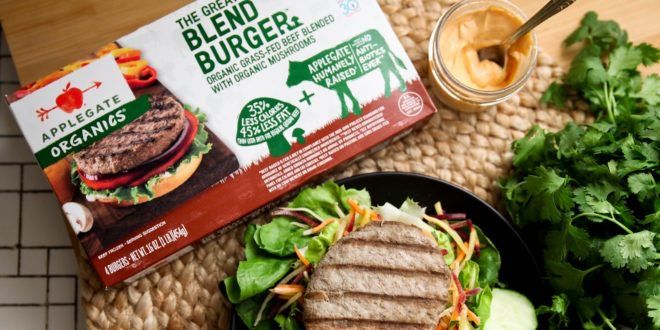 4 BURGERS | TOTAL TIME: LESS THAN 30 MINS
Ingredients
1 small carrot, peeled or 1/2 cup pre-shredded carrots
2 teaspoons unseasoned rice vinegar
1 tablespoon coconut aminos
1/2 teaspoon sea salt
4 tablespoons Whole30-approved mayonnaise
1 tablespoon Whole30-approved sriracha sauce, or Whole30-approved hot sauce
1 (16-ounce) package Applegate Organics® The Great Organic Blend Burger™ turkey burger or beef burger
Boston lettuce leaves
1/4 cup fresh cilantro leaves
1/4 fresh mint leaves
1 cucumber, sliced into rounds

Instructions
CUT the carrot into 2-inch matchsticks or if using pre-shredded carrots, reserve 1/2 cup.
STIR together the rice vinegar, coconut aminos, and sea salt in a bowl until dissolved. Add the carrot to the vinegar mixture and let sit for 10 minutes.
STIR together the mayonnaise and sriracha sauce.
COOK the burgers on a hot grill or in a hot cast-iron skillet, to 165° F as measured by a meat thermometer, about 5-6 minutes per side.
SPREAD the sriracha mayo over the lettuce leaves and top with the cooked burgers. Top the burgers with the pickled vegetables and herbs.
SERVE with sliced cucumbers.  
Check the Applegate store locator here to find The Organic Organic Blend Burger at your local retailer. 
This post was sponsored by Applegate. Thank you for supporting our Whole30 Approved partners!
Sarah Steffens
Recipe Developer
Sarah Steffens, our Recipe Developer, has a B.A. in Business Administration, Public Relations from The Master's University in Southern California. After years of experimenting with nutrition and recipes in her own kitchen, she now works as a Personal Chef and Food Photographer in Sacramento, creating meals that support her client's intention to physically and mentally thrive. She has catered several independent film sets, making it her goal to optimize the energy and well-being of each creative crew. You can find many of Sarah's recipes in various Whole30, Paleo and Keto cookbooks. When Sarah is not cooking and styling recipes, you can find her enjoying a long walk, working on creative projects with loved ones or exploring beautiful Northern California.