By Melissa Urban, who has been carrying cold Applegate hot dogs onto planes since 2015
I've been waiting a long time to announce this… Applegate is now an official Whole30 Approved partner, with a very long list of Whole30 Approved products! Today, we're showing you how to use three of their most popular items in Whole30 shareable bite recipes, perfect for parties this holiday season. (OF COURSE we had to make Whole30 Bacon Wrapped Brussels Sprouts!) But first, some background on why I was so excited to hear from Applegate about coming on board.
[Tweet "@applegate is now #Whole30Approved w/ tons of #Whole30 products… including no-sugar bacon!"]
Applegate products—like their hot dogs, prosciutto, and dinner sausages— have been a staple in my household for years. Their commitment to animal welfare and clean ingredients makes them a choice I can feel good about, and their convenience makes it easy for me to get a delicious Whole30 dinner on the table even when I'm short on time. I love that I can buy my favorite Applegate items in every store I shop, and I love that almost all of YOU (in the U.S., at least) have access to these Whole30 Approved protein sources in your local stores, too.
I've also been impressed with their commitment to our Whole30 community. It all started with this Tweet back in August…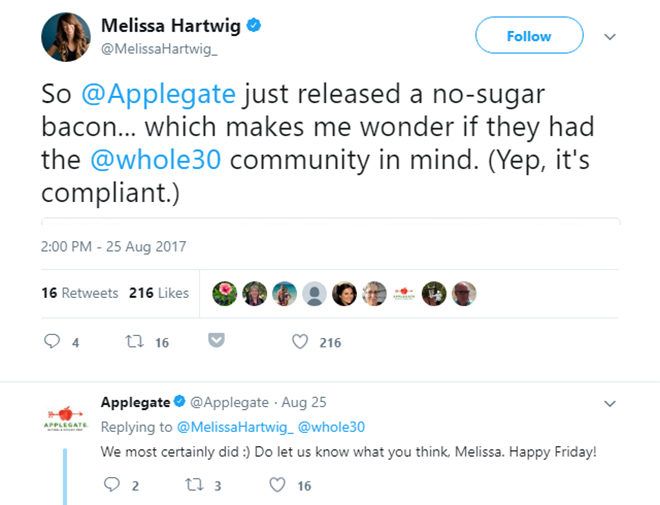 Yeah, THAT got my attention! They've also added features to their website that make it easy for Whole30'ers to find the Applegate products that fit the rules of our program, and I've already approved Whole30-branded coupons for Applegate products going into several grocery chains nationwide. This kind of community focus, making sure Whole30 Approved products are accessible and affordable for my community, are exactly the kind of qualities I look for in a partner.
The Whole30 Approved offerings from Applegate includes their brand-new No-Sugar Bacon; Organic Uncured Beef, Chicken or Turkey Hot Dogs; Prosciutto; Grilled Chicken Strips; Chicken Apple Dinner Sausage; and more. For a full list of their Approved items, click here. In summary, we're all just thrilled that Applegate is going to make your January Whole30 happier, tastier, and easier than ever!
And now, on to the Shareable Bites recipes…
Gemstone Potato and Prosciutto Salad
Ingredients
1 lb. gemstone potatoes
1 onion
1 cup cherry tomatoes
1 bunch asparagus (trimmed and halved)
1 cup fresh spinach
1 handful arugula
1 package Applegate Naturals Prosciutto
For the Marinade
1/2 cup olive or avocado oil
1 tbsp. lemon juice
1 tbsp. Herbs de Provence
1 tsp salt
1 tbsp. coconut aminos
Instructions
PREHEAT oven to 400 degrees F.
WHISK together all ingredients needed for the marinade until combine.
CLEAN potatoes, chop onion into quarters and transfer to a large baking sheet. Pour over almost all of the marinade and toss to coat potatoes and onions.
TRANSFER to the oven and roast for 30 minutes or until potatoes are fork tender but not cooked through. Add cherry tomatoes and asparagus to the pan. Pour over the rest of the marinade and return to the oven. Continue to roast for another 10-15 minutes until potatoes are cooked through and asparagus are al dente (tender but still has a bite to it).
TRANSFER roasted vegetables to a serving dish and toss in spinach and arugula. Finish with pieces of prosciutto and serve immediately.
Whole30 Bacon Wrapped Brussels Sprouts with Spicy Mayo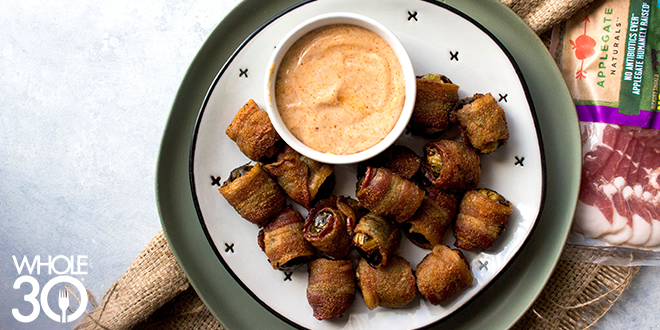 Ingredients
16 Brussels sprouts
2 packs Applegate Naturals No Sugar Bacon
garlic powder
For the Chipotle Mayo
1/2 cup compatible avocado mayonnaise
1/4 tsp cayenne pepper
1/4 tsp paprika
1/4 tsp chili powder
Instructions
FIRST, preheat oven to 400 degrees F.
TO start, clean, trim and halve each Brussel sprout lengthwise. Now, halve each piece of bacon crosswise and set aside.
WRAP each Brussels sprout with one strip of bacon and transfer to a baking sheet cut side down, leaving a little bit of space between each of them. Sprinkle a little garlic powder on each of them and transfer to the oven. Roast for 30 minutes or until bacon is crisp and sprouts are tender.
MEANWHILE, add all ingredients needed for the chipotle mayo in a bowl and whisk to combine. Transfer the dipping sauce to a small serving dish.
Transfer Brussels sprouts to a serving platter and serve alongside chipotle mayonnaise.
Grilled Chicken-Stuffed Lettuce Boats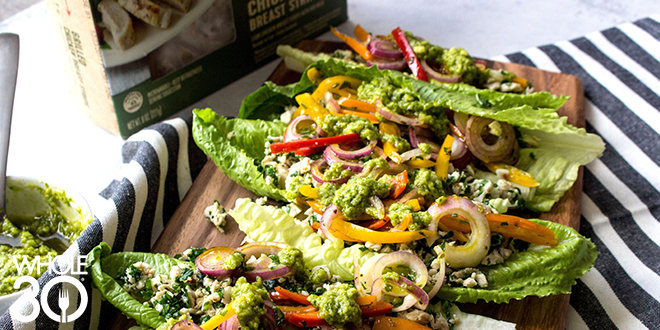 Ingredients
1-8-ounce package Applegate Naturals grilled chicken strips (finely diced)
1 tbsp. avocado oil
1 handful kale leaves (finely chopped)
2 scallions (finely chopped)
salt and pepper
¼ tsp crushed red pepper flakes
¼ tsp compatible fish sauce
1-2 heads of organic romaine lettuce
For the Marinated Onions and Peppers
6-8 pearl onions (sliced)
6-8 mini bell peppers (julienned)
1/4 cup avocado oil
2 tbsp. apple cider vinegar
1/2 tsp Herbs de Provence
salt and pepper
Avocado Sauce
1/2 an avocado
a handful of cilantro or parsley leaves
2 tbsp. avocado oil
1/2 tsp garlic powder
1/4 tsp salt
water as needed
Instructions
TO start, transfer sliced onions and peppers to a mason jar. Add avocado oil, apple cider vinegar, herbs de Provence, and salt and pepper to taste. Cover and shake to combine. Marinate for anywhere from 30 minutes to 1 hour. Will last unrefrigerated for 2-3 days.
NOW, add diced chicken strips to a bowl and set aside. Heat 1 tablespoon of avocado oil and sauté kale and scallions for approx. 3 minutes, and season with a pinch of salt and pepper. Transfer kale and scallions to the bowl with the chicken and add in pepper flakes and fish sauce. Toss to combine and set aside.
WASH and trim lettuce leaves and transfer to a serving platter.
FOR the avocado sauce, add all ingredients to a food processor and pulse until smooth. For a thinner sauce, add water as needed.
BUILD lettuce cups by stuffing with chicken mixture and finishing with marinated peppers and onions and avocado sauce. Serve immediately.
---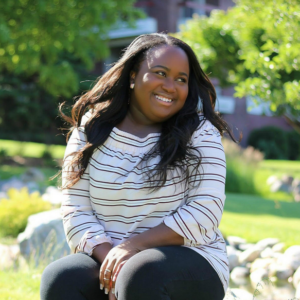 The recipes in this post were created and photographed by Charlotte Smythe of Confessions of a Clean Foodie.
From Charlotte: My love for real food and cooking is what drives me to make healthier changes in my life. Through that passion, I can hopefully inspire my readers and followers to do the same. I have always believed health is so much more than a certain size or weight. It's about changing the way we view food, our selves and the world around us. The cherry on top is improving our communities and the world through real food. HAPPY COOKING.