Today we're cooking with Whole30 ingredients from Thrive Market, an online grocery store that sells many of your favorite Whole30 Approved brands. At Thrive Market, organic food and natural product prices are 25–50% lower what you'll find in most supermarkets—and they ship straight to your door.
[Tweet "Shareable Bite recipes featuring our favorite #Whole30 @thrivemkt products! #SeptemberWhole30 #ad"]
When you join Thrive Market as an annual member today, you'll get 25% off your first order, plus you'll get to choose a free gift. That's all on top of 30 days risk-free. And this is in addition to their already discounted prices and free shipping. Talk about an incentive to maintain your healthy food freedom habits long after your Whole30 is over!
Shareable Bites featuring Thrive Market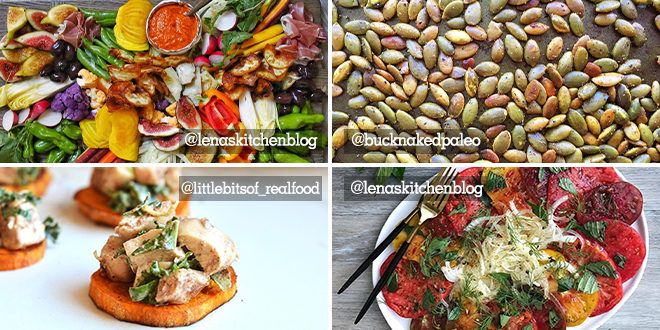 Need some ideas about how to use your Thrive Market goodies? We're featuring four delicious recipes from our Whole30 Recipes Instagram account; shareable dishes perfect for parties, cookouts, or potlucks during your #September Whole30.
Ready to Thrive? Click here to get sign up and claim your free gift. 
Heirloom Tomato and Onion Salad from Lena of @lenaskitchenblog

Ingredients
3 large heirloom tomatoes
1/2 small sweet onion, thinly sliced
2 T. fresh dill, torn
2 T. fresh basil, torn
2 T. extra virgin olive oil
Sea salt, to taste
Instructions
CUT the tomatoes into ¼-inch slices; arrange around the perimeter of a large plate. Mound the thinly sliced onion in the center of the plate, then scatter herbs over the top. Finish with a drizzle of olive oil and a sprinkle of salt.
Turmeric Roasted Pumpkin Seeds from Kirsten of @bucknakedpaleo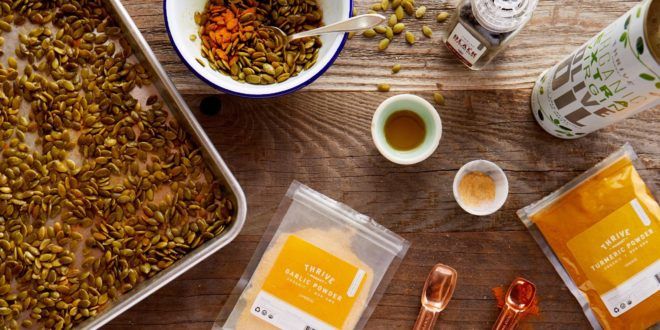 Ingredients
1/2 tsp. ground turmeric
1/2 tsp. garlic salt or sea salt
1/2 tsp. black pepper
1 cup hulled pumpkin seeds
1 tsp. extra virgin olive oil
Instructions
PREHEAT oven to 375 degrees F. In a small bowl, combine turmeric, salt, and black pepper. Line a large baking sheet with parchment paper and add pumpkin seeds; drizzle with oil and sprinkle with dry spice mix.
TOSS until the seeds are evenly coated; spread evenly in a single layer. Bake for 5 to 7 minutes, or until just starting to brown, stirring once halfway through. Allow to cool, then store in an airtight container.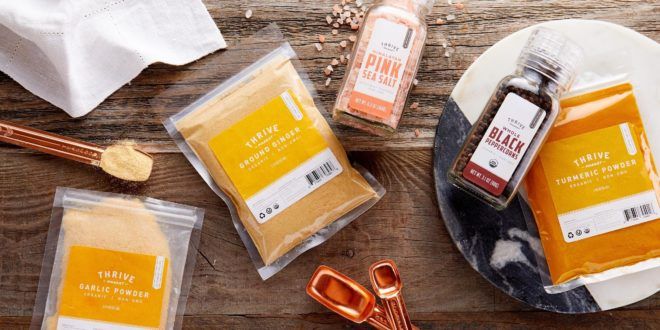 Ingredients
For the Chicken Salad
1/4 cup compatible mayonnaise
1 T. apple cider vinegar⠀
2 T. coconut aminos⠀
2 tsp. Chinese five spice powder⠀
1/2 tsp. ground ginger⠀
1/2 tsp. garlic powder⠀
1/2 tsp. sea salt⠀
1/4 tsp. black pepper⠀
4 cooked chicken breasts, cubed⠀
1 cup shredded kale⠀
1 cup shredded brussels sprouts⠀
1 cup shredded red or green cabbage
For the Sweet Potato Rounds
2 sweet potatoes⠀
1 tablespoon avocado oil⠀
Sea salt, black pepper, and garlic powder, to taste⠀ ⠀
Instructions
To Prepare the Chicken Salad
IN a small bowl, combine mayonnaise, apple cider vinegar, coconut aminos, five spice powder, ginger, garlic powder, salt, and pepper; stir to combine. Place chicken in a large bowl and pour sauce over the top; toss to coat. Add kale, brussels sprouts, and cabbage; stir again until everything is evenly coated. Season with additional salt, to taste.
To Prepare the Sweet Potato Rounds
PREHEAT oven to 425 degrees F. Slice sweet potatoes into 1/4-inch rounds and arrange flat on a foil-lined baking sheet. If needed, use two baking sheets if all the potatoes don't fit on one. Drizzle potatoes with oil, then sprinkle with salt, pepper, and garlic powder. Roast for 15 minutes; flip and cook for an additional 20 to 25 minutes, or until lightly browned. To serve, arrange sweet potato rounds on a platter and add a spoonful of chicken salad on top.
Veggie Crudite with Prosciutto, Olives and Romesco Sauce from Lena of @lenaskitchenblog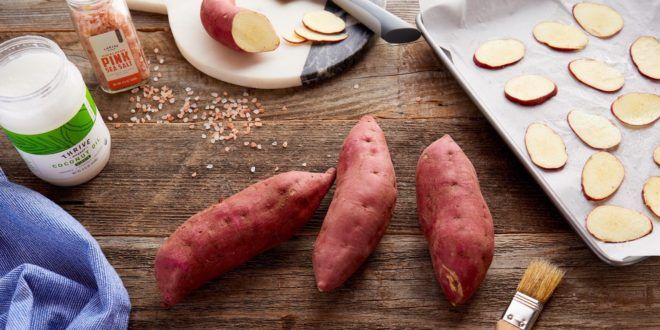 Ingredients
For the Romesco Sauce
1 (12-ounce) jar roasted red peppers, drained
1/2 cup raw almonds
1/4 cup flat leaf parsley
1 lemon, juiced
1 tsp. sea salt⠀
1/2 tsp. smoked paprika
1/4 cup extra virgin olive oil
For the Sweet Potato Chips
1 large sweet potato, thinly sliced on a mandolin
1 T. coconut oil, melted⠀
Sea salt
For the Platter
Your favorite raw veggies, such as radishes, carrots, bell peppers, cauliflower, and cucumber
Whole30 compatible prosciutto ingredients should say simply pork and salt)
Whole30 compatible Olives
Instructions
To Prepare the Romesco Sauce
PLACE red peppers, almonds, parsley, lemon juice, salt, paprika, and olive oil in a high powered blender or food processor; blend until smooth. Taste and adjust seasoning as necessary.
To Prepare the Sweet Potato Chips
PREHAT oven to 350 degrees F and line a baking sheet with parchment paper. In a large bowl, toss together sweet potato, coconut oil, and salt to taste. Evenly spread rounds on the baking sheet (use two baking sheets if needed). Bake for 10 minutes; remove from oven and flip rounds to second side. Return to oven and bake for an additional 5 minutes. They're done when slightly crisp and browned in places. Return for additional time, if needed, but be sure to watch the chips since they're easy to overcook!
ASSEMBLE your platter with various veggies, sweet potato chips, and a bowl of Romesco sauce to dip. Enjoy!
Ready to stock up for your Whole30? Click here to get started with Thrive Market.
This post is sponsored by Thrive Market. This post contains affiliate links, meaning we make a small commission on purchases made via these links. Thank you for supporting our Whole30 partners!
Save
Save
Save
Save
Save
Save
Save
Save
Save
Save
Save
Save
Save
Save
Save
Save
Melissa Urban
Co-Founder / CEO
Melissa Urban is a 7x New York Times bestselling author (including the #1 bestselling The Whole30) who specializes in helping people establish healthy boundaries and successfully navigate habit change. She has been featured by the New York Times, People, the Wall Street Journal, Forbes, The Today Show, and Good Morning America, and is a prominent keynote speaker on boundaries, building community, health trends, and entrepreneurship. She lives in Salt Lake City, UT with her husband, son, and a poodle named Henry.