This Whole30 Cream of Chicken Soup is a great base ingredient for SO many delicious recipes. It creates a condensed creamy soup similar to Campbell's canned Cream of Chicken soup, except ours is Whole30, gluten-free, and dairy-free. If you are a child of the 90s, you might remember all the things you can add this soup to for creamy deliciousness. Have fun swapping it in all your favorites!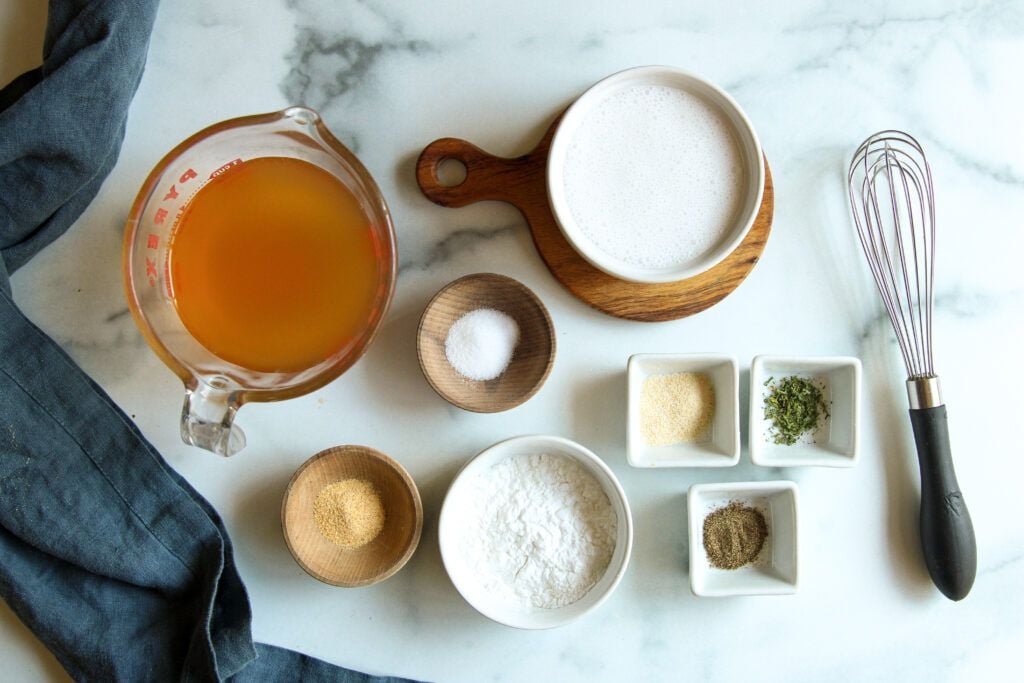 The recipe is basic and easy to make. It starts with a base of chicken broth for the chicken flavor. You can use chicken broth or bone broth if you for a more nutrient-dense option. We add coconut milk to that to achieve the creamy consistency. Then, season with garlic powder, onion powder, salt, dried parsley, and black pepper.
Finally, we whisk in a few tablespoons of starch and heat to help it thicken. We recommend using arrowroot or potato starch as a thickener. However, you can use tapioca starch if that's what's accessible to you, but it's less ideal as it will give the result a tacky consistency.
This recipe creates condensed cream of chicken soup that, again, is meant to be a swap and base for recipes using a can of cream of chicken soup. With that, keep in mind the result will be thick. It will also thicken even more as it cools, giving consistency similar to the canned version.
Use this soup immediately to create your favorite casserole or dish, or keep it in the fridge for up to 1 week or in the freezer for up to three months. Just be sure to put it in an air-tight container. We love using a silicone mold or ice tray to freeze it into portions, then transferring them to a freezer bag or container. Feel free to double or even triple this recipe to have some on hand when needed!
Whole30 Cream of Chicken Soup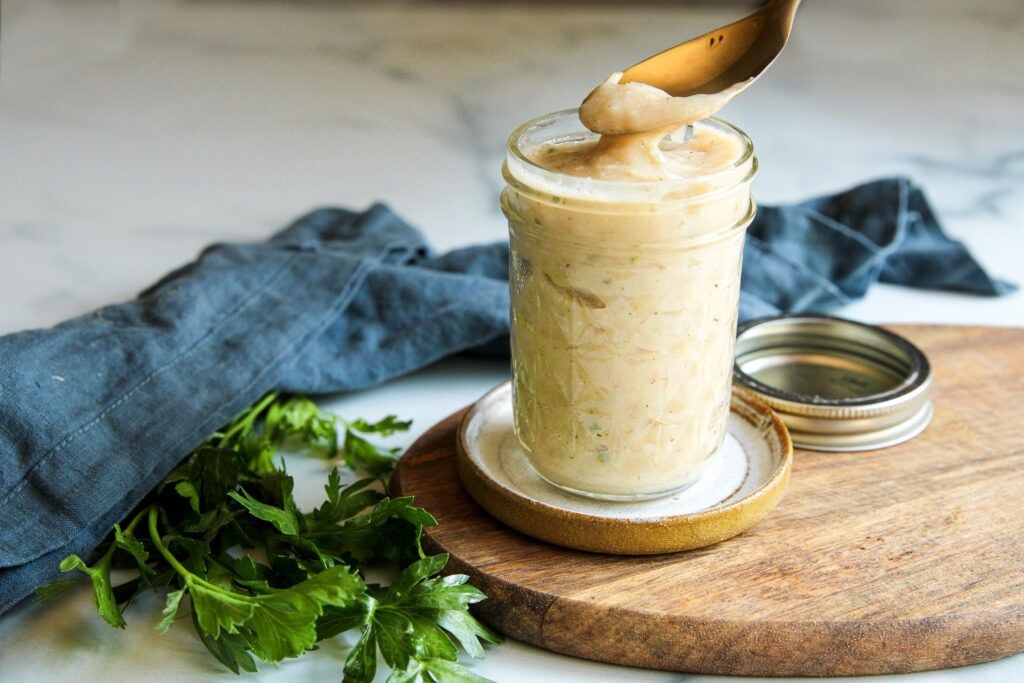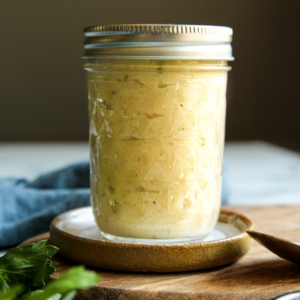 Whole30 Cream of Chicken Soup
Use this condensed soup as a Whole30-compatible swap for recipes that call for cream of chicken soup as an ingredient. Takes just 10 minutes to make!
*Base recipe makes little more than 1 cup, equivalent to 1 10.5 oz can of cream of chicken soup.
Ingredients
1

cup

chicken broth

1/2

cup

canned coconut milk

2.5

tbsp

arrowroot or potato starch

1/2

tsp

garlic powder

1/2

tsp

onion powder

1/2

tsp

salt

1/4

tsp

dried parsley

1/4

tsp

pepper
Instructions
WHISK together all ingredients in a medium pot. Once combined, place over medium-high heat.

COOK for 2-3 minutes, stirring continuously until thickens. Don't walk away or stop stirring to ensure the starch is evenly distributed and the result is smooth.

ONCE thick, remove from heat and either use for desired recipe or add to a sealed container. Soup will thicken even more as it cools.

REFRIGERATE for up to 1 week, if not using immediately, or freeze for up to 3 months. If frozen, thaw in the fridge overnight before using.
Autumn Michaelis
Recipe Creator | Whole Food for 7
Autumn Michaelis is an ACSM Certified Exercise Physiologist, with a B.S. in Exercise Science from BYU. Though exercise was her first love in the health world, nutrition has become her passion. She created the blog Wholefoodfor7, sharing easy and budget-friendly Whole30, Paleo, and gluten-free + dairy-free recipes for families. In August 2022, Autumn released the newest Whole30 Endorsed cookbook, Whole Food for Your Family. She is mom to 5 boys (yes 5!) and when not in the kitchen can be found adventuring, hiking, and tearing up the dance floor.