This creamy Whole30 Roasted Garlic Soup uses a massive amount of garlic – roughly 80 cloves! You may balk a bit at the amount of garlic used, but trust me, the flavor will have you coming back for seconds. As the garlic roasts, the flavor mellows, and it actually becomes sweeter than it's raw form. My family and I love this creamy soup as a side dish, and we almost always have the ingredients on hand, so it's easy to blend up a batch whenever we get a craving for it. Sub out the chicken broth for veggie broth to make this an easy vegetarian option.
Whole30 Roasted Garlic Soup
Recipe & photo by Stephanie Kelley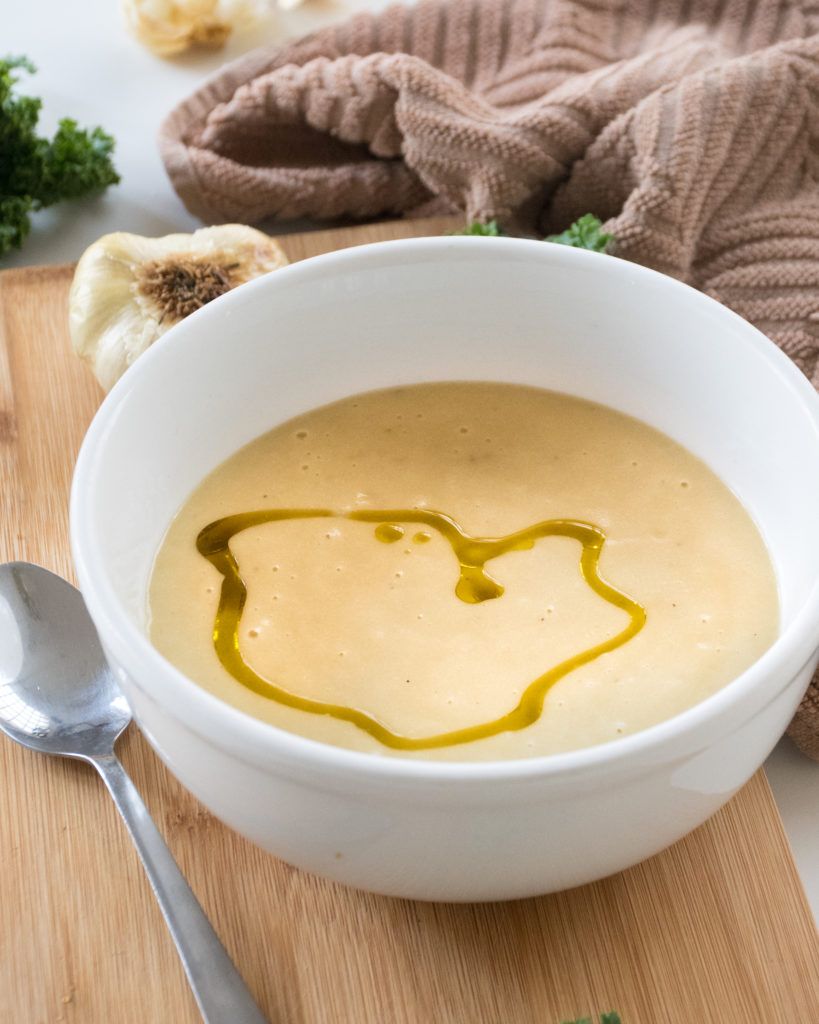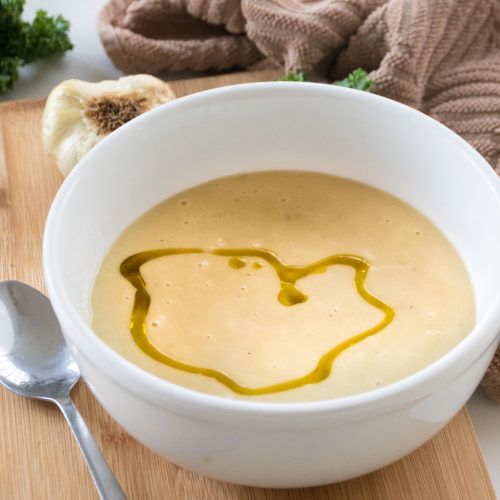 Whole30 Roasted Garlic Soup
Ingredients
80

cloves

of garlic (or 8 heads)

4

tbsp

olive oil

1

medium onion

,diced

6

medium

yukon gold potatoes

bite size pieces

8

cups

chicken broth

1

can

coconut milk

unsweetened

salt and pepper to taste
Instructions
CUT off the tops off of the heads of garlic.

POUR ½ tablespoon olive oil over the exposed cloves and sprinkle with salt.

WRAP heads of garlic in a piece of aluminum foil.

PLACE on a baking sheet roast for 40 – 50 minutes, until browned and soft

In a large pot, cook onion in 1 tbsp olive oil for 6-7 minutes.

ADD potatoes and broth to the pot. Season with salt & pepper.

BRING broth and potatoes up to a boil for 8-10 minutes until potatoes are soft.

ADD coconut milk to the pot and heat through.

Carefully ladle soup mixture into a food processor or blender (this can be done in batches).

ADD garlic to the blender or food processor by squeezing the softened heads until the garlic comes out (it should come out easily).

PUREE the soup mixture until smooth.

SERVE with a drizzle of olive oil and fresh chives.
You Might Also Like…
---
Stephanie Kelley
Social Media Content Manager
Stephanie Kelley, our Social Media Content Manager, lives in Denver, CO and is a wife, mom and wanna-be shredding guitarist with an immense love for meeting and connecting with people. She thrives on sharing her life experiences, whether it's writing a blog post about overcoming a personal struggle, creating a new song with her drummer husband, or simply sharing what she's making for dinner. These experiences all matter to her, especially if she's using her creativity and making meaningful connections along the way.