It's spring, which means it's graduation party season! Whether you're planning the entire menu or simply contributing a dish, we've rounded up nine festive and tasty recipes from our Whole30 Recipes feed. Each of these dishes works well when paired with non-compatible items (for people who aren't doing a Whole30 or are practicing their Food Freedom). Or, select several recipes from the list below and serve an entirely Whole30 compatible menu. They're all so flavorful and fun, your guests won't miss the grains, dairy, or sugar.
[Tweet "Planning a graduation party? Check out our roundup of nine tasty and festive recipes. "]
SNACK | Buffalo Turkey Meatballs from Whole30 Noir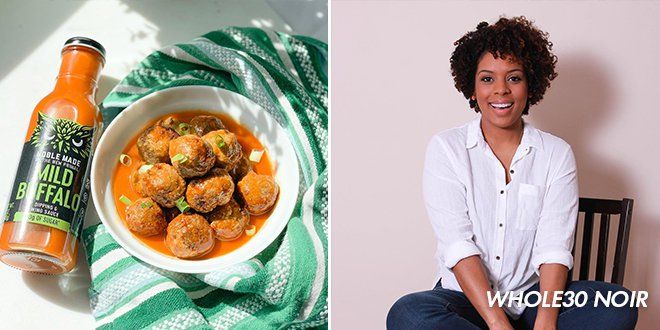 Serving Size | Makes about 12 standard size meatballs
Ingredients
1 lb Whole30 Compatible Turkey Sausage
1 tsp garlic powder
1 tasp onion powder
1 tsp fennel
1 tsp minced garlic
½ tsp dried rpsemary
½ small onion, finely chopped or grated
2 tbsp Whole30 compatible buffalo sauce (such as The New Primal)
½ cup Whole30 compatible buffalo sauce for serving
Instructions
COMBINE compatible turkey sausage, buffalo sauce, garlic powder, onion powder, onion, minced garlic, rosemary and fennel
ROLL mixture into medium sized balls. Place in foil-lined air fryer basket.
COOK on 360 degrees for 15 minutes, flipping halfway. Repeat as necessary until all meatballs are cooked.
IN a clean bowl, add meatballs and ½ cup buffalo sauce. Toss until coated.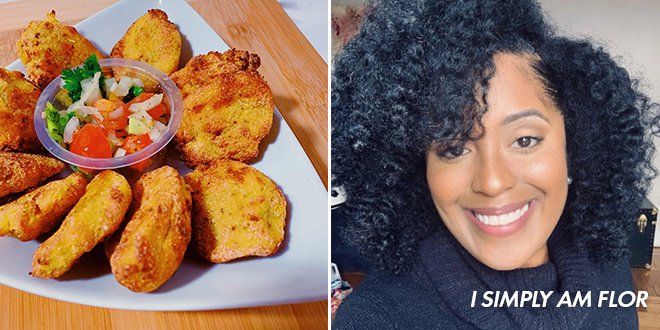 Serving Size | Yields 20
Ingredients
2 lbs. shredded yuca
2 tsp. adobo
1 tsp. garlic powder
1/2 -1 tsp. anise
1/2 tsp. coconut aminos
Instructions
IN a bowl, place all ingredients and mix well.
PLACE about 2 tbsp. of mixture on hand and shape into a flattened oval.
PLACE shaped yuca in air fryer for 10 min. at 400 degrees. Flip for an additional 5 min.
SERVE hot.
SNACK | Bacon wrapped peppers with Mac's Awesome Sauce from Healthy Little Peach

Ingredients
1 lb sausage
1 clove of garlic, pressed
1/2 vidalia onions, finely diced
1 tbsp olive oil
12 multi color mini peppers
6 slices of bacon
1 cup Mac's Awesome Sauce, divided
Instructions
HEAT a cast iron or nonstick skillet over medium heat with 1 tbsp olive oil. Also preheat oven to 400°F Add the pressed or finely chopped garlic clove along with the diced onions to the hot skillet. Cook until onions are translucent.
ADD 1 pound of compatible sausage to the onions and garlic. Cook 7-8 minutes and transfer to a large mixing bowl. While the sausage is cooking, get the mini peppers ready and make Mac's Awesome Sauce.
CUT each mini pepper in half long way. Remove seeds and membranes. Place halved mini peppers on a baking sheet, cut sides up.
ADD 1/2 cup of Mac's Awesome Sauce to the sausage and mix until combined. Using a spoon, add the sausage mixture into each half of the mini peppers.
TAKE 6 slices of bacon and cut in half. Carefully wrap 1/2 slice of bacon around each mini pepper stuffed with the creamy sausage. Bake for 20 minutes.
SERVE with the remaining Mac's Awesome Sauce for dipping.
VEGGIE | Sweet Potato "Hummus" with Veggies from Primal Gourmet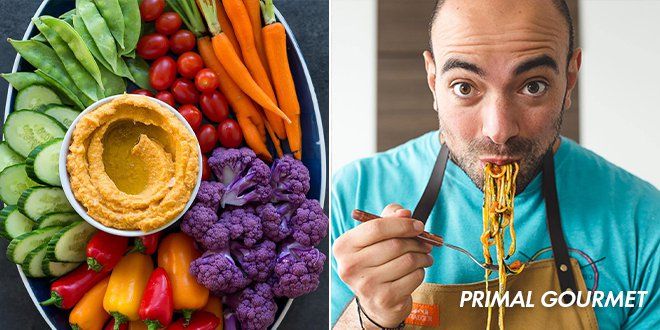 Ingredients
2 large sweet potatoes
5 tbsp tahini (100% pure sesame paste)
2 cloves garlic – finely minced
2 tbsp lemon juice
1 tsp salt
1⁄2 cup water
Instructions
ADD 1 cup water to Instant Pot. Place sweet potatoes on steamer insert and cover with lid. Set valve to 'Sealing' position and cook on high pressure for 20min. Depressurize manually. Note: cooking time will vary depending on thickness of potatoes. If center is still firm, cook under high pressure for an additional 5 minutes at a time
TRANSFER sweet potatoes to a tray and slice in half. Let cool completely. Add sweet potato, tahini, garlic, lemon juice and salt to a high powered blender or food processor. Pulse to combine then set speed to low. With the blender running, slowly pour in the water. Blend until smooth and creamy. Taste for seasoning and adjust salt or lemon juice as required
SERVE as a dip with your favorite raw vegetables.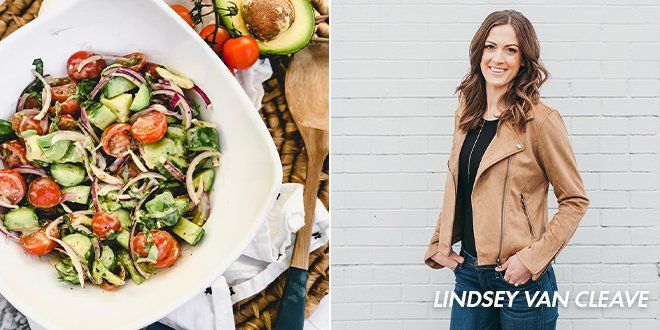 Ingredients
1.5 cups chopped cucumbers
1.5 cups halved cherry tomatoes
1/4-1/2 red onion, thinly sliced (amount is preference here)
1/4 cup fresh basil, sliced in ribbons
1/2 tsp dried oregano
1/4 cup Whole30 compatible Italian Dressing (such as Primal Kitchen Foods Dreamy Italian Dressing)
1 avocado, cubed
(Optional- 1/2 cup chopped kalamata olives)
Instructions
MIX all of the ingredients together and dress with Italian dressing.
SERVE immediately.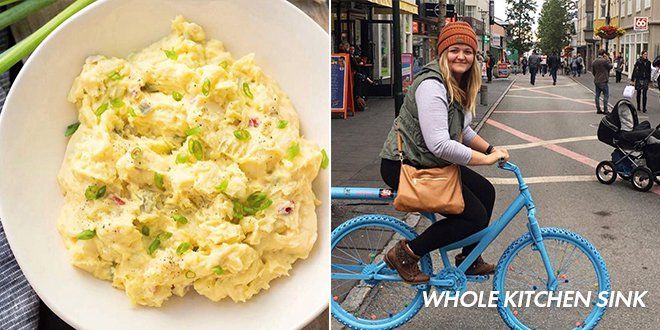 Ingredients
3 pounds boiled russet potatoes or any other white potato peeled and cubed in 2 inch cubes (About 8 medium size potatoes)
4 hard boiled eggs, peeled and finely chopped
1 cup Whole30 compatible mayo
1/2 cup finely chopped dill pickles
1/2 cup sweet yellow onion, finely chopped or grated
1/2 cup finely chopped red pepper
1/4 cup finely chopped celery
1/4 cup yellow mustard
1 tablespoon white vinegar
3 teaspoons salt, divided
2 teaspoons garlic powder
1 teaspoon paprika
1 teaspoon turmeric
1/2 teaspoon pepper
Instructions
BRING a large pot of water to a boil. Add potato cubes and 2 teaspoons of the salt. Cook for 10-12 minutes until potatoes are fork tender and able to be mashed with a little resistance. Drain and set aside.
WHILE the potatoes are cooking, add all other ingredients to a large bowl. Mix well to combine.
WITH a fork or potato masher, lightly mash the potatoes so they're slightly creamy but still semi-formed. Gently fold into the large bowl with the vegetables and mayo mixture. Combine well, garnish with green onion and additional salt and pepper to taste. Refrigerate for 2 hours prior to serving.
SIDE | Spicy Zucchini Noodles from The Real Food RDs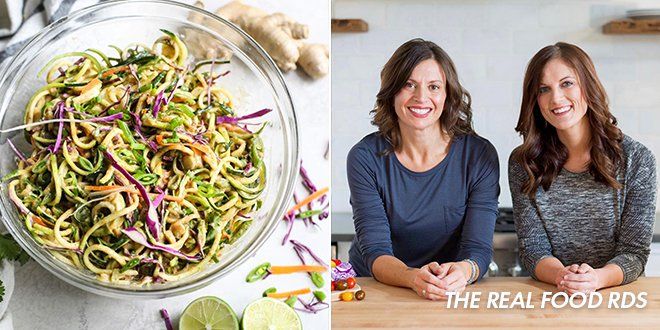 Ingredients
For the Salad
2 large zucchini, washed and ends trimmed – cut into 'noodles' using a spiral cutter or vegetable peeler
1 large carrot, washed and ends trimmed – cut into 'noodles' using a spiral cutter or a julienne vegetable peeler
1/2 cup red cabbage, thinly sliced
1/2 cup snow peas or sugar snap peas, thinly sliced
2 green onions, thinly sliced
1/4 cup cilantro leaves, roughly chopped
For the Sauce
1/2 cup creamy almond butter (without added sugar)
2 Tbsp @primalkitchenfoods avocado oil or light-tasting olive oil
1 Tbsp toasted sesame oil
1 clove garlic, finely minced
1 tsp grated fresh ginger (may substitute 1/4 tsp dried ginger)
Pinch of red pepper flakes or cayenne, to taste
3 Tbsp coconut aminos
1 Tbsp water
Juice of 1 lime
Lime wedges for serving
Instructions
CUT zucchini and carrots into spirals or 'noodles' using a spiral vegetable cutter or handheld vegetable peeler (in which case, you get 'ribbons' rather than 'noodles') and place in a large bowl.
ADD red cabbage, snow peas green onions and cilantro. Toss lightly to mix then set aside.
In a small bowl, whisk together all of the sauce ingredients. This will be thick but once you add it to the zucchini and the zucchini 'sweats' you'll have the right consistency.
TOSS sauce with vegetables and garnish with additional cilantro. Serve with lime wedges, if desired.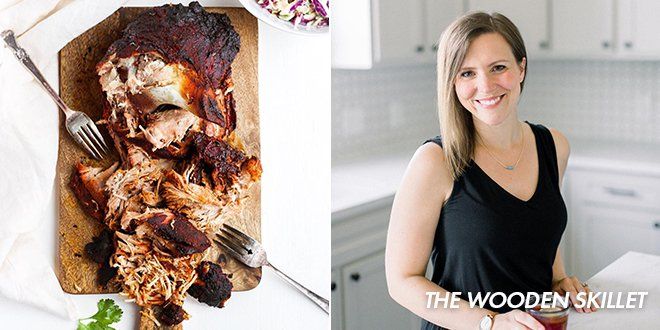 Ingredients
4 lb pork shoulder
2 Tablespoons kosher salt
2 1/2 Tablespoons smoked paprika
2 1/2 Tablespoons Lemon Pepper
1 Tablespoon cayenne pepper
1 Tablespoon smoked garlic powder
1/2 Tablespoon ground black pepper
Compatible Yellow mustard (approximately 1/2 cup)
1/2 cup apple cider vinegar
1/2 cup apple juice
1/2 cup water
2 cups hickory smoking chips
2 cups mesquite smoking chips
Instructions
RINSE pork shoulder under water, pat dry;
COMBINE salt, smoked paprika, lemon pepper, cayenne pepper, smoked garlic powder and black pepper in bowl. Place pork shoulder on cookie sheet.
TAKE yellow mustard and pour all over pork shoulder ensuring it is thoroughly covered. Take spice mixture and start sprinkling/rubbing in generous amounts all over pork shoulder ensuring that a thick layer is created, every nook and cranny. Completely and tightly wrap pork shoulder in plastic wrap.Then double bag it in plastic bags and put in fridge for a minimum of 12 hours.
After a minimum of 12 hours has passed, remove pork shoulder from fridge and let come to room temp.
START smoker and bring up to 250 degrees. Soak smoking chips in water in a bucket by the smoker. Combine apple cider vinegar, apple juice and water and put in spray bottle. Once smoker reaches 250 and pork shoulder is at room temp, put handful of smoking chips into the smoking basket and put pork shoulder in smoker.
SPRAY every 45-60 minutes with spray bottle all over. Add additional smoking chips about every hour. Smoke until pork shoulder reaches a minimum of 165 internal temp or go up to 190 for better ease of shredding. A 4 lb pork shoulder should need about 4 hours of smoking time. Let rest for an hour (wrap in foil) before shredding and serving.
Note: you can also simply place in crockpot and cook on low for 6-8 hours. Not as amazing but still very delicious!
MAIN DISH | Chicken Pesto Kabobs from Paleo Paparazzi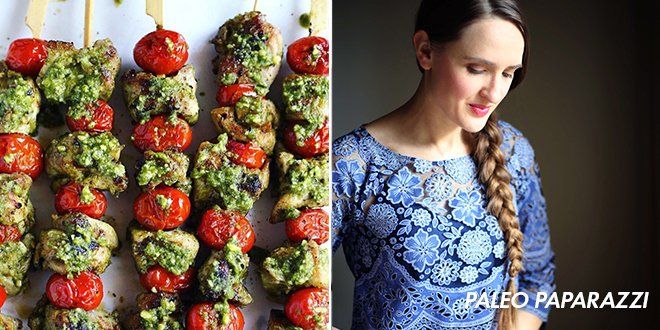 Ingredients
1.5 lbs. boneless chicken thighs, trimmed & cut into 1 inch cubes
Pint of cherry or grape tomatoes
1/2 cup pesto (recipe below)
Salt & pepper to taste
Metal or pre-soaked wooden skewers
For the Pesto
2 cups basil leaves, packed
3/4 cup extra virgin olive oil
1/3 cup pine nuts
2 cloves of garlic, peeled
2 tbsp lemon juice
Pinch of lemon zest
Salt and pepper to taste
Instructions
For the Pesto: ADD all ingredients for the pesto to a food processor (except oil) & blend until it's a smooth thick mixture.
SCRAPE sides of bowl. Return processor to on position & slowly drizzle in your oil. Keep blending until well combined and emulsified. Set aside.
For the Skewers: IN a large shallow container add the cubed chicken, 1/2 cup pesto and let marinate for 20-30 mins., overnight preferred.
PREHEAT your outside grill to medium heat, can also be done inside on an oiled grill pan on medium. When chicken is ready, thread it onto the skewers along with the tomatoes.
SPRINKLE each skewer with salt & pepper to taste. Cook on the grill 3-4 mins on each side or until the chicken has reached an internal temperature of 165–175°F. Remove from grill and slather on more of the leftover pesto sauce.
Shanna
Chief Content Officer
Shanna Keller, our Chief Content Officer, hails from Boise, Idaho, where she lives with her husband Alan and a poorly-behaved terrier named Olly. She has spent her career telling stories of life transformation on social, web, e-mail and print media platforms. In addition to celebrating Whole30 successes and stories online, Shanna loves to cook, read, and climb.