Pickled Cucumbers are a great condiment! With this quick and easy pickled cucumber recipe, you will want to keep these well-stocked in your refrigerator for all your Whole30 meals. They are a great way to use up all those summer kitchen garden cucumbers, and you can enjoy this dish well into winter.
Tips for Making Pickled Cucumbers:
This recipe uses White distilled vinegar, but feel free to try other Whole30 compatible vinegars or a blend of white with others, like apple cider or red wine vinegar.
Adding coconut aminos helps to balance out some of the acidity of the vinegar and gives these pickles amazing flavor.
Peppers are added for a kick of heat, but if you don't want heat, you can remove the seeds or the membrane from the peppers or just skip them all together.
Most pickle recipes call for dill, this one doesn't, but trust me, the spices used here result in a delicious flavor payoff. You won't regret it.
Best Cucumber for Pickling:
Small Kirby or mini seedless cucumbers are perfect for this recipe, but you can use any variety you like. Choose firm and fresh cucumbers for that extra crunchy pickle. 
Make your cucumbers a bit fancy before slicing them!
Use a fork to scrape lengthwise lines along the cucumber skin. Applying gentle pressure, glide the prongs of a fork in a downward motion along the cucumber skin. Rinse and pat dry. Then slice your cucumber into 1/4-inch thick slices. 
How long do Pickled Cucumbers last?
These Whole30 pickled cucumbers will last up to a month in the fridge and will not lose their crunch if you follow the recipe as written. Of course, that's if you don't eat them all out before then.
---
For more Caribbean-inspired cuisine, make sure to grab a copy of Althea Brown's new cookbook, Caribean Paleo — available August 22nd, 2023!
---
Whole30 Pickled Cucumbers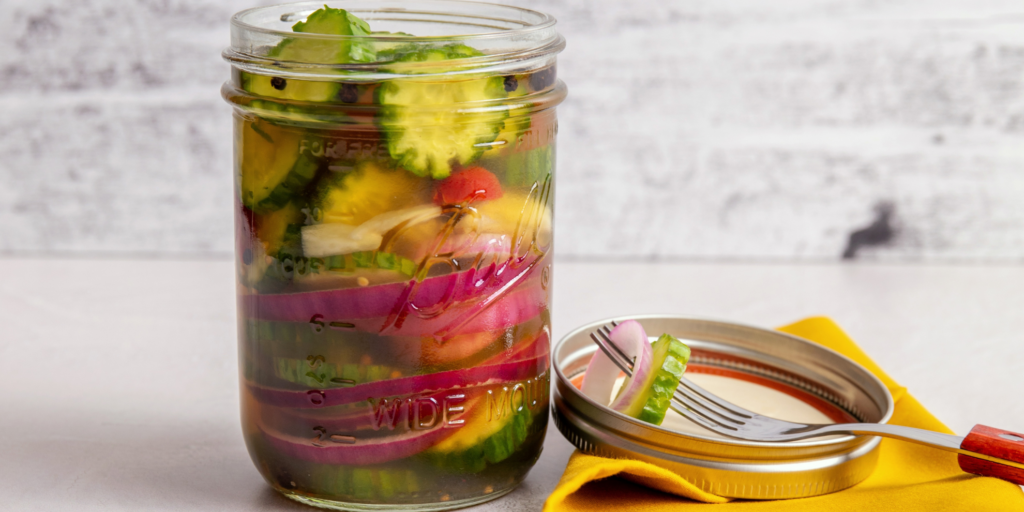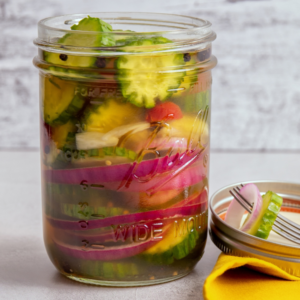 Whole30 Pickled Cucumbers from Caribbean Paleo
Ingredients
2

cups

(480 ml) water

1

tbsp

(11 g) allspice berries

1

tsp

mustard seeds

2

tbsp

(30 ml) coconut aminos

1

tsp

coarse salt

2

wiri wiri peppers (or 1/2 habanero pepper)

roughly chopped (remove seeds for mild heat)

1/2

small red onion

thinly sliced

4

cloves garlic

peeled and smashed

1/2

cup

(120 ml) distilled white vinegar

2

Kirby (mini seedless) cucumbers

sliced
Instructions
MAKE the pickle brine: add the water, allspice berries, mustard seeds and coconut aminos to a saucepan. Bring to a boil over high heat. Boil until the water reduces by half, about 5 minutes, then remove from the heat.

ADD the salt, sliced red onions, wiri wiri (or habanero) peppers, and garlic cloves, then stir to combine. Cover and let the mixture sit until it cools completely, for about 10 minutes.

POUR the mixture into a mason jar or similar container.

ADD the vinegar and the sliced cucumbers, cover, and let rest in the refrigerator for at least 30 minutes before serving. Use as a condiment.
Althea Brown
Recipe Creator | Metemgee
Althea Brown is a recipe developer and food blogger specializing in Guyanese and Caribbean food. She has a Masters in Public Administration and spent many years in Corporate Human Resources roles before taking time off to spend with her family. She spends most of her days recreating traditional Guyanese and Caribbean recipes into Whole30 recipes. She believes that culture and food traditions are important parts of your food journey. When she is not cooking up delicious meals for family and friends, she is caring for her three children and enjoying life in colorful Colorado.