Turn on the refreshing fun with this Whole30 Pina Colada Mocktail. A deliciously creamy drink full of flavor without the alcohol. Perfect for a party, event, or just a cooling drink on a hot day.
What is a Pina Colada?
A pina colada is a cocktail traditionally made with rum, pineapple juice, and coconut. However, no alcohol is allowed on a Whole30 (read more about the Whole30 rules here). But, never fear; this drink is still full of flavor you will love!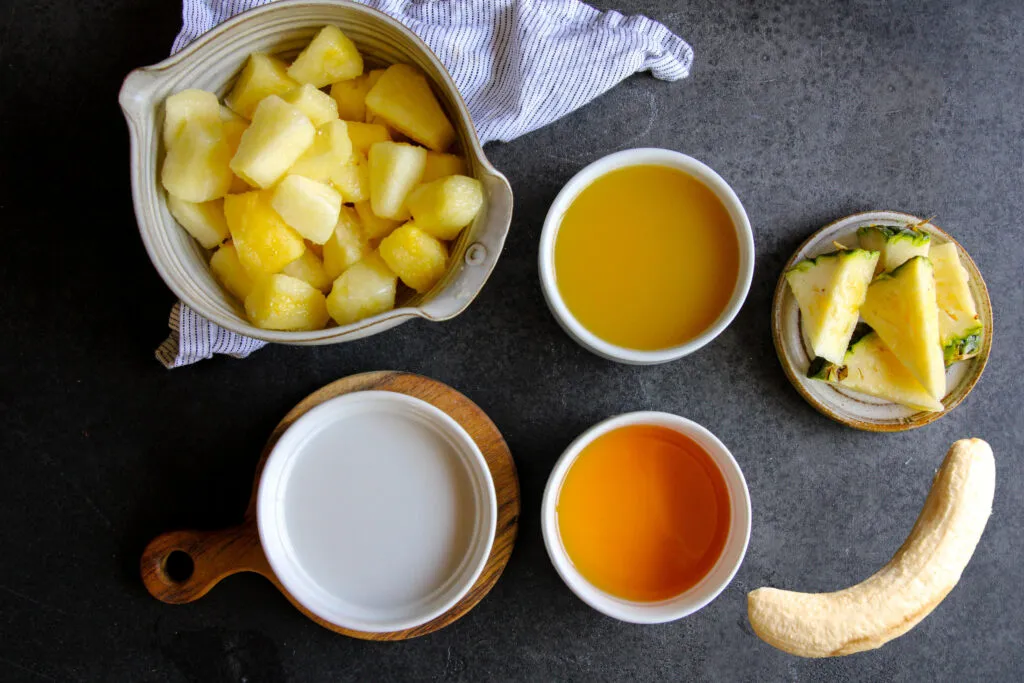 How we make it
Our Whole30 Pina Colada Mocktail has five ingredients: frozen pineapple, pineapple juice, coconut cream or milk, apple juice concentrate, and a frozen banana. The fruit makes it sweet, while the coconut cream gives it its classic coconut flavor and creaminess. The coconut cream is recommended, as it will yield the creamiest results, but coconut milk will also work. The fruit makes it sweet, while the coconut cream or milk gives it the classic coconut flavor touch and creaminess.
Apple juice can be found in the juice freezer section of most grocery stores. Look for one that is 100% juice with no added sweeteners. Since it's concentrated, it's perfect for adding a touch of sweetness without dominating the flavor. We add just a splash to each mocktail to help round out the flavor. You can see an example of what apple juice concentrate looks like here. It comes frozen but put it in the fridge to allow it to thaw and make it easier to use. Can't find apple juice concentrate? You can substitute ¼ cup apple juice, but note that it won't be as thick or sweet. Or, you can leave it out altogether if you prefer a less sweet drink.

Don't have a frozen banana? You can use a fresh one plus 1 cup of ice or leave it out. We just loved the extra creaminess and flavor it added.
Whole30 Pina Colada Mocktail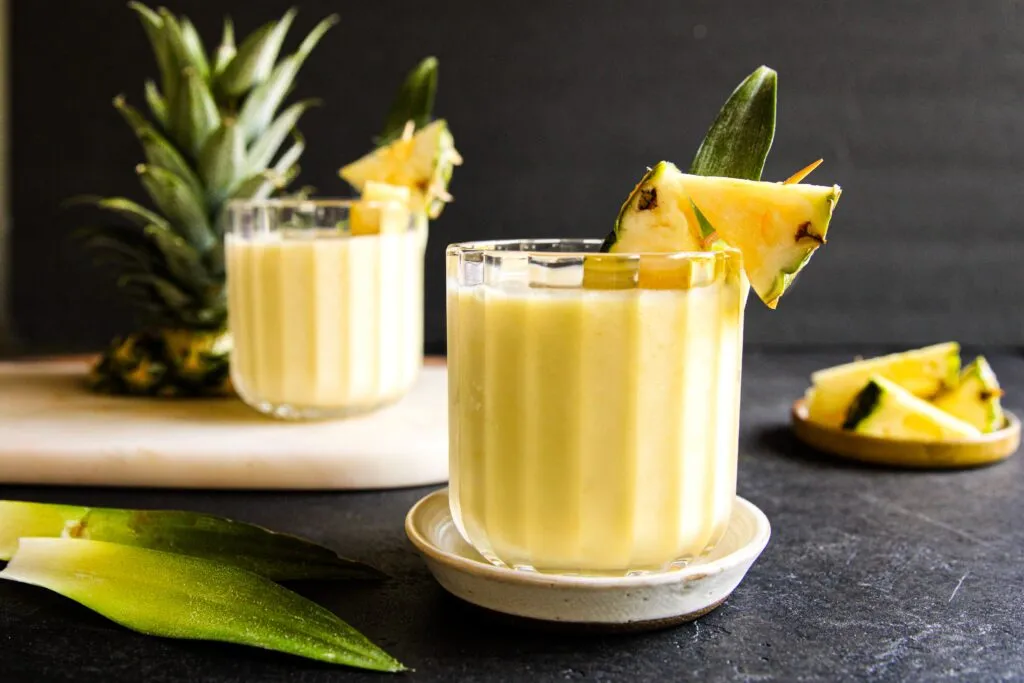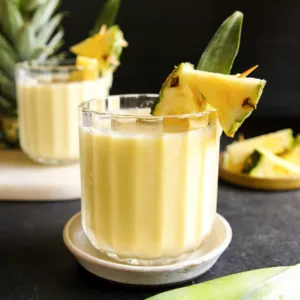 Whole30 Pina Colada Mocktail
This Whole30 Pina Colada Mocktail is a deliciously creamy drink full of flavor, sans the alcohol. Perfect for a party, event, or hot day.
Ingredients
2 cups frozen pineapple chunks
1/2 cup pineapple juice
1/2 cup coconut cream or milk
2 tbsp apple juice concentrate
1 medium banana frozen
Optional: Fresh pineapple wedges and leaves for garnish (pictured)
Instructions
BLEND all ingredients together in a blender until very smooth.

POUR into two small drink cups, garnishing as desired. Enjoy immediately.
Whole30 Watermelon Refresher
Autumn Michaelis
Recipe Creator | Whole Food for 7
Autumn Michaelis is an ACSM Certified Exercise Physiologist, with a B.S. in Exercise Science from BYU. Though exercise was her first love in the health world, nutrition has become her passion. She created the blog Wholefoodfor7, sharing easy and budget-friendly Whole30, Paleo, and gluten-free + dairy-free recipes for families. In August 2022, Autumn released the newest Whole30 Endorsed cookbook, Whole Food for Your Family. She is mom to 5 boys (yes 5!) and when not in the kitchen can be found adventuring, hiking, and tearing up the dance floor.