Spaghetti squash is no doubt a Whole30 staple, and it's been beloved by our Whole30 community for years because of it's versatility and adaptability. This recipe for Whole30 Spaghetti Squash Carbonara is a Whole30 version of a classic carbonara dish. It takes all of the rich flavors that you love, and combines them with compatible spaghetti squash and a savory cashew topping. Pair this dish with your favorite protein for a satisfying meal … chicken or shrimp would work great!
Whole30 Spaghetti Squash Carbonara
Recipe & photos by: Stephanie Kelley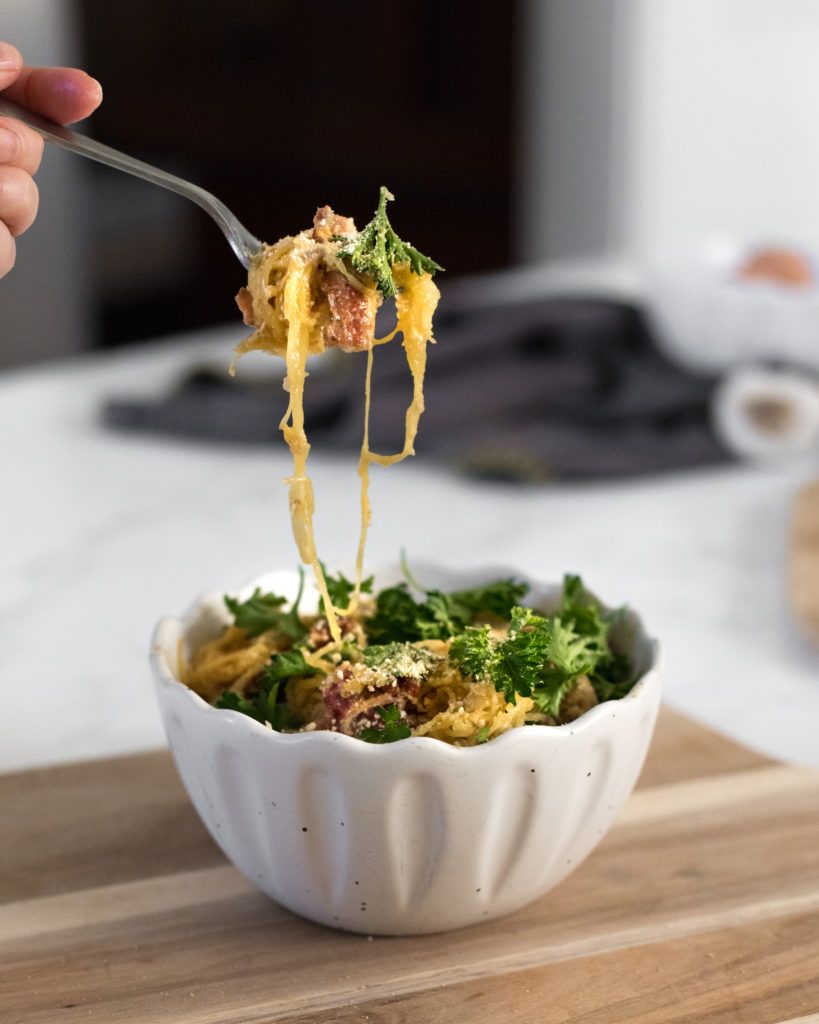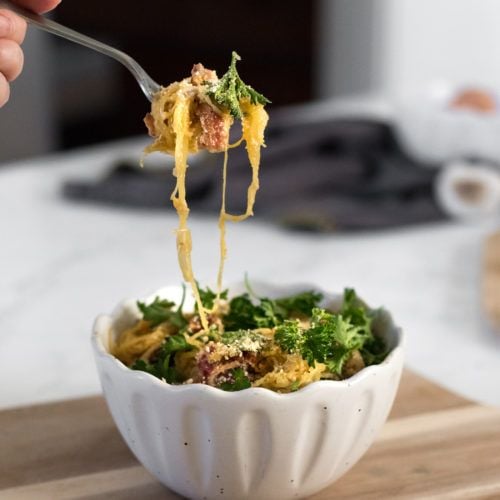 Whole30 Spaghetti Squash Carbonara
Ingredients
2

medium spaghetti squash

kosher salt

1

red onion, diced

5

cloves of garlic

4

slices of bacon

3

large eggs

(room temperature)

Salt

Pepper

Red pepper flakes
For the cashew topping
1/2

cup

raw cashews

2

tablespoons

nutritional yeast

1/2

teaspoon

kosher salt

1/2

teaspoon

garlic powder
Instructions
PREHEAT oven to 425 degrees

CUT spaghetti squash crosswise into 1.5" "rings" using a small knife

PLACE baking racks on baking sheets and put the squash rings on the racks

SPRINKLE squash rings generously with course salt and let sit on racks for 20 minutes (the baking sheets will allow the moisture to escape)

When the 20 minutes is up, WIPE the excess salt off of the squash

ROAST squash on baking racks for 30-35 minutes until tender

MEANWHILE, place all of the cashew topping ingredients in a food processor and pulse until combined and even.  Set aside.

TAKE the squash out of the oven when it's finished, let it cool, and then make a small slit on one side of the skin. 

RUN a small knife around the skin of the squash, releasing the "noodles".  Set aside

In a bowl, MIX 3 eggs, salt, pepper, and red pepper flakes.

ADD most of the cashew topping to the egg mixture, reserving a few tablespoons for serving

MIX until incorporated.

In a skillet over medium heat, COOK bacon just until crisp, but not crunchy.  Remove from heat and roughly chop.

COOK the diced onion in the bacon fat until translucent, 3-5 minutes.

ADD the garlic and cook until fragrant.

ADD the spaghetti squash noodles to the skillet, and heat through until nice and hot.

REMOVE the skillet from the heat, and gently stir the egg mixture into the squash noodles (if the heat is still on under the skillet when you do this step, it could cause your egg mixture to "scramble") until thick and creamy.

STIR in chopped bacon, and top with remaining cashew topping, and fresh parsley.

ENJOY!
You Might Also Like…
---
Stephanie Kelley
Social Media Content Creator
Stephanie Kelley is a content creator on Instagram and TikTok. During the workday, you'll catch her pouring over all things social media, setting up camera and lighting equipment to create Reels and TikToks. Stephanie brings creativity and forward-thinking to everything she does, and continually challenges herself to learn new things. You can usually find her scoping out new coffee shops, creating silly TikToks, and planning her next trip with her husband and 3 kids.