We are thrilled to introduce the next cookbook in the Whole30 Endorsed collection, and share a delicious sneak peek recipe: Whole30 Spaghetti Squash with Chicken Meatballs. Look for Buck Naked Kitchen: Radiant and Nourishing Recipes to Fuel Your Health Journey by Kirsten Buck in bookstores everywhere on April 7, or pre-order your copy today.
From the moment Kirsten Buck won our first-ever "Next Whole30 Star" contest in 2016, we knew her colorful, veggie-forward recipes were something special. Her cookbook is filled with gorgeous photos and recipes that highlight fresh, seasonal produce. There are 100 recipes in the cookbook; 74 of them are Whole30 compatible or easily modified to be so. As with every Whole30 Endorsed cookbook, there are also a handful of Food Freedom recipes that include whole food ingredients like grains, legumes or natural sugars.
Enjoy this sneak peek recipe for Whole30 Spaghetti Squash with Chicken Meatballs from Buck Naked Kitchen.
Whole30 Spaghetti Squash with Chicken Meatballs
From Kirsten: I can't say that I have even an ounce of Italian in my genes, but that doesn't stop me from loving a good plate of spaghetti (squash) and meatballs. The secret to this simple, yet flavorful dish is letting the meatballs simmer in the sauce. Don't forget to add basil, lots of fresh basil.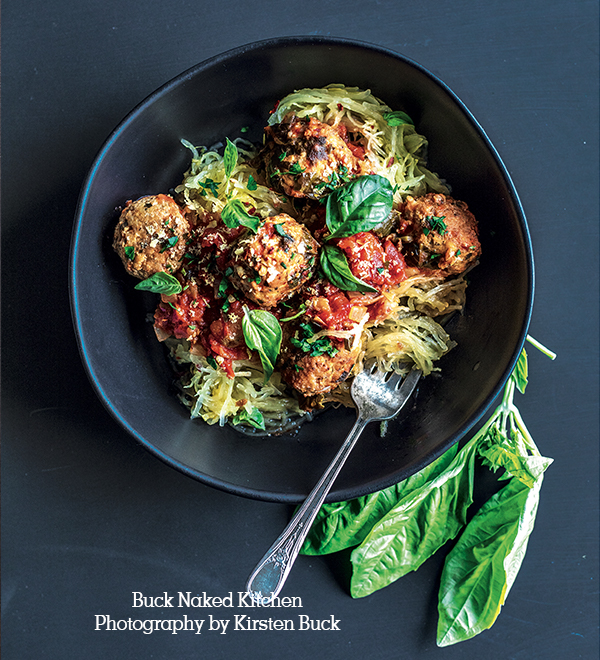 INGREDIENTS
For the Spaghetti Squash
1 medium spaghetti squash
1 tablespoon extra-virgin olive oil
Salt and black pepper
For the Chicken Meatballs
11⁄2 pounds ground chicken
1 large egg
1⁄4 cup nutritional yeast, plus more for serving
1 tablespoon coconut flour, or 2 tablespoons almond flour
1⁄4 cup finely chopped fresh parsley
2 garlic cloves, minced
2 teaspoons porcini mushroom powder
1 teaspoon salt
1⁄2 teaspoon black pepper
2 tablespoons extra-virgin olive oil
For the Marinara
2 tablespoons extra-virgin olive oil
1 small onion, finely diced
Salt
4 garlic cloves, minced
1 (28-ounce) can crushed tomatoes
1⁄3 cup chopped fresh parsley, plus more for garnish
1⁄3 cup chopped fresh basil leaves plus more for garnish
Black pepper
INSTRUCTIONS
PREHEAT the oven to 425°F.
CUT the spaghetti squash lengthwise in half (see Notes) and remove the seeds. Drizzle with the olive oil and season with salt and pepper. Place cut side down on a baking sheet and bake for 40 to 50 minutes, until easily pierced with a fork. Let cool slightly. Use a fork to pull the squash pulp into shreds.
COMBINE the ground chicken, egg, nutritional yeast, flour, parsley, garlic, porcini mushroom powder, salt, and pepper in a large mixing bowl. Gently mix with your hands until the ingredients are fully incorporated. Form the mixture into 16 to 18 equal-size meatballs.
HEAT the olive oil in a large saucepan over medium-high heat. Add the meatballs and cook until lightly browned on all sides. Transfer the browned meatballs to a plate. Reserve the pan.
HEAT the olive oil over medium-low heat in the same pan that the meatballs were browned in. Add the onion with a pinch of salt and cook, stirring, until softened and translucent, 3 to5 minutes. Add the garlic and the crushed tomatoes. Cover and cook at a steady simmer for 15 minutes.
ADD the parsley and basil and season with a pinch of salt and pepper to taste. Return the meatballs to the pan. Stir to coat the meatballs, cover the pan, and continue to simmer for an additional 15 minutes, until sauce has thickened and meatballs are cooked through.
SERVE the meatballs and sauce with the spaghetti squash, additional fresh herbs, and a pinch of nutritional yeast.
NOTES: Make sure to purchase ground chicken that has adequate fat content (not extra lean) or the meatballs will be on the drier side. Or for richer meatballs, you can substitute 1 pound ground beef mixed with 1⁄2 pound ground pork for the ground chicken.
You can also try cutting the spaghetti squash in half widthwise—you'll get longer strands.
Spaghetti with Chicken Meatballs is excerpted from Buck Naked Kitchen: Radiant and Nourishing Recipes to Fuel Your Health Journey © 2020 by Kirsten Buck. Photography © 2020 by Kirsten Buck. Reproduced by permission of Houghton Mifflin Harcourt. All rights reserved.
Some links used in this post are affiliate links, meaning Whole30 makes a small commission off of purchases made via our link. Thank you for supporting our Whole30 partners.