Welcome to Dear Melissa, where I answer your questions about transitioning into or completing a Whole30, successfully sticking to your new Food Freedom habits, and figuring out how to make this lifestyle work in the real world. Today, I'm talking to a woman who is missing her wine after a hard day at work, and wondering what she can substitute.
---
Dear Melissa,
"Definitely a night where I need a drink… what should I substitute? #kombucha? #help" [email protected] on Twitter
Dear Meg (@thegypsiefoodie),
I know you're looking for me to give you a straight substitute, as evidenced by your hashtags. A while ago, I might have counseled you to find a close substitute, like pouring some fizzy water or a zero-proof refresher in your wine glass every night after work. I would have given you options to preserve this same ritual without the less healthy consequences—at least, for the 30 days you are on the Whole30 program.
I would not answer the same way today.
Today, after years of habit research, I realize that the Whole30's beauty isn't just the awareness it brings you about the foods you've been eating, it's about how the structure of the program forces you to address your bad habits around food. Forces you. Because if I didn't make you look at them and change them, you probably wouldn't.
You'd keep eating pancakes, you'd just make them with almond flour. You'd keep eating dessert every night, you'd just do it with date-paste-sweetened frozen bananas blended into an "ice cream." And you'd keep coming home and automatically reaching for a wine glass full of something, even if that something is kombucha or fizzy water or something else that isn't anywhere near wine… but is still the same HABIT.
Kombucha or Berry LaCroix aren't The Pancake Rule. Neither of those beverages are even close to the taste or feeling of wine. But the habit is the same, and there may always be a little bit of "It feels like wine (psychologically), but it's definitely not wine… I still really miss wine." Come home. Hard day. Pull out a wine glass. Fill wine glass. Sip on whatever is in the wine glass. Take five minutes for yourself. Feel relief. You aren't getting the alcohol, but your body and brain are still living out the same pattern. So bet your booty that when your 30 days are over, you're going to realize you can actually HAVE wine again, and you're still conditioned to coming home and pulling out that glass… so guess what's going back in the glass (even if you don't really want it, out of pure habit and conditioning)?
Note: I'm specifically addressing a situation where the consumption of alcohol is ritual and habitual, like a post-work glass. If you're just heading out to a birthday party, a happy hour event with the boss, or a wedding, I see no issue with ordering a sparkling water and lime and sipping away on something more exciting than plain old water during that event. The difference is the context; one is a reoccurring habit ingrained in your brain as a pattern of behavior, and the other is a once-in-a-while event that has no regular ritual. You feel me?
Find a New Routine That Delivers the Same Reward
Today, I'll encourage you to find an entirely new behavior that satisfies the ritual and gives you the same reward: a graceful transition between a hard work day and your home life, with a side of "treat yo'self." Options include:
Going for a walk
Taking 15 minutes to read a book
Spending time outside (gardening, just sitting, etc.)
Putting on really good music and chopping vegetables
Putting on a yoga or exercise DVD and moving your body
Calling a friend
Meeting a friend for tea or a walk
Going to the gym, even if all you do is stretch
Going to the bookstore and browse (or buy)
Taking yourself out for a lovely Whole30 meal, even if you're solo*
Playing with your kids or dog
Making out with your significant other
Grocery shopping (if you find that relaxing, which I do)
Brewing a pot of herbal tea*
*That last one is perhaps too close to the old habit (drinking a beverage after work), but I find the ritual of choosing the tea, steeping it properly in a pretty pot, pouring it into a matching tea cup, and sipping it slowly (because it's hot) to be a very different psychological experience than pouring a glass of wine. This one may not work for you.
Overwrite the Habit With a New, Healthy One
The key is less WHAT you do and more that you do is consistently, so you overwrite a new habit over the old "hard day -> drink wine" one. Pick something you think will work to relieve stress and brings you comfort. For me, it'd be hitting up a yoga class, a walk in the park, or a sushi roll or two at the counter of my favorite restaurant. For you, it may be something else; something you love, but feel like you can't really indulge in as often as you'd like. (Or something rather routine that simply brings you joy, like chopping vegetables. It's very stress-relieving. Try this.)
The idea is simply to replace the old, less healthy habit with something new, so that when your Whole30 is over and life gets hard, your brain has some new plans to fall back on, instead of automatically reverting back to what you used to do. And hey, as part of your Food Freedom, maybe that includes choosing a glass of wine after work once in a while. That's totally great, as long as the choice is conscious, deliberate, and worth it; and not an automatic, mindless habit-driven behavior.
Best in health,
Melissa
---
Got a question for Melissa? Submit it using this handy form.
Remember, we aren't answering questions about the Whole30 rules via this column (use the forum!), nor are we able to offer you specific advice about your medical issue, health condition, or body composition.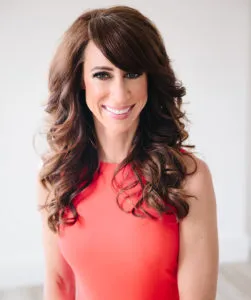 Melissa Hartwig is a Certified Sports Nutritionist, and the author of the New York Times bestselling books It Starts With Food and The Whole30: The 30-Day Guide to Total Health and Food Freedom; and the upcoming Food Freedom Forever. She has been featured in the Wall Street Journal, Details, Outside, SELF, and Shape as the co-founder of the Whole30 program. Melissa lives in Salt Lake City, UT.
Photo credit: Marie Carmel Photography
Melissa Urban
Co-Founder / CEO
Melissa Urban is a 7x New York Times bestselling author (including the # bestselling The Whole30) who specializes in helping people establish healthy boundaries and successfully navigate habit change. She has been featured by the New York Times, People, the Wall Street Journal, Forbes, The Today Show, and Good Morning America, and is a prominent keynote speaker on boundaries, building community, health trends, and entrepreneurship. She lives in Salt Lake City, UT with her husband, son, and a poodle named Henry.