Raise your hand if you're as excited about the addition of peas to the Whole30 program as we are. Today, we're putting those peas to good use in this recipe for Crispy Whole30 Smashed Potatoes with Peas, Lemon and Herbed Aioli. This savory and satisfying dish is begging to be made, so put your apron on, and read through the recipe below.
Try This: Crispy Whole30 Smashed Potatoes with Peas, Lemon & Herbed Aioli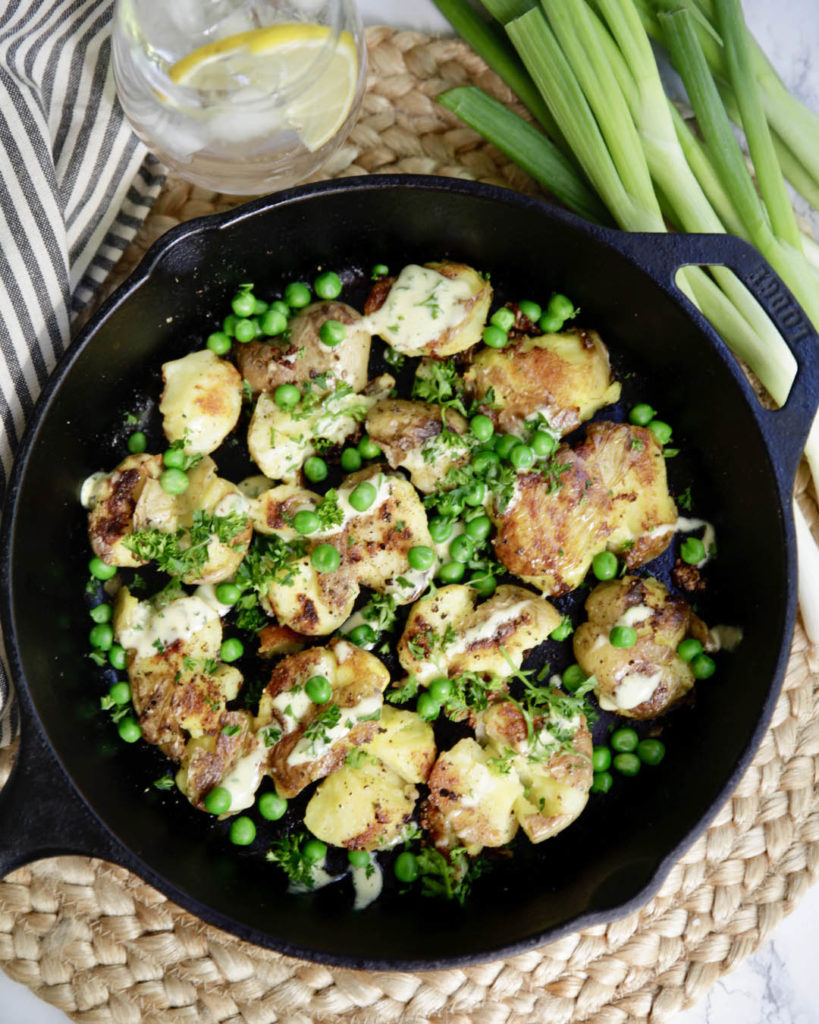 SERVES 4
Ingredients
12 gold baby potatoes
2 tablespoons avocado oil
1 teaspoon sea salt
½ teaspoon black pepper
½ cup frozen green peas
1 whole scallion, minced
2 tablespoons fresh parsley, minced
Herbed Aioli:
4 tablespoons Whole30-approved mayonnaise
1 large egg yolk
1 teaspoon sea salt
½ teaspoon black pepper
1 tablespoon fresh lemon juice
1 whole scallion, minced
2 tablespoons fresh parsley, minced

Directions

FILL a medium-sized saucepan about 1/3 full of water and add the potatoes. Bring to a boil and once boiling, set timer for 10 minutes.
While potatoes are boiling, prepare your aioli by MIXING all ingredients together in a bowl. Set aside.
When potatoes are done boiling, remove from the saucepan.
HEAT a cast-iron skillet to medium-high heat with 1 tablespoon of the avocado oil.
ADD the potatoes and with the back of a metal spatula, carefully smash each potato down, being careful not to burn your hands. They should smash very easily and quickly.
SET a timer for 3 minutes and while the potatoes are searing, carefully drizzle the remaining 1 tablespoon of avocado oil onto the potatoes and season with sea salt and black pepper.
After 3 minutes, carefully FLIP each potato and allow to sear on the opposite side for 3 more minutes.
After 3 minutes, turn off the heat and SPRINKLE potatoes with the green peas (defrost in some cold water, if needed), minced scallion and minced parsley.
SERVE potatoes with a big dollop of the aioli.

STORE any leftovers in the fridge for up to 5 days.
Enjoy!
You Might Also Like …
---
Recipes and photos by Sarah Steffens. Sarah has a B.A. in Business Administration, Public Relations from The Master's College in Southern California.
After years of experimenting with nutrition and recipes in her own kitchen, she now works as a Personal Chef in Los Angeles, cooking meals that support her client's intention to physically and mentally thrive. She has catered several independent film sets, making it her goal to optimize the energy and well-being of each creative crew. She is the in-house recipe creative for the Whole30, and the creator of the Savor and Fancy blog. When Sarah is not cooking Whole30 and Autoimmune Protocol meals, she is likely exploring mid-century sites in L.A., taking photographs, listening to an audiobook or hiking at Griffith Park.