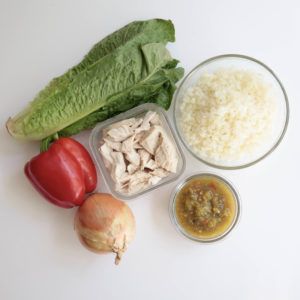 5 Ingredient Salsa Chicken + Cauli Rice
Our 5 Ingredient Salsa Chicken + Cauli Rice is a warm, hands-off meal that's super easy to prep when you're short on time.
Ingredients
2 lbs chicken breast
1 jar salsa of choice
1 bell pepper sliced
1 onion sliced
1 package frozen cauliflower rice
salt and pepper to taste
Instructions
PLACE chicken breast in slow cooker and top with salsa of choice. Allow to cook for 6 hours on low or 3 hours on high. When cooked through, use two forks to pull apart meat and mix with salsa.

WHEN you're ready to eat, sauté peppers and onions in cooking oil of choice and season with salt and pepper to taste.

PREPARE cauliflower rice to your taste.

SERVE chicken and peppers/onions over cauliflower rice and top with more salsa, guacamole, or toppings of choice.
You Might Also Like…
Chelsea Long
Chelsea Long lives in San Diego with her husband and three kids. Formerly an English as a Second Language instructor at the University level, Chelsea shifted her interest to holistic health after giving birth to her son. Her degrees in Communications and Education serve her well as she works with the Whole30 team to support content and branded content projects. Chelsea is a registered yoga teacher (RYT 200) and is passionate about helping others find healing through yoga, meditation, and nutrition.