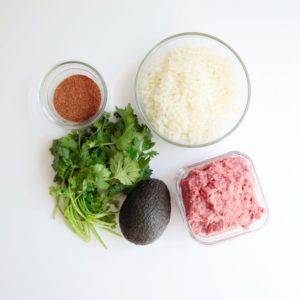 5 Ingredient Simple Burrito Bowl
Our 5 Ingredient Simple Burrito Bowl recipe is perfect for a weeknight where you don't feel like cooking an elaborate meal! The secret is in the toppings, so don't be afraid to load it up! We love the pre-made taco seasoning from our partners at Primal Palate, but feel free to use what you love or Google a recipe for a simple homemade taco seasoning.
Ingredients
2 lbs ground beef
2-4 tsp Primal Palate taco seasoning use to taste
2 cups frozen cauliflower rice
1 lime juiced
1/2 tsp salt
1/4 cup cilantro chopped
Instructions
SAUTE ground beef on medium high until cooked through and add 2-4 tsp of taco seasoning, to taste

SAUTE frozen cauliflower rice with salt, juice from 1 lime, and chopped cilantro

Serve meat over cauliflower rice and top with salsa and avocado.
You Might Also Like…
Chelsea Long
Chelsea Long lives in San Diego with her husband and three kids. Formerly an English as a Second Language instructor at the University level, Chelsea shifted her interest to holistic health after giving birth to her son. Her degrees in Communications and Education serve her well as she works with the Whole30 team to support content and branded content projects. Chelsea is a registered yoga teacher (RYT 200) and is passionate about helping others find healing through yoga, meditation, and nutrition.