Our @whole30recipes Instagram feed brings you delicious, Whole30 Approved recipes all day, every day. And, in our new series, The Best of @Whole30Recipes, we'll be bringing them to our blog! Each week, we'll feature a new mini-collection of our favorite recipes. This week, warm and cold salads that are as gorgeous as they are delicious.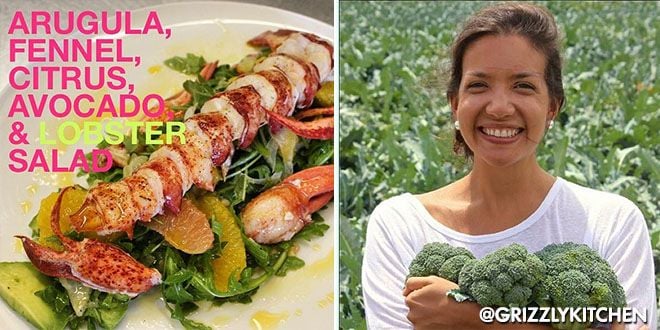 Arugula, Fennel and Lobster Salad, @grizzlykitchen
About 1 pound lobster meat (from 2, 1 1/2 pound live lobsters), or store bought lobster meat
2 ripe avocados, pitted, peeled, and sliced
1 head fennel, shaved thin
2 grapefruits, segmented, juice saved
2 oranges, segmented, juiced saved
1 small red onion or shallot, diced small
1 teaspoon ground cardamom or coriander
½ teaspoon dried thyme
1 tablespoon freshly squeezed lemon juice
Reserved juice from citrus
1/4 cup extra virgin olive oil
1 bunch baby arugula
In a small bowl, combine the cardamom, thyme, lemon juice, reserved citrus juices, salt, and pepper. Slowly whisk in the olive oil. In a mixing bowl, combine the citrus segments, fennel, arugula, and onion. Toss with enough of the dressing to coat well but not soak the salad. Season with salt and pepper. Divide the salad amongst 4 plates, and top with the avocado and lobster. Drizzle a little of the remaining dressing over the top of the salad and serve immediately.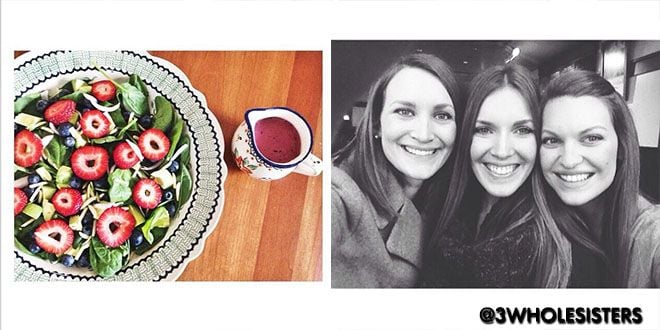 Berry and Spinach Salad with Blueberry Vinaigrette, @3wholesisters
6 cups organic spinach
2/3 cup blueberries + 1/3 cup blueberries
1 avocado diced
2/3 cup sliced strawberries
½ -1 shallot sliced julienne
¼ cup slivered almonds
¼ cup olive oil
1/8 cup apple cider vinegar
3 TBS lime juice
Salt and pepper to taste
Place spinach in a serving dish. Top with blueberries, strawberries, shallot, and almond slivers. For Vinaigrette: Place blueberries in a food processor and pulse a few times. Add olive oil, apple cider vinegar, lime juice, and salt and pepper. Process until smooth. If necessary, add a little bit of water to thin out, depending on the consistency.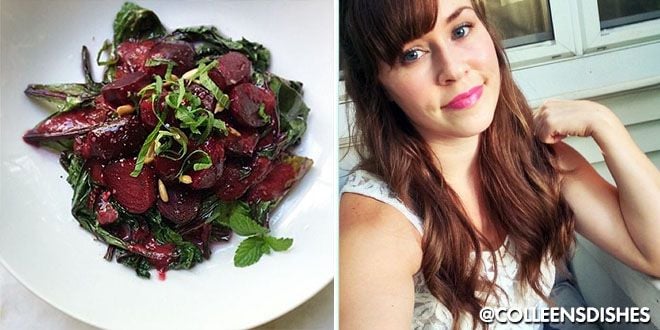 Warm Beet Salad with Cherry Balsamic Dressing, @colleensdishes
Bundle of beets with their greens attached
2 T extra virgin olive oil (plus more for drizzling)
1/4 t kosher salt
1/4 t fresh ground pepper
2 cloves of garlic
2 tablespoons sun flower seeds (optional, or nut of choice)
2 sprigs fresh mint
Dressing:
1/2 cup pitted cherries
1 tablespoon extra virgin olive oil
2 teaspoons balsamic vinegar
pinch of kosher salt
Pre-heat oven to 400 degrees. .Remove stems from beets/greens. Submerge beets and greens in water and agitate to remove dirt and grit. Rinse and pat dry. Trim your beets to similar sizes for even cooking. (Do not peel.) Place beets on a sheet of foil or use foil lined parchment paper about twice their size. Cut garlic cloves in half and place with beets. Drizzle beets and garlic with EVOO. Sprinkle with salt and pepper. Close foil around beets to create a pouch and place it on a sheet pan in the oven for 30-45 minutes and roast until fork tender (the larger your beets are, the longer they cook, up to 60 minutes). While your beets are cooking, prepare the Cherry Balsamic Dressing. Place cherries, both vinegars, and salt into a food processor until smooth and set aside. (If you don't have a food processor you could mash the cherries first with a fork and then combine ingredients, or use a blender.) When the beets are finished cooking, remove them from the oven and allow to cool enough to handle. Season beets and greens with salt and pepper to your liking.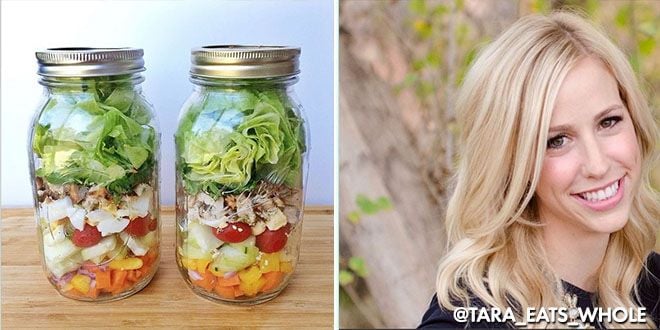 Mason Jar Salads, @tara_eats_whole
Prep and chop veggies, lettuce, and meat. Fill jar in this order:
Whole 30 compatible dressing (I don't put dressing in when I'm going to be eating it at home)
Chopped vegetables
Eggs
Meat
Lettuce last.
Pack the jar tight. Store in fridge for up to 5 days When you're ready to eat, dump out on plate, dress, and enjoy!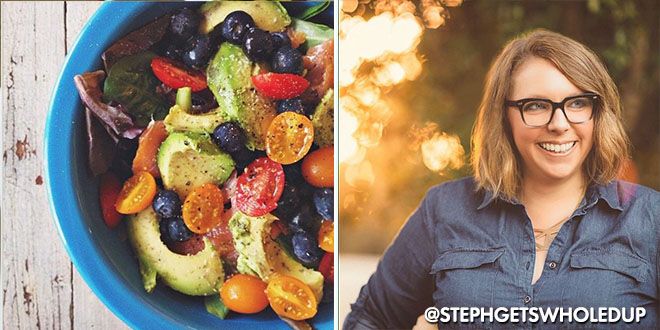 Smoked Salmon and Avocado Salad, @stephgetswholedup
2 1/2 cups of organic spring mix
Handful of blueberries
Handful of cherry tomatoes, halved
3 oz smoked salmon (check your labels)
1 small avocado, sliced
Olive oil
Salt and pepper to taste
Throw greens into a medium sized bowl and top with the next 4 ingredients. Drizzle with olive oil and season with salt and pepper to your liking.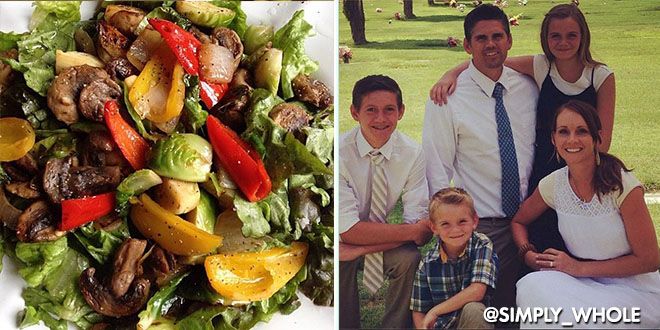 Roasted Veggie Salad, @simply_whole
Choice of veggies:
Mushrooms
Onions
Peppers
Brussels sprouts
Broccoli
Cauliflower
Zucchini
Eggplant
Cook your veggies: coat with avocado or evoo and roast at 400 for 20 min. or saute in either oil a or ghee on the cooktop. Add 2 cloves of minced garlic and squeeze 1/2-1 lemon on top. Chop romaine lettuce, and/or green leaf lettuce, drizzle with your oil of choice and pile cooked veggies on top. Pair with a protein source for a complete meal.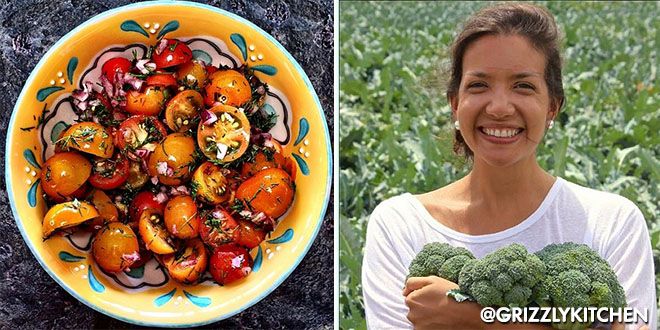 Cherry Tomato and Dill Salad, @grizzlykitchen
2 tablespoons fresh squeezed lemon juice
2 tablespoons chopped fresh dill (1 tablespoon dried)
1/2 onion or 1 shallot, finely minced
1 garlic clove, finely minced
3 tablespoons olive oil
2 pints cherry tomatoes, halved
Kosher salt & black pepper
In a medium bowl or jar, mix together the lemon juice, onion, garlic, dill, salt, and pepper. Slowly whisk in the olive oil. Add the cherry tomatoes to the bowl and toss to coat. Taste and re-season if necessary.
Melissa Urban
Co-Founder / CEO
Melissa Urban is a 7x New York Times bestselling author (including the #1 bestselling The Whole30) who specializes in helping people establish healthy boundaries and successfully navigate habit change. She has been featured by the New York Times, People, the Wall Street Journal, Forbes, The Today Show, and Good Morning America, and is a prominent keynote speaker on boundaries, building community, health trends, and entrepreneurship. She lives in Salt Lake City, UT with her husband, son, and a poodle named Henry.