Welcome to the July Whole30! Today, we're sharing a special bonus recipe from our #1 New York Times bestseller, The Whole30… but first, a few things you're going to want to do to make sure you're really ready for the month to come.
First, subscribe to Wholesome, our FREE Whole30 bi-weekly newsletter. The July 1st edition is full of July contest details, special discounts from our Whole30 Approved partners, and a special Dear Melissa for those of you supporting others in their Whole30 journeys.
Second, make sure you're following us on social media! We'll be posting lots of fun tips and tricks and sharing contest winners on Facebook, Instagram, and Twitter.
Third, are you a procrastinator and forgot to register for the Whole30 Daily? It's not too late! Sign up for 31 days of super helpful emails, motivation, resources, and accountability (selecting a July 2nd start date), then email [email protected] and ask our friendly tech support to back-date your start to July 1st. (We're not really supposed to do this, but we really want you to succeed!)
Okay, now onto our special bonus recipe! We've selected Dallas' Watermelon Salad out because it will be the perfect edition to your summertime BBQ or holiday celebration (in conjunction with the Best of Whole30 Recipes: Summer Celebrations article). Whole30 co-founder Dallas Hartwig created this recipe after tasting a similar dish at a Mexican restaurant in Seattle. You can make it up to a full day ahead of time; just leave it in the fridge until just before serving, as it's tastiest when it's cold.
Dallas' Watermelon Salad
from The Whole30: The 30-Day Guide to Total Health and Food Freedom
serves 4
PREP TIME: 10 minutes
CHILL TIME: 20 minutes
TOTAL TIME: 30 minutes
2 pounds watermelon, cut into large dice
2 tablespoons extra-virgin olive oil
Juice of 2 limes
Leaves from 4 sprigs fresh mint, finely chopped
½ serrano chile pepper, seeded, finely sliced (optional)
PLACE all of the ingredients in a large non-reactive bowl and use a wooden spoon to combine. Cover and chill in the refrigerator for at least 20 minutes before serving.
Get the Full Backyard Barbecue Menu in The Whole30
The Watermelon Salad is just one of four dishes in our Backyard Barbeque Fancypants meal, featured on page 356 of The Whole30. Grab your copy of the book and cook up our Pesto Shrimp with Cherry Tomatoes, Dry-Rubbed Grilled Steak, and Grilled Vegetables with Balsamic Glaze for your holiday barbecue or summertime celebration.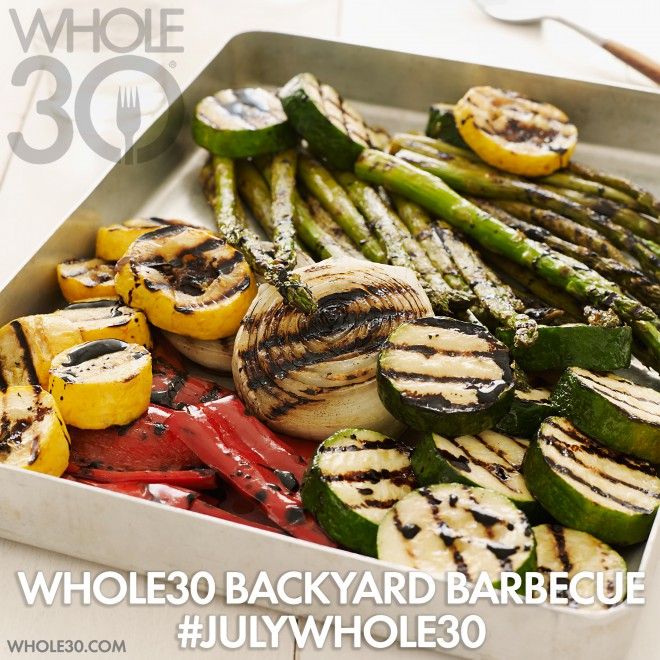 Show Us How YOU #JulyWhole30
Don't forget about our July Whole30 giveaways! (Didn't know about the massive number of giveaways we're doing this month? That's why you need to subscribe to Wholesome!)
Tag #JulyWhole30 and @whole30 in your Twitter, Facebook, or Instagram posts and show us how you are using The Whole30 to help you plan, prepare, and succeed. Every day we'll select a random entry to win a Whole30 care package from one of our Whole30 Approved partners or Whole30 HQ.
Participating vendors include Epic Bar, Barefoot Provisions, Tessemae's, LaCroix, Pre-Made Paleo, US Wellness Meats, OMGhee, Wild Zora, PRE-Beef, Osso Good, Mee Nut Butter, Klio Tea, Choffy, Sophia's Survival Foods, Pure Indian Foods, Pederson Farms, Paleo Powder, SeaSnax, Chomps Snack Sticks, and more!
See our Wholesome newsletter for details, and for additional discounts from our Whole30 Approved partners. Happy Day 1, July Whole30'ers!
Melissa Urban
Co-Founder / CEO
Melissa Urban is a 7x New York Times bestselling author (including the #1 bestselling The Whole30) who specializes in helping people establish healthy boundaries and successfully navigate habit change. She has been featured by the New York Times, People, the Wall Street Journal, Forbes, The Today Show, and Good Morning America, and is a prominent keynote speaker on boundaries, building community, health trends, and entrepreneurship. She lives in Salt Lake City, UT with her husband, son, and a poodle named Henry.