This is the third post in our Instant Pot Pressure Cooker recipe series. This counter top appliance is popular among our Whole30 community, and Whole30 compatible Instant Pot recipes are one of our most-requested resources on social media. Sarah Steffens, our in-house recipe creative, is sharing her favorite recipes for nourishing, delicious Instant Pot dishes—Whole30 compatible, of course!
Perfect Chicken Salad, Every Time
Keeping a big protein salad on hand is one of the best Whole30 tips I have. I've been different variations of chicken salads for years and always cooked my chicken on the stove-top or in the oven. When I started using my Instant Pot I realized I could save time and energy while getting the chicken to turn out with consistent taste and fantastic texture every time.
[Tweet "Do yourself a favor & make a batch of this #Whole30 chicken salad in your @InstantPot this week."]
With the Instant Pot, you can create a beautiful and tasty chicken salad in less than thirty minutes. This basic recipe is Whole30 compatible (and bonus: it adheres to the Autoimmune Protocol!), but it's also easy to modify any way you like. I'm certain this will become one of your go-to favorites.
Quick and Simple Chicken Salad (AIP Friendly)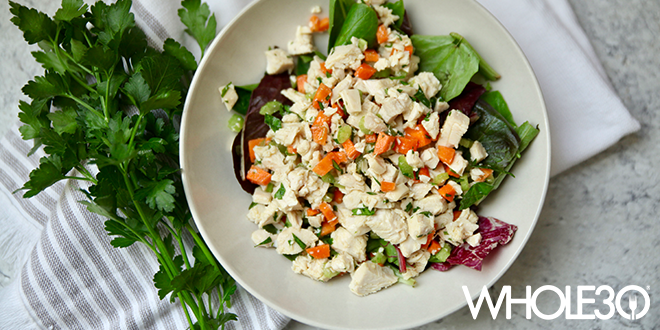 Ingredients
1 lb. organic boneless, skinless chicken breasts
1 tsp. sea salt
1 Tbs. coconut oil
2 cups purified water
4 Tbs. olive oil
1 tsp. sea salt
1 tsp. dried onion powder
1 tsp. dried garlic powder
Juice from ½ of a lemon
1 medium carrot, peeled and diced
1 medium celery stalk, diced
1/2 cup fresh parsley, minced
8 cups of mixed greens
Instructions
PLACE chicken breast in your Instant Pot with 1 tsp. of sea salt and two cups of purified water. Place a dollop of coconut oil over each piece of chicken.
PLUG in your Instant Pot and place its lid on, making sure the steam valve is set to "Sealing." Press the "Meat" button and ensure the time is programmed to 8 minutes (10 minutes if your chicken is frozen). My Instant Pot defaults to 35 minutes when I press "Meat" so I use the minus symbol button to adjust the time to 8 minutes.
ONCE set to 10 minutes, the Instant Pot will begin cooking after a few seconds. You will hear it beep and the time will update to read "On." This means that the Instant Pot is building pressure. You do not need to do anything while this is occurring. You can simply let the Instant Pot work its magic.
AFTER the Instant Pot reaches the pressure needed to cook your chicken, the timer will go back to reading "8" minutes, and will reflect the time it still needs to cook so at any time, you can see how many more minutes your chicken is pressure-cooking.
WHILE your chicken is cooking, add 4 Tbs. of olive oil to a mixing bowl and whisk it with the sea salt, onion powder, garlic powder and lemon juice. I like using a baker's spatula to do this but a traditional whisk works well, too.
MIX in the diced carrots, diced celery and minced parsley until the veggies are evenly coated in the vinaigrette.
WHEN your Instant Pot reaches 0 minutes, the timer will read "LO:00" and make a beeping noise. This means that it is done pressure-cooking and is naturally releasing its pressure. Allow the timer to reach 'LO:08' (it's OK if it goes above 8, but wait until it reads at least 8) before switching the steam valve to "Venting" and releasing the lid (because the pressure released naturally for 8 minutes, it will be very easy to remove the lid. If it is ever difficult to remove the lid, do not attempt to remove it and allow it more time to release steam. This is very important to remember!).
YOUR Instant Pot will make a beeping noise when you open the lid. Carefully remove your cooked chicken breasts from your Instant Pot and allow to cool on a cutting board. Dice the chicken and add it to the bowl with the veggies and toss it until everything is mixed well.
PLACE two handfuls of greens on a plate and top with a big scoop of chicken salad. This salad is also delicious served in endive leaves, butter lettuce leaves or radicchio leaves but is prepared the fastest when served over a big pile of assorted greens. Enjoy immediately or store to have as leftovers for 3 days.
Note: You may use these basic Instant Pot instructions for pressure-cooking chicken for any recipe that calls for cooked chicken.
Some links in this post are affiliate links, meaning Whole30 makes a small commission on items purchased via these links. Thank you for supporting our Whole30 Approved partners.
---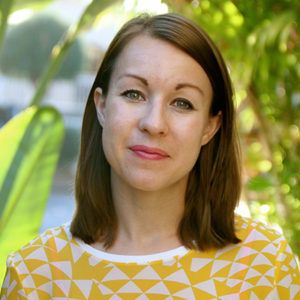 Sarah Steffens has a B.A. in Business Administration, Public Relations from The Master's College in Southern California. After years of experimenting with nutrition and recipes in her own kitchen, she now works as a Personal Chef in Los Angeles, cooking meals that support her client's intention to physically and mentally thrive. She has catered several independent film sets, making it her goal to optimize the energy and well-being of each creative crew. She is the in-house recipe creative for the Whole30, and the creator of the Savor and Fancy blog. When Sarah is not cooking Whole30 and Autoimmune Protocol meals, she is likely exploring mid-century sites in L.A., taking photographs, listening to an audio book or hiking at Griffith Park.
Note: Some of the links contained in this website are affiliate links. This means that we may receive a commission if you click on the link and make a purchase from the affiliate. We only recommend products and services we like, trust, and use ourselves, whether an affiliate relationship is in place or not.
Save
Save
Save
Save
Save
Save
Save
Save
Save
Save
Save
Save
Save
Save
Melissa Urban
Co-Founder / CEO
Melissa Urban is a 7x New York Times bestselling author (including the #1 bestselling The Whole30) who specializes in helping people establish healthy boundaries and successfully navigate habit change. She has been featured by the New York Times, People, the Wall Street Journal, Forbes, The Today Show, and Good Morning America, and is a prominent keynote speaker on boundaries, building community, health trends, and entrepreneurship. She lives in Salt Lake City, UT with her husband, son, and a poodle named Henry.