Making your own Whole30 salad dressing is a great way to save money and use simple ingredients you probably already have on hand, like olive oil, vinegar, and a handful of common dried herbs and spices. This Easy Whole30 Italian dressing is great on everything.
This dressing is FULL of flavor and nutrients. Extra virgin olive oil is a great source of satiating monounsaturated fats. White wine vinegar adds a tangy, acidic flavor that pairs perfectly with the included herbs and spices. Garlic, basil, oregano, red pepper flakes, and a touch of salt and pepper give this dressing the classic Italian flavor you know and love.
To make this recipe, simply combine all ingredients in a pint-sized jar with a tight lid, and shake well. That's it! In less than five minutes, you'll have a delicious, zesty Italian dressing that will add a punch of flavor to your Whole30 meals. Store in the same jar you used to prep, and it will keep in your fridge for about a week. That is IF it lasts that long…

Whether you're looking for the perfect dressing for your salads, roasted vegetables, or marinade for grilled meats, this easy Whole30 dressing is sure to become your next favorite staple!
If you like this recipe, check out our collection of "in a jar" recipes here.
Easy Whole30 Italian Dressing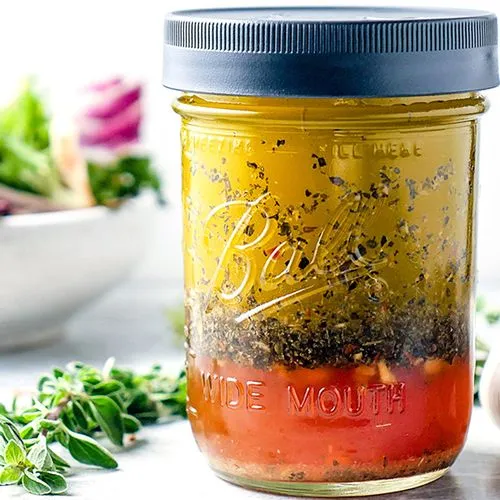 Easy Whole30 Italian Dressing
Ingredients
1

cup

extra virgin olive oil

1/2

cup

white wine vinegar

1

garlic clove

,minced

2

teaspoons

dried basil

1

teaspoon

dried oregano

1/4

teaspoon

red pepper flakes

1

teaspoon

sea salt

1/2

teaspoon

black pepper
Instructions
COMBINE all the ingredients in a pint-sized jar.
You Might Also Like…
Brian Kavanagh
Recipe Creator and Photographer | The Sophisticated Caveman
Brian Kavanagh, also known as The Sophisticated Caveman, is a creative professional with a special place in his heart for food. After struggling with weight loss for years, he stopped counting calories and began to look at the ingredients in his food and where it was coming from. He believes that eating simple, clean, real food is universal. For more Whole30 recipes and meal ideas, check out his
blog
and follow him on
Instagram
.