This four-part slow cooker series comes from Kelly Smith of The Nourishing Home. If you'd like to submit a recipe, helpful tip, testimonial, or Whole30 article for consideration, email it to [email protected].
Kelly Smith of The Nourishing Home is a Whole30 veteran who uses slow cooking to maintain her healthy Whole30 lifestyle and save time in the kitchen. She's back in today's final post of the series to share a simple and delicious recipe for making a classic marinara sauce with meatballs in your slow cooker.
Comfort Food, Whole30 Style
This week, we're wrapping up our savory collection of slow cooker recipes with a flavorful meatball and marinara sauce recipe. I think this recipe demonstrates that doing a Whole30 doesn't mean you have to miss out on comforting favorites. In fact, this tasty twist on the classic Italian dish provides all of the noodle-slurping fun by swapping out pasta with Whole30-compatible spiralized zucchini noodles. (By the way, the secret to making zoodles that look just like pasta is to simply peel the zucchini before spiralizing. It's a tricky way to get your friends, family, and picky kiddos to give this nutritious option a try.)
[Tweet "#Whole30 Slow-Cooker Turkey Meatballs with Zesty Marinara Sauce from @NourishingHome. #Whole30Recipes"]
Save Time By Prepping Ahead
One of the best ways to get a healthy meal on the table during the busy work week is to take a few minutes to prep ahead over the weekend. It takes less than 20 minutes to sauté the veggies and brown the meatballs in this recipe, so it's an easy task to accomplish ahead of time.
Once the veggies are cooked, transfer them to a freezer-safe container, and freeze them. Place the browned meatballs on a parchment-lined baking sheet and put into the freezer. Once they're frozen solid, transfer them to a freezer-safe container and freeze. When you're ready to make the recipe, simply add your frozen, prepped ingredients to your slow cooker and go about your busy day knowing a delicious meal will be waiting for you when you get home.
Slow Cooker Turkey Meatballs with Zesty Marinara Sauce

Ingredients
Marinara Sauce
2 Tbsp olive oil
1 cup finely diced sweet onion
1 cup finely diced carrots
3 large cloves garlic, minced
2 (28oz.) cans crushed tomatoes (see recipe note)
1 (6oz.) can tomato paste
1 Tbsp dried basil
1 Tbsp dried oregano
1 Tbsp sea salt
1/4 tsp red pepper flakes
1 Tbsp balsamic vinegar
2 bay leaves
Turkey Meatballs
2 lbs. ground turkey
1 large egg
1/3 cup almond flour (or 1 Tbsp coconut flour)
2 cloves garlic, minced
1 1/4 tsp sea salt
1 tsp onion powder
1 tsp dried basil
1/2 tsp dried oregano
1/4 tsp cayenne pepper
Instructions
To make the marinara sauce:
HEAT a large skillet over medium-high heat. Add olive oil, onion, carrots and garlic. Sauté veggies until carrots soften (about 5 minutes). Transfer the mixture to a 6-qt slow cooker. (Wipe out skillet and set aside to use for browning the meatballs.)
ADD remaining marinara sauce ingredients to the slow cooker. Use a whisk to thoroughly combine sauce ingredients.
To make the turkey meatballs:
ADD all of the ingredients for the turkey meatballs to a large mixing bowl. Using a fork (or your hands), thoroughly combine the ingredients. Divide mixture to form about 32 meatballs. (Use a two-tablespoon cookie scoop to make this a fast and easy process.)
REHEAT the large skillet over medium-high heat. Add a tablespoon of olive oil. Working in batches, lightly brown all sides of the meatballs in the hot skillet (about 3-4 minutes per batch). Add additional olive oil to the skillet as needed to complete the browning process. Place browned meatballs on a paper towel-lined baking sheet to absorb any excess oil.
NESTLE browned meatballs in marinara sauce in slow cooker. Cover and cook on low setting for 6 to 8 hours.
To serve and enjoy:
TRANSFER cooked meatballs to a serving bowl. Discard bay leaves. For more fresh garlic flavor, season sauce with an additional 2-3 cloves of fresh pressed (or minced) garlic.
Optional: For a smoother sauce, use an immersion blender to puree the sauce to preferred consistency.
SERVE this delicious slow cooked marinara sauce over spiralized zoodles or baked spaghetti squash. Top with meatballs and enjoy! (Freeze or refrigerate leftover meatballs and sauce for quick and easy future meals!)
Recipe Note: For a richer depth of flavor, use fire-roasted crushed tomatoes. Fire roasting brings out the natural sweetness of tomatoes and creates a subtle smokiness that really enhances the flavor of this zesty marinara sauce.
---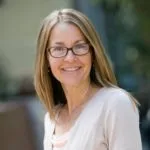 Kelly Smith is the author of the popular grain-free lifestyle blog The Nourishing Home. With a passion for healthy home-style cooking, she's on a mission to transform everyday familiar favorites into nourishing meals the whole family will love, whether they're grain-free or not. Connect with Kelly: Blog | Facebook | Instagram.
Jen Kendall
Whole30 Approved Program Manager
Jen Kendall, our Whole30 Approved Program Manager, is a born and raised Floridian who now lives in Utah with her husband Quinn and their two-year-old boy Easton. She graduated the University of Florida in 2010 from the College of Journalism and Communications and has a strong interest in nutrition, health and exercise. Jen has an insatiable appetite for travel and adventure and also loves books, spending time in the kitchen cooking and experimenting with recipes, Crossfit, and enjoying as many days as possible in the outdoors year-round.