This 4-part Soup Sunday cooking series comes from Ali Rakowski of intersectioncoaching.com, and the author of Bowls of Love. If you'd like to submit a recipe, helpful tip, testimonial, or Whole30 article for consideration, email it to [email protected].
Happy New Year and congratulations on dedicating (or rededicating) yourself to a healthy lifestyle. I have had the pleasure of sharing some of my delicious soups with the Whole30 community from my Paleo, Whole30-friendly cookbook Bowls of Love, and I am thrilled to finish off the Soup Sunday series with a green bang! (Scroll to the end of this post to learn how you can get 25% off your own copy of Bowls of Love.)
[Tweet "Celebrate Soup Sunday during the #JanuaryWhole30"]
As a health coach, people come to me at the start of a new year with big health and nutrition goals looking to reset, recharge, and get in touch with a healthier side of themselves. I can relate to this sentiment, and have summarized some of my top tips as you all look forward to a happy and healthy 2016:
Keep it simple: find and cook recipes that are quick and easy to prepare with limited tools needed. The easier and simpler things are, the more likely it is that you will actually cook the food that is hiding in your refrigerator.
Find an accountability partner: this can be a friend, significant other, parent, sibling, health coach, doctor, etc. Accountability is key if you are looking to achieve long-term success.
Set SMART goals: SMART stands for Specific, Measurable, Achievable, Realistic, and Timely. Try to keep your goals practical with a specific and reasonable structure that is achievable – a perfect example is committing to a Whole30!
Remember that good things take time: Patience and consistency are your two best friends when you are trying to create meaningful change in your life, and they cannot be taken for granted. Invest the time in yourself that you deserve, and remember that every small step will bring you closer to a healthier and happier life.
As you gear up for the excitement and challenges that a new year brings, I encourage you to use soup to your advantage in the kitchen. All fall and winter long, I like to make a pots of soup on Sundays so I have leftovers for the week either to have as lunch, a healthy side dish with dinner, or even a quick snack.
Of all my soup recipes, the Green Goddess recipe steals the show for anyone trying to give their diet a reboot. It is packed full of vegetables, insanely easy to prepare, and it is the perfect addition to your Whole30 eating plan. The beauty of this soup is that you can throw anything in – you will see a lot of optional items in the ingredient list, so be creative and go crazy.
Empty your fridge and throw your favorite veggies in the pot (the greener, the better), and pair a bowl of this soup with your favorite protein for a full Whole30 meal. Best of luck and Happy New Year!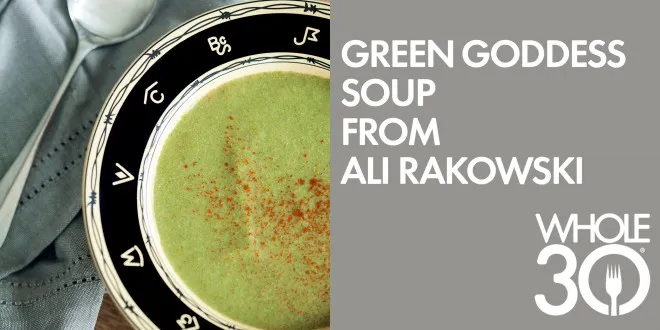 Green Goddess Soup
Ingredients
8 cups chicken or vegetable stock/broth
1 bag spinach leaves
1 bunch kale, roughly chopped
1 green zucchini, chopped
3 carrots, peeled & chopped
3 stalks celery, chopped
1 head broccoli, chopped
1 onion, chopped
1 pinch garlic powder or minced garlic
½ tsp. cayenne pepper (or more to taste)
Asparagus, chopped (optional)
1 handful cabbage, chopped (optional)
Instructions
ADD all ingredients to a large soup pot and bring to a boil. Cover and simmer over medium-low heat for 30 minutes or until all vegetables are soft.
PUREE soup with an immersion blender or in a blender or food processor until frothy and smooth.
Take 25% off Bowls of Love
Have you enjoyed Ali's Soup Sunday recipes? Her book Bowls of Love contains many more recipes, all of them Paleo friendly and most of them Whole30-compatible. Right now, Ali is offering 25% off of Bowls of Love if you purchase at this link with the code SoupSunday.
Post photo courtesy of Erica Gannett
---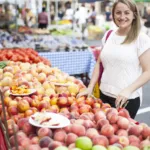 Ali Rakowski is a Stamford, CT health coach and author of the Whole30-friendly cookbook Bowls of Love. You can find more Whole30-compatible recipes on Ali's website www.intersectioncoaching.com, and you can share your #bowlsoflove with her on Instagram @ali_kristen and on Twitter at @alirakowski.
Shanna
Chief Content Officer
Shanna Keller, our Chief Content Officer, hails from Boise, Idaho, where she lives with her husband Alan and a poorly-behaved terrier named Olly. She has spent her career telling stories of life transformation on social, web, e-mail and print media platforms. In addition to celebrating Whole30 successes and stories online, Shanna loves to cook, read, and climb.