This 4-part Soup Sunday cooking series comes from Ali Rakowski of intersectioncoaching.com, and the author of Bowls of Love. We post these recipes on Thursday, so that you have plenty of time to grocery shop and plan to make it on Sunday. Post photos of your soup with the hashtag #Whole30SoupSunday so we can see.
If you'd like to submit a recipe, helpful tip, testimonial, or Whole30 article for consideration, email it to [email protected].
Happy (almost) Soup Sunday to you! I am back with a recipe that will keep you and your family and friends warm as the weather continues to cool down. After my creative and crazy purple soup recipe, I'd like to share a fun twist on a very traditional favorite: homemade chicken soup.
[Tweet "#Whole30 Soup Sunday is back with Farmers' Market Chicken Soup #Whole30SoupSunday"]
This soup recipe is from my cookbook Bowls of Love which is full of dozens of seasonal and Whole30-compatible soup recipes. I have always loved chicken soup, and I love it most of all when it is made for me by a family member or loved one. This recipe is a unique version of the old favorite.
Five years ago I was living in the South End neighborhood of Boston, right next door to SOWA, the largest farmer's market in the city. Every weekend I strolled through the market, met local farmers, and learned about the amazing food that was grown and made in my area. This was where my journey with Whole30 and Paleo-style eating began. Each week I bought everything the market had to offer, and then I created new recipes to share with my friends and family. Because I lived far away from my loved ones and colleagues, this was my way of connecting with the people in my life. I started my blog to share the recipes, and the rest is history.
You can mix and match the veggies in this soup based on what's available. Add turnips, celery, rutabaga, or anything else you have on hand. Best of all, you can make this in a crock pot if you don't have the time to watch the stove. Throw all ingredients (except for kale) in for 8-10 hours on low, and then remove the chicken and herbs. Remove the skin and bones from the chicken, and then add the shredded meat back into the crock pot along with the kale. In five short minutes, your kale will be wilted, your soup will be perfect, and your house will smell like a big dose of TLC! Enjoy.

Farmer's Market Chicken Soup
Ingredients
2 Tbsp. olive oil
2 medium sweet onions, chopped
2 shallots, chopped
1 leek (whites and greens), thinly sliced
5 cloves garlic (about 2 Tbsp.), chopped
3 lb. free-range organic chicken
Sea salt, pepper, paprika, & thyme
3 carrots, peeled & chopped
3 parsnips, peeled & chopped
1 bunch flat-leaf parsley
1 bunch dill
8+ cups water or stock
1 bunch kale
Instructions

HEAT oil over medium heat.
ADD onion, shallots, leek, and garlic, and cook for 10 minutes until fragrant.
RINSE the chicken, pat dry, and then place it in the pot
SEASON the chicken generously on both sides with salt, pepper, paprika, and thyme.
ADD carrots, parsnips, parsley, and dill.
COVER the chicken and vegetables with your water or stock (you can use half water and half stock if you'd like).
BRING the pot to a rapid boil, and then simmer covered over medium-low heat for at least 90 minutes (more is fine!).
TAKE the herbs and chicken out of the pot, remove the skin and bones, and add all shredded meat back into the pot.
BREAK your kale into 1-inch pieces, add to the pot, and cook for another 5 minutes until wilted.
Article photo courtesy of Erica Gannett.

---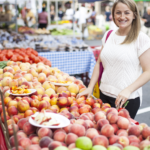 Ali Rakowski is a Stamford, CT health coach and author of the Whole30-friendly cookbook Bowls of Love. You can find more Whole30-compatible recipes on Ali's website www.intersectioncoaching.com, and you can share your #bowlsoflove with her on Instagram @ali_kristen and on Twitter at @alirakowski.
Shanna
Chief Content Officer
Shanna Keller, our Chief Content Officer, hails from Boise, Idaho, where she lives with her husband Alan and a poorly-behaved terrier named Olly. She has spent her career telling stories of life transformation on social, web, e-mail and print media platforms. In addition to celebrating Whole30 successes and stories online, Shanna loves to cook, read, and climb.