As one Whole30'er on Instagram pointed out recently: "Am I missing something, or is Thanksgiving actually a pretty easy meal to make Whole30 compatible? I mean… turkey, potatoes, green beans, sweet potatoes… it doesn't seem like much of a stretch!"
We agree; if a Whole30-compatible Thanksgiving feast is your aim, you shouldn't have much trouble finding suitable recipes for all of the traditional dishes. In fact, we have an entire Holiday Dinner menu with recipes and a timeline in The Whole30 starting on page 380!
Last year, we started the tradition of publishing a few "non-traditional" Thanksgiving recipes here on the Whole30 blog with our Whole30 Recipes Roundup. This year, recipe creative Sarah Steffens created a gingery cranberry sauce, a shareable bite, and a cozy beverage for you to add to the usual line-up. We hope you find a new favorite recipe to share with your loved ones, Whole30'ers and non-Whole30'ers alike. But before we get to the recipes…
Holiday Support
If you need some extra support to maintain your Whole30 commitment or your healthy food freedom habits during Thanksgiving and the upcoming holiday season, we've got the resources you need. Melissa Urban's new book Food Freedom Forever contains a detailed 3-step plan for discovering and maintaining your food freedom. She includes strategies on how to talk to your loved ones about food, and how to maintain your food freedom specifically around the holidays (and related social gatherings and seasonal stress).
You can always connect with us on Instagram, Facebook or Twitter, and check out the following resources here on the Whole30 blog:
Need some advice about approaching the upcoming Thanksgiving gatherings and other holiday parties? Melissa's got you covered.

We don't typically recommend you embark on a "Holiday Whole30," but we do want you to continue developing your food freedom throughout the holidays.
Want even more Whole30 Thanksgiving-worthy recipes? Check out this roundup from 2014.
Ginger Spiced Cranberry Sauce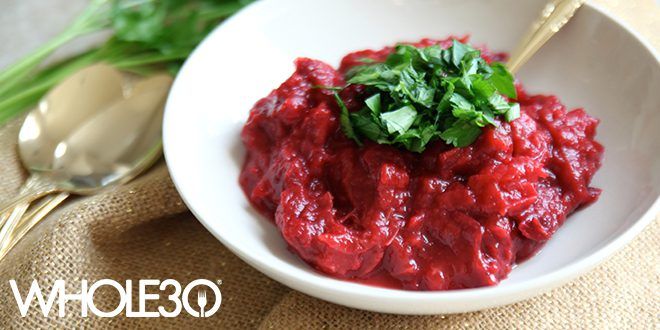 Note from Sarah: It always surprises me how easy it is to make your own cranberry sauce, but how rarely people serve it homemade with their holiday feasts. Cranberry sauce takes just minutes to prepare and truly completes a traditional holiday meal. This cranberry sauce uses fresh cranberries, apple and orange, and has a complex flavor from autumn spices we have grown to cherish during the holidays. It has no added sugars and actually supports digestion (thanks to the ginger) and supports healthy blood sugar levels (thanks to cinnamon), so be sure to add a spoonful to your turkey or side dishes this year.
Ingredients
12 ounces of fresh cranberries
1 apple, cored and diced
2 Tbs. of fresh orange juice
Zest from one orange
1" of fresh ginger, peeled and minced
1 Tbs. of ground cinnamon
1/8 tsp. of ground cloves
Pinch of ground nutmeg
¼ tsp. of sea salt
Instructions
RINSE cranberries and add them to a small saucepan with ½ cup of purified water.
HEAT stove to medium high, stirring occasionally. The cranberries will begin to pop; this is normal, simply keep stirring and reduce to a low simmer.
ADD the rest of the ingredients (apple, orange juice/zest, ginger, spices and sea salt) and simmer until everything is soft, about 15 minutes.
STORE in a glass jar in the refrigerator up to a week before ready to serve.
SERVE with your holiday feast and impress your guests (and yourself!) with this delicious and Whole30 cranberry sauce!
Thanksgiving Dinner Cabbage Cups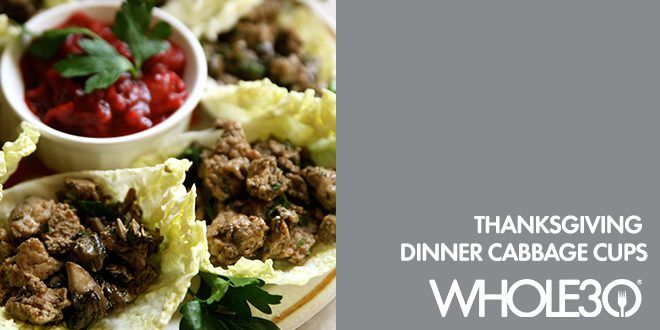 Note from Sarah: Think of this appetizer as all of Thanksgiving in one single bite. Okay, perhaps not all of Thanksgiving (insert family and friends and non-food traditions here), but they do come close! These cabbage cups can be made up to 2 days in advance and set out as an appetizer to stave off guests from picking at the main bird. Serve with fresh cranberry sauce (see above recipe), and feel free to walk about your holiday party with a tray of these. Why? Because its fun to make your guests feel fancy, and who doesn't feel fancy when they're served beautiful food on trays?
Ingredients
1 lb. of ground turkey (I used dark meat but you can use either dark or light)
2 Tbs. of ghee
1 tsp. of sea salt
Dash of white pepper
12 cremini mushrooms, wiped clean and chopped
2 Tbs. each of fresh parsley, sage, rosemary and thyme, minced
Cranberry Sauce (see recipe above)
Instructions
REMOVE several leaves from a head of Napa cabbage and set aside.
HEAT ghee in a skillet to medium low. Add ground turkey, breaking it up into small pieces and tossing with a wooden spoon or spatula. Season with sea salt and white pepper and continue cooking for 5 minutes. Add chopped mushrooms to the skillet and continue cooking until turkey is completely cooked and mushrooms are soft.
TURN off the stove and gently toss in your fresh herbs (you can sing to Simon and Garfunkel at this time). Remove turkey from your skillet and place in a bowl to cool in the refrigerator.
ONCE cool, scoop generous portions of turkey into Napa cabbage cups and arrange on a serving platter with fresh cranberry sauce in the center.
SERVE on a platter with a dish of cranberry sauce nearby. Guests can grab a cabbage cup, add a with a dollop of cranberry sauce and experience all of the wonderful flavors of Thanksgiving in each bite.
Want to make it even easier to enjoy these tasty appetizers? Serve them with cranberry sauce already added. All your guests need to do is grab one…or two!
Grounding Autumn Ginger Turmeric "Latte"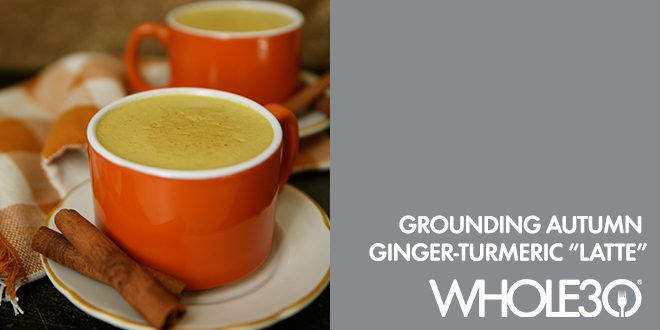 Note from Sarah: If you're not currently doing a Whole30 reset, you might decide to include alcoholic beverages in your food freedom during this holiday season. Or, you might decide it's not worth it for you. Whatever you decide, I wanted to create a delicious alternative beverage for you to try. This Grounding Autumn Ginger Turmeric "Latte" might become one of your new favorite holiday traditions. Drinks such as wine and spirits are often served before the main meal, but I think pre-meal is the perfect time to sip on this latte. It contains healthy fats, gentle gut-healing spices, is anti-inflammatory and if you add collagen, even offers protein. It's win-win if you want to feel balanced and in control of your food choices for the rest of the day, so be sure to include this recipe in your holiday spread, and or carve out time to make it for yourself once the guests have gone home, the dishes are washed and you're ready to cuddle up with a good book!
Ingredients
4 cups of herbal ginger or turmeric tea (I used 4 Trader Joe's Organic Ginger Turmeric Herbal Tea bags)
2 Tbs. of coconut butter
2 tsp. of ghee
½ tsp. of sea salt
1 tsp. of ground cinnamon
1 tsp. of ground turmeric
¼ tsp. of ground ginger
Optional: 4 Tbs. of collagen powder (we like Whole30 Approved Vital Proteins Collagen Peptides)
Instructions
HEAT 4 cups of purified water as you would to brew tea. Steep 4 tea bags in the 4 cups of water for 5-7 minutes.
WHILE your tea is steeping, add remaining ingredients (coconut butter, ghee, sea salt, spices and collagen powder) to a high-speed blender.
REMOVE tea bags and pour brewed tea into your blender. Blend on high for about 15 seconds.
POUR into 4 mugs and be sure to make a toast with whomever you are sharing this warm and nourishing holiday beverage!
---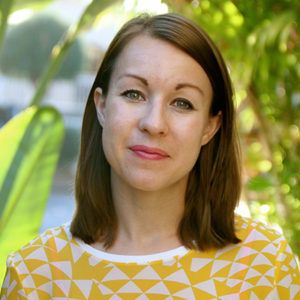 Sarah Steffens is the Whole30 Recipe Developer. She has a B.A. in Business Administration, Public Relations from The Master's College in Southern California. After years of experimenting with nutrition and recipes in her own kitchen, she now works as a Personal Chef in Los Angeles, cooking meals that support her clients' intention to physically and mentally thrive.
She has catered several independent film sets, making it her goal to optimize the energy and well-being of each creative crew. When Sarah is not cooking Whole30 and Autoimmune Protocol meals, she is likely exploring mid-century sites in L.A., taking photographs, listening to an audio book or "hiking" at Griffith Park.
Save
Save
Save
Save
Save
Save
Shanna
Chief Content Officer
Shanna Keller, our Chief Content Officer, hails from Boise, Idaho, where she lives with her husband Alan and a poorly-behaved terrier named Olly. She has spent her career telling stories of life transformation on social, web, e-mail and print media platforms. In addition to celebrating Whole30 successes and stories online, Shanna loves to cook, read, and climb.