Looking for summer-y Whole30 Memorial Day Recipes to enjoy during your upcoming long weekend? We've rounded up ten recipes from starters, salads and main dishes. Whether you're grilling at home or contributing a dish to a cookout or picnic, you'll find something here to suit your tastes. Enjoy!
[Tweet "Summer-y recipes for Memorial Day cookouts and beyond on the Whole30 blog today!"]
STARTER | Fruit Infused Water from Unbound Wellness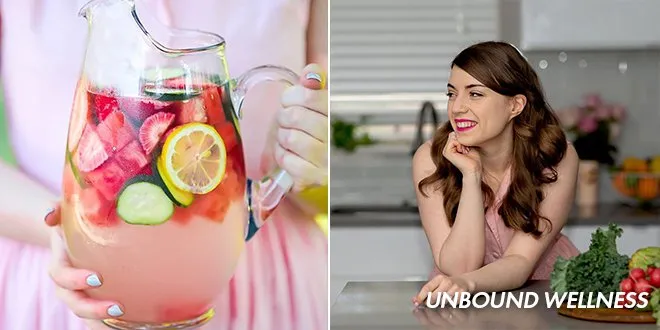 Ingredients
32 oz fresh, filtered water
2 cups watermelon, cubed
2 cups cucumber, sliced
1 cup strawberries, halved
2 lemons, sliced
1″-1.5″ ginger, peeled and grated
Instructions
ADD the fruit, cucumber, and ginger to a large pitcher. Pour the water over the fruit and mix well. Allow to sit in the fridge for 2-4 hours to chill and allow the flavors to combine.
MIX well and serve with a large ladle or spoon to scoop out the fruit and ginger into glasses, or strain the fruit for a simple glass of infused water. Add ice if desired.
STARTER | Creamy Buffalo Potato Salad from Made By Whole30
Click here to get the recipe for Creamy Buffalo Potato Salad from Made By Whole30
STARTER | Prawn and Avocado Bites from The Wonky Spatula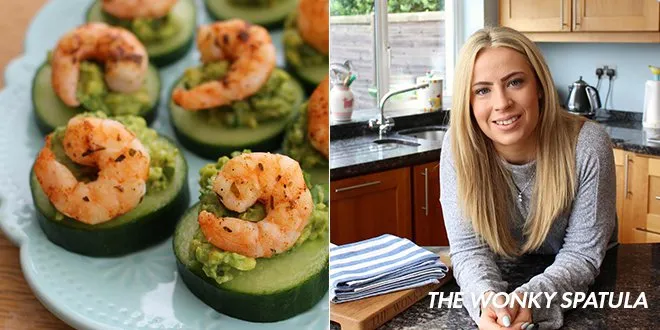 Ingredients
20 raw king prawns
1 avocado
1 medium cucumber
1 tsp coconut oil
For the guacamole
2 tbsp lemon juice
1/8 tsp garlic salt
1/8 tsp cayenne pepper
Large bunch of fresh coriander
For the prawns
1/8 tsp cayenne pepper
1/8 tsp garlic salt
1/4 tsp oregano
large pinch coarse salt
1 tbsp lemon juice
Ingredients
BEGIN by slicing the cucumber into rounds, you will need one for every prawn.
IN a large bowl mash the avocado and mix the remainder of the guacamole ingredients.
HEAT a large pan with the coconut oil, once it is nice and hot add the prawns, sprinkle on the spices & salt. Cook for 1-2 minutes before adding the lemon juice and turning them onto the opposite side. Cook for a further minute or so until fully cooked and then remove from the heat.
STACK the cucumber with a spoonful of guacamole. Add a prawn on top of each, repeating until you have used up all of the ingredients, serve and enjoy!
STARTER | Bacon Wrapped, Chorizo Stuffed Dates from Eat The Gains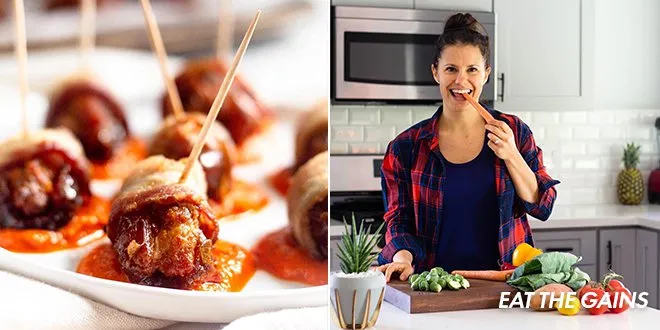 Ingredients
Chorizo Stuffed Bacon Wrapped Dates
1 cup dates (about 20 dates)
5 ounces chorizo
3 1/2 slices bacon, cut in half length wise and then cut in thirds
For the Spicy Red Pepper Sauce
2 heaping cups chopped red peppers – I used a variety of bell, mini bell, and cherry
3 cloves garlic, roughly chopped
1/2 cup chopped onion
1 tablespoon olive oil
salt and pepper, to taste
Instructions
PREHEAT oven to 375 degrees Fahrenheit and line a baking sheet with parchment paper. Cut open one side of the date and remove the seed (if needed). Stuff with the chorizo, dividing it up equally among the dates (about 1/4 an ounce each). Wrap with a piece of bacon, tucking in the ends on the bottom of the date. Place on the baking sheet and bake for 20 minutes until chorizo is cooked through and bacon is golden brown.
WHILE the dates cook, make the sauce. Heat a medium sized sauté pan over medium heat and add olive oil. Let it get hot, about 30 seconds. Add onion and garlic and sauté 2-3 minutes, stirring constantly. Add peppers and salt and pepper and sauté for another 8-10 minutes until soft. Add mixture to a blender and blend until smooth.
TO assemble, either cover the bottom of a plate or serving dish with the sauce or place small dollops on a plate. Pierce dates with a toothpick and place on top of the the sauce. Enjoy!
SALAD | Green Bean & Tomato Salad with Prosciutto from B

azaar Lazarr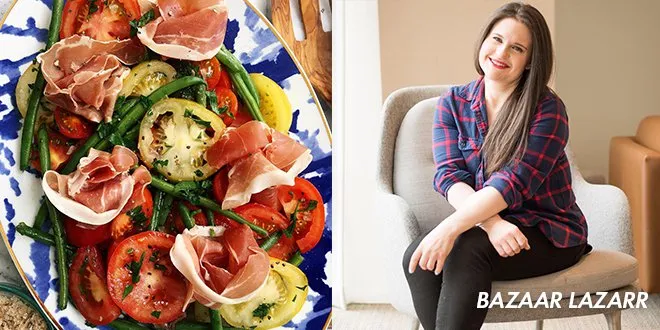 Ingredients
4 oz. Green Beans, Trimmed
Kosher Salt
2 lb. Medium Red & Gold Heirloom tomatoes, Some Sliced, Some Cut Into Wedges
1 pint Cherry Tomatoes, Halved Crosswise
¼ cup Fresh Italian parsley, Chopped
2 Tbsp. Red Wine Vinegar
3 Tbsp. Olive Oil
Dired Oregano
5-7 Slices Prosciutto
Flaky Sea Salt
Ground Black Pepper
Instructions
PREP a large bowl filled with ice water. Bring a large pot of salted water to a boil and cook green beans for about 5 minutes until they are bright green. Remove green beans from the pot with a slotted spoon and transfer directly to the bowl of ice water to let cool. Once cool, drain and pat dry.
IN a large bowl, toss green beans, tomatoes, parsley, a sprinkle of oregano, olive oil, and vinegar. Season with kosher salt and ground black pepper.
TOP with prosciutto and season with flakey sea salt and more group pepper if desired.
SALAD | Summer Tomato Tonnato Salad from Made By Whole30
Click here to get the recipe for Summer Tomato Tonnato Salad
MAIN DISH | Ranched Grilled Chicken Skewers from First And Full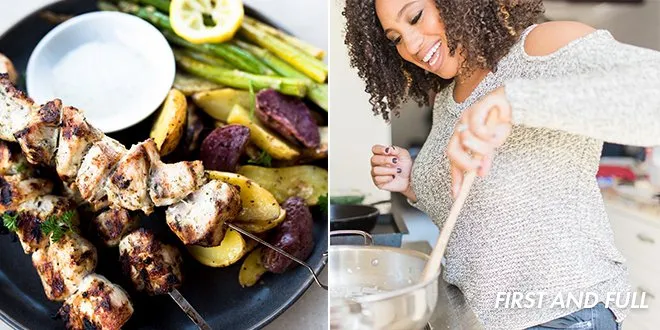 Ingredients
1 lb chicken breast, cut into 2 inch chunks
1/4 C avocado oil
1/4 C Whole30 compatible coconut milk
1/3 C Whole30 homemade mayo or Whole30 Approved mayo
3 cloves of roasted garlic
1 tsp red wine vinegar
1tbsp dried parsley
1/2 tsp dried dill
1/2 tsp onion powder
1/4 tsp dried thyme
1/4 tsp black pepper
pinch of sea salt, to taste
juice of 1/2 a lemon
COMBINE all the ingredients in a wide mouth mason jar and blend till sooth with an immersion blender OR add the ingredients to the blender and pulse till smooth.
PLACE the chicken into a bowl and pour ranch "marinade" over the top till just covered. Reserve remaining garlic ranch for a dipping sauce. Let marinate for at least 15 minutes. Thread chicken onto skewers. If using wooden skewers, make sure to soak for at least 10 minutes so they don't burn on the grill.
PREHEAT grill to medium- high heat. Cook chicken for 8- 12 minutes, flipping halfway. Serve with additional ranch!
Note: This the ranch marinade is also perfect for pork chops
MAIN DISH | Smoky Beef and Brussels Sprouts Kabobs from Made By Whole30
Click here to get this recipe for Smoky Beef and Brussels Sprouts Kabobs
MAIN DISH | Smashed Pineapple Burgers with Chipotle Aioli from Primal Gourmet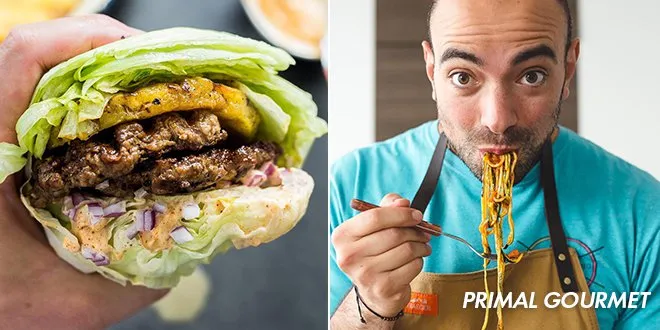 Ingredients
2 lbs ground wild boar substitute ground pork or med. ground beef
Fresh pineapple, peeled, cored and sliced into 1/2" discs
1/4 cup The New Primal Spicy Marinade (optional but recommended)
1/2 cup compatible mayonnaise
1/2 tsp dried chipotle powder OR ancho chili powder + smoked paprika
Kosher salt and freshly-cracked black pepper
Diced onion for serving
Iceberg lettuce for serving
Instructions
For the Aioli
ADD mayonnaise and chili powder in a small bowl. Stir to combine, cover with plastic wrap and refrigerate until ready to serve.
For the Smashed Pineapple Burgers
ADD meat to a bowl or tray and pat very dry with paper towel. Divide mixture into 8 1/4lbs-portions and form into large meat balls. Season the top of each with kosher salt and black pepper.
PREHEAT a grill or cast-iron grill pan over med-high heat. When the pan is hot, raise the heat to high. Working in batches, add meat and use a large, metal, off-set spatula to smash the burgers down.
BASTE each burger with a bit of the New Primal marinade and season with salt and pepper. Cook 3 minutes and flip. Baste the cooked side of the burgers with more marinade. Flip once more and cook additional 30 seconds to caramelize the top coat of marinade.
TRANSFER cooked burgers to a tray. Add sliced pineapples to the grill pan, lower heat to med-high, and cook 3-4 minutes per side or until grill marks appear.
ASSEMBLE burgers on an iceberg lettuce bun. Top with grilled pineapple, chipotle mayo, diced onion and a drizzle of the marinade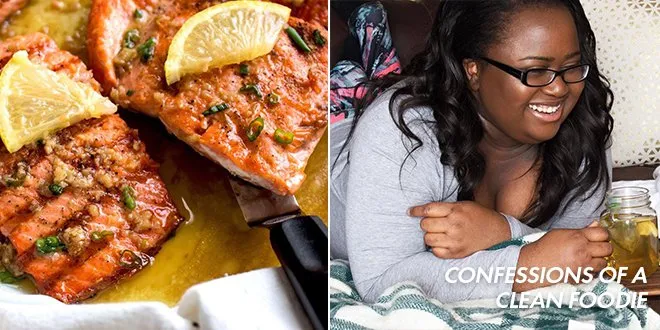 Ingredients
For the Sauce
3 tbsp. melted grass fed ghee or brown butter ghee
2 garlic cloves (finely minced)
1 tbsp. lemon juice
1 tsp. coconut aminos
1/4 cup compatible bone broth
For the Salmon
4 wild-caught, skinless salmon fillets
Salt and pepper
1 tbsp. melted ghee
The greens of 2 scallions-finely chopped (or 2 tbsp. chopped cilantro or parsley)
Lemon wedges for garnish
Instructions
START by making the sauce, heat 1 tablespoon of ghee in a small saucepan and add the garlic. Sauté the garlic (stirring continuously) until its slightly golden brown. Stir in lemon juice, bone broth, and coconut aminos. Simmer the small until it reduces to about half (approximately 2-3 tablespoons), about 3 minutes. Now, remove the sauce from the heat and whisk in the remaining 2 tablespoons of ghee, then set aside.
SEASON the salmon with salt and pepper on each side and set aside.
HEAT a cast iron pan over high-heat until it starts to smoke. Then, brush with one tablespoon of ghee. Gently transfer each salmon fillet to the grill pan (skin side up). Lower the heat to medium-high and let the salmon cook for ~five minutes (do not move the salmon during that time). Let the salmon cook and create nice grill marks. It will start to pull away from the pan when it's ready to be flipped. Flip the salmon and sear on the other side for~ 3 minutes. Transfer the fish to a serving dish, sprinkle scallions over the fish and pour sauce over.
Shanna
Chief Content Officer
Shanna Keller, our Chief Content Officer, hails from Boise, Idaho, where she lives with her husband Alan and a poorly-behaved terrier named Olly. She has spent her career telling stories of life transformation on social, web, e-mail and print media platforms. In addition to celebrating Whole30 successes and stories online, Shanna loves to cook, read, and climb.