Tired of turkey? We thought you might be. That's why we picked this recipe for Sausage, Potato and Kale Soup from The Whole30 Cookbook to share with you today. It's a warm, cozy, and the perfect dish to add to your winter menu rotation. Bonus: this recipe holds exceptionally well, and we think leftovers make for a great lunch or breakfast. But first, a few details about the December 6th The Whole30 Cookbook release (and Melissa Hartwig's January 2017 book tour).
The Whole30 Cookbook (and January Tour)
The Whole30 Cookbook hits bookstores everywhere on December 6, but you can get a bonus sneak peek at five recipe from the book today. If you pre-order the book (or RSVP for one of Melissa's January book tour events), we'll send you a downloadable recipe sample. Simply follow the instructions in this blog post and enjoy your The Whole30 Cookbook sneak peek.
Just in time for the #JanuaryWhole30, Melissa will be hitting the road in early 2017 to visit Toronto, Seattle, Kansas City, Denver, and San Fransisco. She'll talk about the Whole30 program, Food Freedom Forever, and The Whole30 Cookbook. Click here for more details and to RSVP for one of Melissa's events.
And now… the recipe!
Sausage, Potato and Kale Soup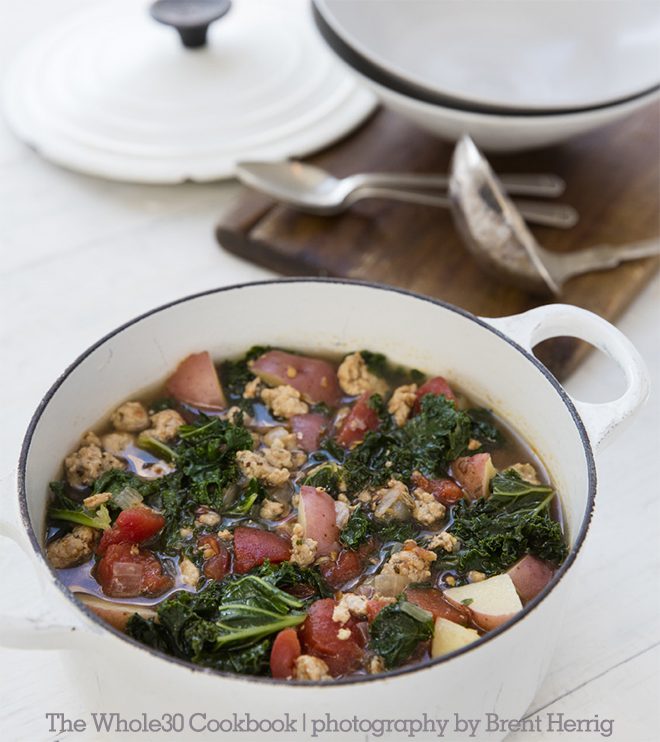 Ingredients
1 pound ground pork
2 teaspoons Italian seasoning, crushed
1/2 teaspoon salt, plus more as needed
1/2 teaspoon smoked paprika
1/4 teaspoon fennel seeds
1/4 teaspoon black pepper, plus more as needed
1/8 teaspoon red pepper flakes
1 tablespoon extra-virgin olive oil
1/2 cup chopped onion
3 cloves garlic, minced
4 cups Chicken Bone Broth or Whole30-compliant chicken broth
1 can (14.5 ounces) diced tomatoes, undrained
1 pound red potatoes, cut in 3/4-inch chunks
4 cups chopped fresh kale or Swiss chard leaves
2 teaspoons chopped fresh thyme leaves
Instructions
IN a large bowl, combine the ground pork, Italian seasoning, salt, paprika, fennel seeds, black pepper, and red pepper flakes; mix well
HEAT the olive oil in a large pot over medium heat. Add the pork mixture, the onion, and the garlic. Cook, stirring frequently, until the meat is browned.
STIR in the broth, tomatoes with their juices, and potatoes. Bring to a boil. Reduce the heat to low, cover, and simmer, stirring occasionally, until the potatoes are just tender, 15 to 20 minutes. Add the kale and thyme and cook, uncovered, until the kale is tender, 5 minutes more. Season with additional salt and black pepper and serve.
Post photography by Brent HerrigSave
Save
Save
Order Your Copy Today
THE WHOLE30 COOKBOOK
More than 150 Delicious and Totally Compliant Recipes to Help You Succeed with the Whole30 and Beyond
Still think the Whole30 is a diet? Not with recipes like these.
In this cookbook, best-selling author and Whole30 co-creator Melissa Hartwig delivers over 150 all-new recipes to help readers prepare delicious, healthy meals during their Whole30 and beyond.
Whether you've done the Whole30 once or five times—or just want to make a variety of satisfying, nourishing meals—this book will inspire you to change your life in 30 days with the Whole30 program.
Say good-bye to mundane meals with The Whole30 Cookbook. These mouth-watering recipes will help you reset your health while filling your life with delicious good food." — DANIELLE WALKER, New York Times best-selling author, Against All Grain and Meals Made Simple
DETAILS
Purchase: Amazon , B&N , Indie Bound , Powell's , BAM , Hudson , Indigo , Amazon.ca , Amazon.uk , iBooks