Here's something special to serve to your people for breakfast this weekend, straight from The Whole30 Cookbook. This recipe combines spicy, smoky sausage; creamy scrambled eggs; tender butter head lettuce leaves; and the fresh flavor of pico de gallo or hot sauce. (Top with cilantro and avocado for extra credit.) We think it's the perfect weekend Whole30 brunch dish, but they taste just as good at dinner time.
Scrambled Egg Breakfast Tacos With Quick Cider-Chipotle Breakfast Sausage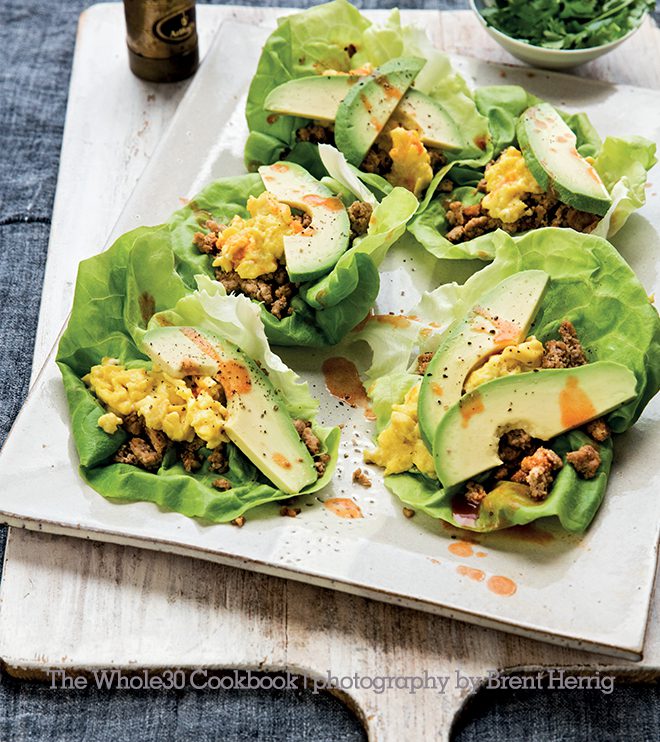 For the Sausage
1/4 cup apple cider
1 teaspoon kosher salt
1 teaspoon ground chipotle chile pepper
1 teaspoon dried sage, crushed, or 1 tablespoon finely chopped fresh sage
1/2 teaspoon dried thyme, crushed
1/2 teaspoon black pepper
1/2 teaspoon garlic powder
1/2 teaspoon onion powder
1 pound ground pork
For the Eggs
1 tablespoon Clarified Butter or ghee
8 large eggs
Kosher salt and black pepper
12 butter head lettuce leaves
Whole30-compliant pico de gallo or hot sauce
Chopped avocado (optional)
Fresh cilantro leaves (optional)
Make the Sausage
IN a large bowl, combine the apple cider, salt, chipotle, sage, thyme, black pepper, garlic powder, and onion powder. Add the ground pork and use your hands to thoroughly mix in the seasonings.
IN a large skillet, cook the sausage over medium-high heat until browned, using a wooden spoon to break up the meat into small pieces as it cooks. Use a slotted spoon to transfer the sausage to a bowl. Pour off any fat remaining in the skillet and wipe out the skillet.
Make the Eggs
SET the skillet in which you cooked the sausage over medium heat and add the butter. In a medium bowl, whisk the eggs just until the yolks are broken. Pour the eggs into the skillet. Cook, stirring often, until they reach the desired doneness. Season with salt and black pepper.
DIVIDE the sausage and eggs among the lettuce leaves. Top with pico de gallo and, if desired, avocado and cilantro.
Post photography by Brent Herrig
Find The Whole30 Cookbook Wherever Books are Sold
THE WHOLE30 COOKBOOK
More than 150 Delicious and Totally Compliant Recipes to Help You Succeed with the Whole30 and Beyond
Still think the Whole30 is a diet? Not with recipes like these.
In this cookbook, best-selling author and Whole30 co-creator Melissa Hartwig delivers over 150 all-new recipes to help readers prepare delicious, healthy meals during their Whole30 and beyond.
Whether you've done the Whole30 once or five times—or just want to make a variety of satisfying, nourishing meals—this book will inspire you to change your life in 30 days with the Whole30 program.
Say good-bye to mundane meals with The Whole30 Cookbook. These mouth-watering recipes will help you reset your health while filling your life with delicious good food." — DANIELLE WALKER, New York Times best-selling author, Against All Grain and Meals Made Simple
DETAILS
Purchase: Amazon , B&N , Indie Bound , Powell's , BAM , Hudson , Indigo , Amazon.ca , Amazon.uk , iBooks