These plant-based tacos are such a delicious, easy meal win! They take only 20 minutes to make and are full of flavor. Not only are they vegan, but they are also gluten-free, dairy-free, and nut-free as well. Perfect for whoever is coming to your table.
Ingredients
We combined canned jackfruit and black beans for these tacos. Jackfruit can have a similar texture to pulled pork, making it perfect for tacos. Plus, we added black beans for a boost of protein.
We love using our simple and budget-friendly Whole30 Homemade Taco Seasoning for these. If you do, you will omit the salt from the taco seasoning recipe, as the vegetables in this recipe are already salted. However, you can use one packet of whatever compatible taco seasoning is accessible to you. Whole30 Approved Siete Foods Taco Seasoning is a great pre-made choice you know is compatible with your Whole30.
Also, we highly recommend the Avocado Mango Salsa. Though you can use whatever salsa you desire, this Avocado Mango Salsa is restaurant quality. Absolutely delicious and really brings your tacos to the next level.
What is jackfruit?
Jackfruit is a tropical tree fruit. For plant-based dishes, it's often used in it's unripe form. This is due to its unique ability to imitate the texture and appearance of shredded meat. However, ripe jackfruit is sweet, has a tropical flavor, and does not have that same texture. Thus, for this dish you need unripened or "young" canned jackfruit. We were able to find it at our local natural food store.
The jackfruit will come in large chunks in the can. Drain the water and rinse if the jackfruit was canned in a liquid besides water. See the recipe for two different methods you can use to shred the jackfruit.
How to serve them
No tortillas or tortilla imitations are allowed on Whole30. You can read the Plant-Based Whole30 Rules here. So, we love our tacos as a salad or in lettuce cup "shells." Butter lettuce can be especially good for this, as the leaves are nicely curved and slightly flexible. You can also enjoy this dish on top of a bed of lettuce with our Plant-Based Ranch or Chipotle Ranch.
Substitutions
You can use an equal amount of another canned bean, if you prefer, instead of the black beans.
You can use water instead of vegetable broth, if needed.
Jackfruit and Black Bean Tacos with Mango Avocado Salsa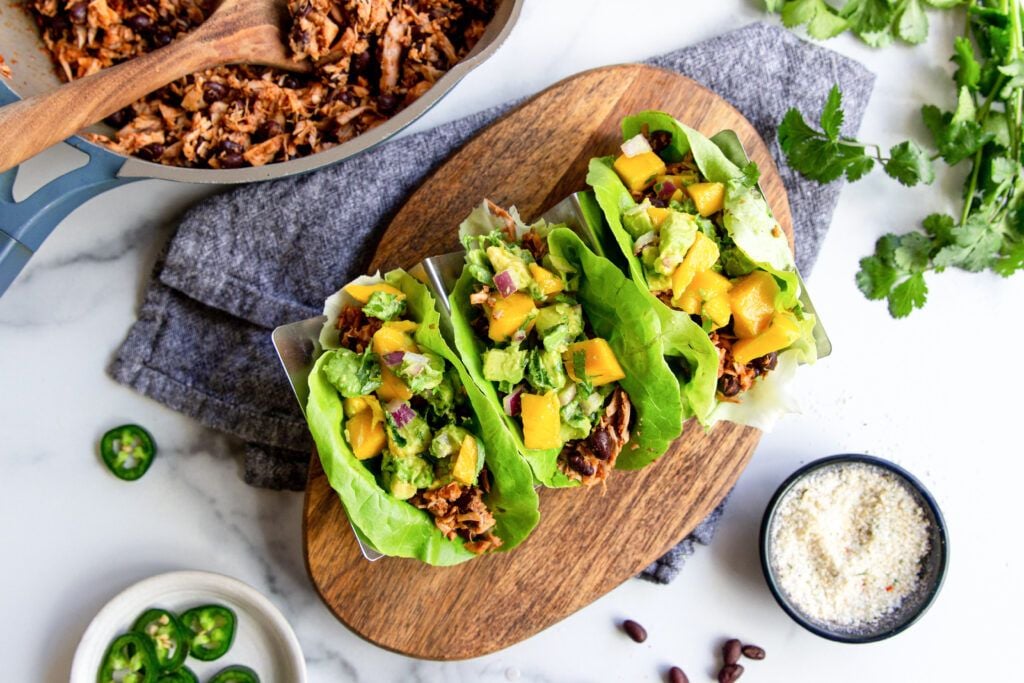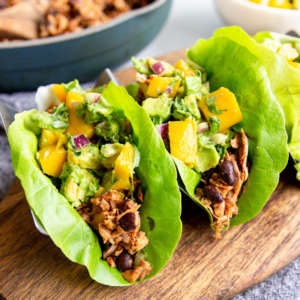 Jackfruit and Black Bean Tacos with Mango Avocado Salsa
Try these Jackfruit and Black Bean Tacos for a restaurant-worthy Plant-Based meal that whips up in a snap!
Ingredients
Tacos
2

(14 oz) young jackfruit

drained and rinsed

1/4

cup

olive or avocado oil

1

can (15 oz) black beans

drained and rinsed

1

packet taco seasoning

1/2

cup

vegetable broth

Juice of 1 medium lime
Avocado Mango Salsa
1

large mango

peeled and diced

1

large avocado

peeled and diced

2

tbsp

finely chopped red onion

2

tbsp

finely chopped cilantro

2

tbsp

lime juice (about the juice of one medium lime)

1

tbsp

finely chopped jalapeno

1/4

tsp

salt
Optional for serving:
butter lettuce leaf cups

Plant-Based Ranch or Chipotle Ranch
Instructions
SHRED drained jackfruit. You can do this one of two ways:

In a bowl, shred with your hands the jackfruit. Any parts that won't shred, set aside and then finely chop. Or, in a large food processor, add drained jackfruit. Pulse 3-4 times to shred and finely chop it. Just be sure not to overprocess it, or you will just have jackfruit mush.

HEAT oil in a large saucepan over medium heat. Add shredded jackfruit and black beans. Top with taco seasoning, broth, and lime juice, and stir until combined.

SIMMER for 10 minutes, stirring regularly. Liquid should be absorbed.

MAKE Avocado Mango Salsa by combining all salsa ingredients in a medium bowl.

SERVE tacos in lettuce leaves, topped with salsa and optional Ranch or Chipotle Ranch. Enjoy!