These 5 Plant-Based Whole30 Tacos will shake up taco night in the best way! Tacos are the perfect anytime meal because they offer endless flavor combinations and can be customized to suit any dietary preference. Whether you're following the Plant-Based Whole30 program, living your Food Freedom, or simply looking for plant-based taco options, these recipes are a great addition to your repertoire.
While traditional or alternative-flour tortillas aren't Plant-Based Whole30-compatible, it's never been easier to wrap up your favorite taco fillings. Thinly sliced jicama "shells," lettuce wraps (use butter lettuce and Swiss chard leaves for maximum pliability), and compatible coconut wraps are all easy options. These alternatives provide a refreshing twist while still allowing you to enjoy the flavors and textures of tacos.
Let's taco-bout protein.
With endless filling options, you can always keep your plant-based tacos game fresh — just make sure you get plenty of protein to keep you fueled and satiated. We recommend aiming for a minimum of 15 grams of protein from one or more protein sources over the course of four meals. Our primary protein sources include legumes (beans, lentils, peas) and whole or minimally processed forms of soy like edamame, tofu, and tempeh. Abbot's Butcher "beef" and "chorizo" are both minimally processed AND Plant-Based Whole30-compatible for those seeking a tasty meat alternative. Nuts and seeds provide additional protein (and a delicious crunch!) to complement your primary protein source(s). Note that while many varieties of refried beans are Whole30-compatible, not all are plant-based, so check the label to ensure you're avoiding animal products and sneaky ingredients.
Now, let's dive into those tantalizing plant taco recipes, shall we?
Sweet Potato Chickpea Tacos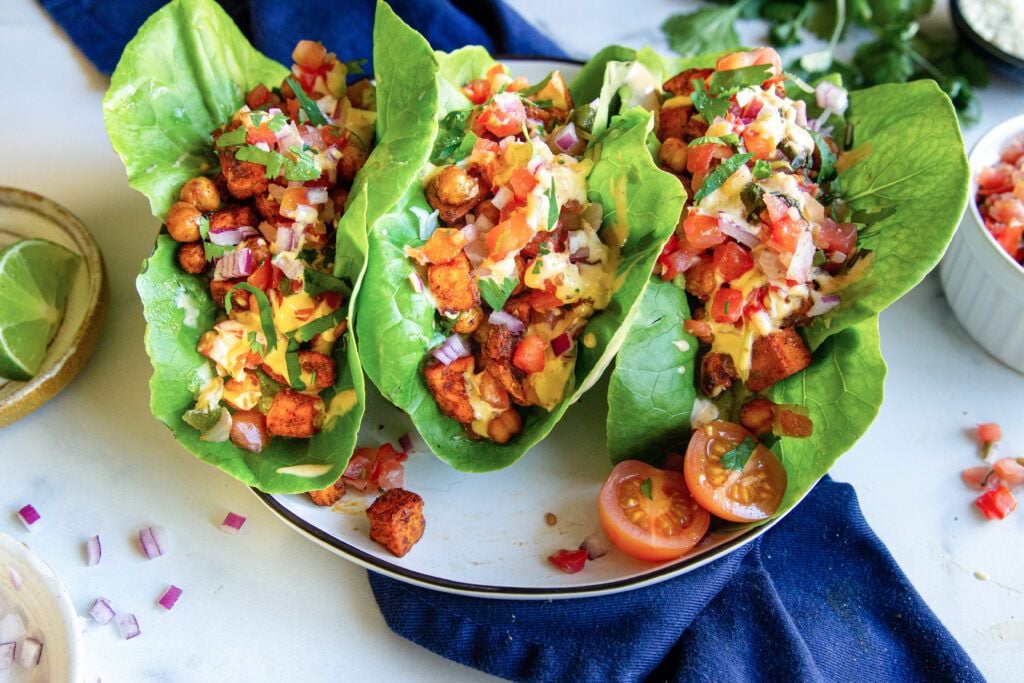 Enjoy layers of flavors in these lettuce-wrapped tacos. First, we roast canned chickpeas, and sweet potatoes seasoned with taco seasoning. Then, pile on guacamole, pico de gallo, diced red onion, and cilantro. Finish with a drizzle of our Plant-Based Chipotle Ranch, and your Taco Tuesday just got even better!
Jackfruit and Black Bean Tacos with Mango Avocado Salsa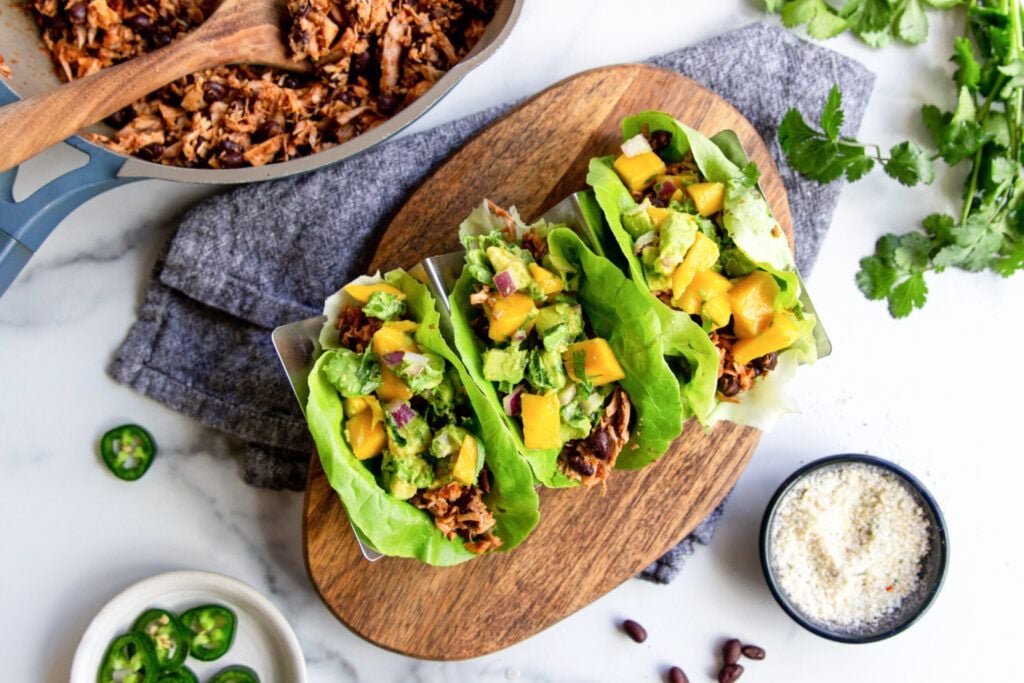 We combined canned jackfruit and black beans for these tacos. Jackfruit can have a similar texture to pulled pork, making it perfect for tacos. Plus, we added black beans for a boost of protein. Top it all off with a refreshing Mango Avocado Salsa, and you've got a delightful combination of flavors and textures.
Jerk Jackfruit Tacos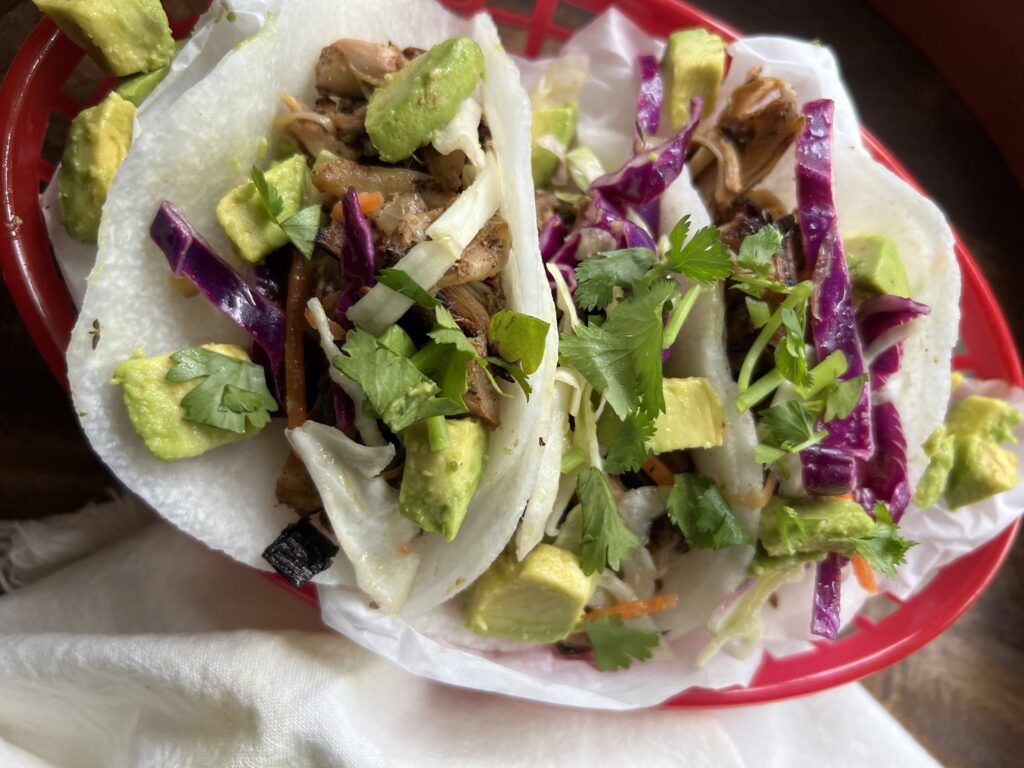 Paired with a simple slaw, these Jerk-Seasoned Jackfruit Tacos boast big flavor — in little time. Transport your taste buds to the Caribbean with the aromatic blend of jerk seasoning and the tender texture of jackfruit. These tacos are a perfect balance of heat and sweetness!
We didn't shell you out on this one.
Plant-Based Whole30 Tostone Tostadas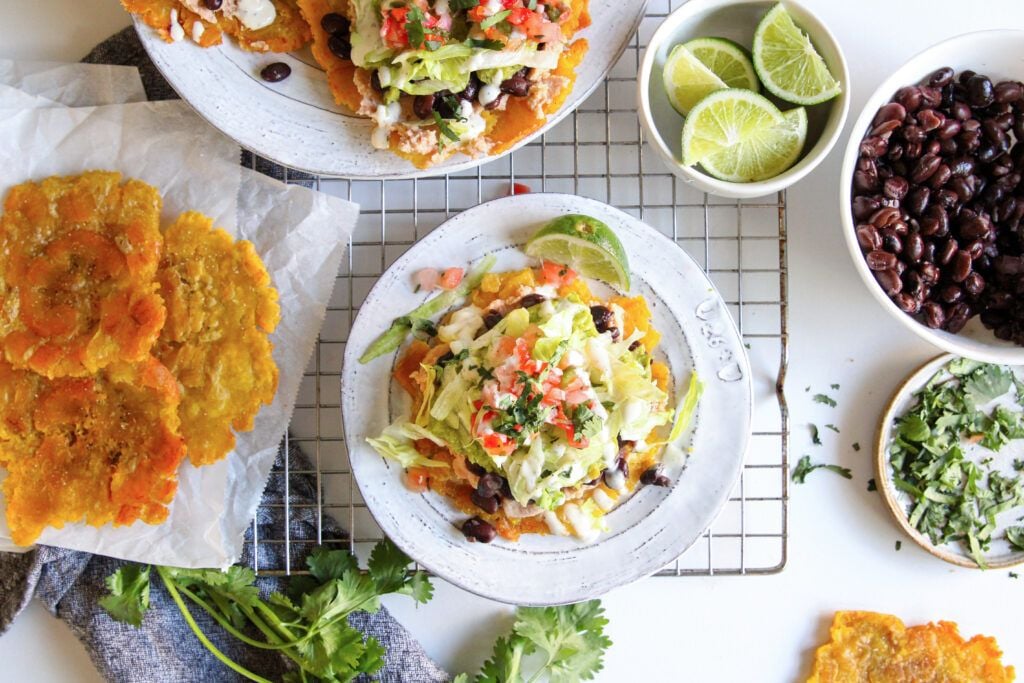 Tostadas are an open-faced taco with a crispy base, and well worthy of being included in this lineup! Instead of the traditional fried corn tortilla, we use smashed, twice-cooked plantains as the crunchy platform. A crowd-pleasing, fun way to shake up taco night!
Plant-Based Whole30 Chorizo Wraps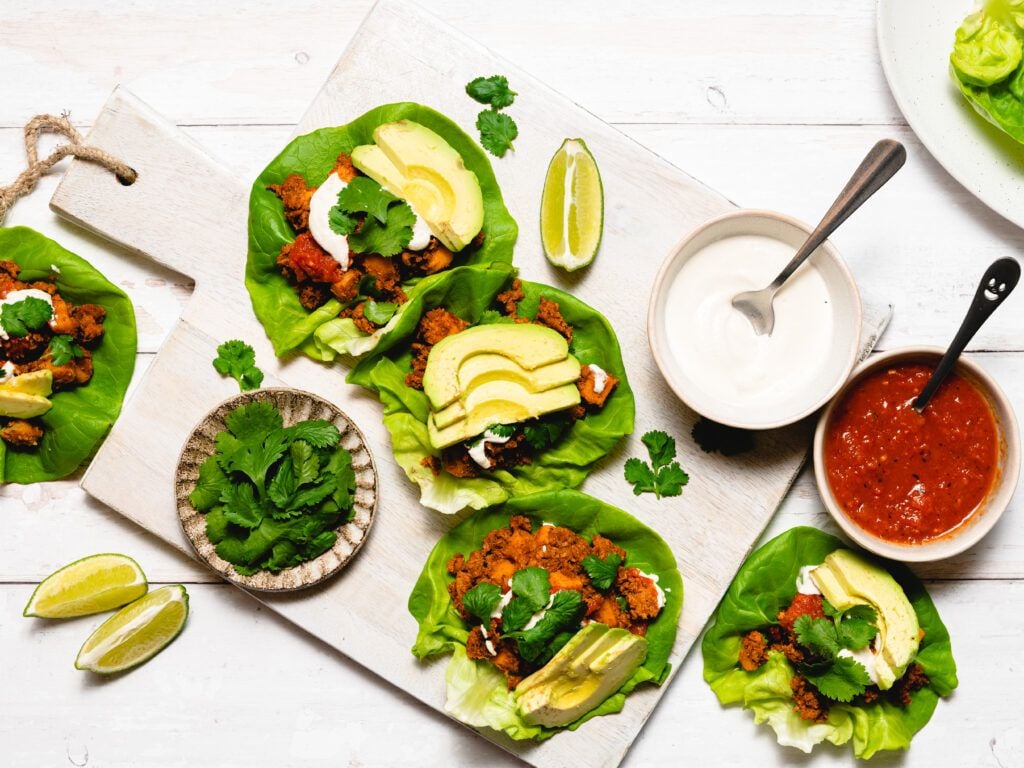 This Plant-Based Chorizo Wrap combines silky butter lettuce with smoky Abbot's Butcher "Chorizo" and plant-based sour cream for a flavorful and filling anytime meal. From prep to table in less than 15 minutes!
---