Sheet pan meals are a favorite for their minimal prep and ease of getting dinner on the table and this Whole30 Roasted Salmon Sheet Pan meal is no exception! Simple ingredients keep this fast and not only gluten-free and dairy-free, but nut-free as well. A restaurant-level Whole30 meal without a lot of time in the kitchen!
No fancy seasonings needed here, just a delicious marinade to bring the subtle sweet yet tangy flavor. The salmon is marinated in our Whole30 Elderberry Vinaigrette, which you can purchase here, or your favorite berry dressing of choice. No need to marinate overnight, after just 30 minutes it's ready to put on a sheet pan. Pair the salmon with asparagus, drizzled with oil, and seasoned with salt and pepper. Both the salmon and the veggies have fast roasting time, making the cook time around 10 minutes, depending on the thickness of your salmon filets.
This roasted salmon sheet pan meal is not only easy and delicious, but it's also beautiful thanks to the bright and tangy grapefruit slices. The natural sugars in the grapefruit caramelize and the grapefruit flavor intensifies as it roasts, adding a brightness and freshness to both the salmon and asparagus. Don't skip the broiling step at the end of the recipe to really bring out the colors in the asparagus.
We love how salmon cooks quickly and yields a tasty flaky texture. That pairs perfectly with how quickly asparagus roasts to fork-tender yet crispy spears. We rounded out the dish with some potatoes, sliced and tossed with olive oil and salt, and air fried while the sheet pan roasted.
Love sheet pan meals? Check out this Balsamic Chicken Sheet Pan Meal!
Substitutions:
Use 1/4 cup of your favorite berry dressing instead of the Elderberry Vinaigrette.
Use Brussels sprouts instead of asparagus, ends trimmed, and cut in half.
Roasted Sheet-Pan Salmon with Grapefruit and Asparagus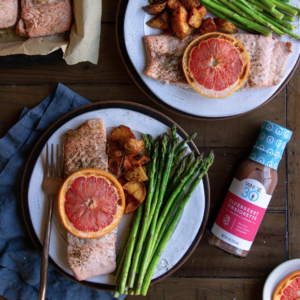 Roasted Sheet-Pan Salmon with Grapefruit and Asparagus
Ingredients
4

salmon fillets (1½ pounds total)

1/4

cups

WHOLE30 Elderberry Vinaigrette

3/4

tsp

coarse salt

1/2

tsp

freshly ground black pepper

1

tbsp

extra-virgin olive oil

1

lb

asparagus, woody ends trimmed

1

pink or ruby red grapefruit, ends trimmed and thinly sliced
Instructions
IN a large resealable plastic bag, combine the salmon and WHOLE30 Elderberry Vinaigrette. Seal bag and turn to coat salmon. Marinate in the refrigerator at least 30 minutes or up to 1 hour.

PREHEAT oven to 425°F. Remove salmon from the marinade; discard the marinade. Place salmon on one half of a large parchment-lined rimmed baking sheet. Season with ¼ teaspoon each of the coarse salt and black pepper. 

PLACE asparagus on the other half of the prepared baking sheet. Drizzle with the olive oil and season with the remaining 1/2 teaspoon salt and 1/4 teaspoon black pepper. Toss to coat; arrange in a single layer. Place grapefruit slices on salmon and asparagus.

ROAST salmon until it flakes easily when tested with a fork (4 to 6 minutes per half-inch thickness), and asparagus and grapefruit are tender.* Cut around grapefruit rind and serve on top of salmon and asparagus. 

*For a pretty presentation, after baking turn your oven to broil. Place the baking sheet under the heat and broil until the grapefruit is lightly charred, about 1 minute.