These Whole30 Italian Meatball Skewers are our gluten-free, dairy-free take on a comfort food classic — in portable form! You can make these in the oven, but we love using our air fryer for quick, even cooking. The air fryer helps keep the meatballs super moist and juicy, and putting the meatballs on a skewer makes them a fun handheld dinner protein or appetizer.
Traditional meatballs use breadcrumbs to keep them tender and juicy. As Whole30 is grain-free, that's not an option, so we looked for other ways to prevent them from drying out.
Here are a few tips:
Use meat with higher fat content. We do so in this recipe by using a mixture of 80% ground beef and ground pork.
Use finely minced onion – a moisture-inducing ingredient.
Don't over-mix – the more you mix the meat, the tougher your meatballs will be.
Keep your meatballs at least 1 inch in size or bigger. Also, try to make your meatballs all the same size so they will cook at the same rate. A metal cookie scoop can be perfect for this! We used a 1 ½ tablespoon one for this recipe.
Air fry your meatball skewers! Air frying is a great way to keep meat juicy while cooking.
How to eat them:
We love our Italian Meatball Skewers served with a side of Whole30 Marinara Sauce for dipping. If you prefer a classic "spaghetti and meatballs" type meal, you can use any spiralized vegetable for "noodles," such as spiralized zucchini (usually called "zoodles"), carrots, or sweet potatoes. Spaghetti squash is also naturally spiralized once cooked and is a great Whole30 vegetable "noodle" option.
Are spiralized vegetable "noodles" allowed? Yes! You can read more about the reason why in our "Can I Have" document here.
Italian Meatball Substitutions:
You can use all ground beef instead of the half beef half pork mixture. We just enjoyed the full flavor the half/half combination created.
EGG-FREE: Substitute a ¼ cup mashed potatoes or a flax egg instead of the egg.
NUT-FREE: Use ¼ cup mashed potatoes instead of the almond flour
EGG- and NUT-FREE: Use ½ cup mashed potatoes total instead of the egg + almond flour.
You can use 1 teaspoon onion powder instead of the minced onion, but keep in mind the fresh onion helps keep these meatballs juicy.
Whole30 Italian Meatball Skewers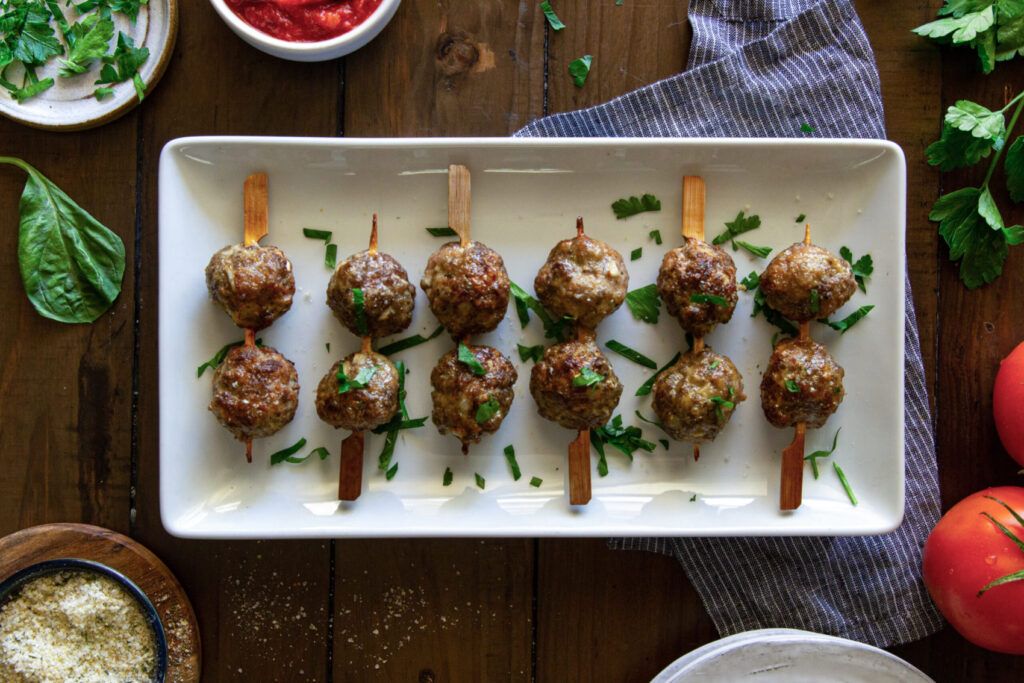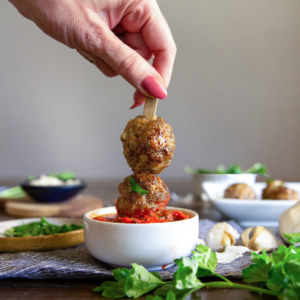 Whole30 Italian Meatball Skewers
Ingredients
1/2

lb

ground beef (80% lean)

1/2

lb

ground pork

1/4

cup

finely chopped fresh onion

1

egg

1

tsp

salt

1

tsp

garlic powder

1

tsp

Italian seasoning

1/2

tsp

pepper

1/4

cup

almond flour
Instructions
COMBINE all ingredients in a medium bowl, remembering not to overmix. We usually do this step with our hands. Shape into 20, roughly 1 ½ tablespoon meatballs.

AIR FRY in a single layer at 375 °F for 8-10 minutes or until cooked through and browned.

Or BROIL in the oven on a rimmed baking sheet lined with parchment and a cooling rack set inside for 10-12 minutes, until browned, flip and then broil the other side for 2-3 minutes.
Autumn Michaelis
Recipe Creator | Whole Food for 7
Autumn Michaelis is an ACSM Certified Exercise Physiologist, with a B.S. in Exercise Science from BYU. Though exercise was her first love in the health world, nutrition has become her passion. She created the blog Wholefoodfor7, sharing easy and budget-friendly Whole30, Paleo, and gluten-free + dairy-free recipes for families. In August 2022, Autumn released the newest Whole30 Endorsed cookbook, Whole Food for Your Family. She is mom to 5 boys (yes 5!) and when not in the kitchen can be found adventuring, hiking, and tearing up the dance floor.