Mocktails are more than just non-alcoholic versions of your favorite cocktails. They are an innovative and fun way to enjoy complex flavor combinations inspired by warm-weather months' sweet, natural bounty. These refreshments are great alternatives for anyone seeking healthier drink options or wanting to reduce their alcohol intake.
To elevate this concept, we've transformed some classic libations into Whole30-compatible mocktails! As such, these beverages are crafted from wholesome ingredients, devoid of added sugars or processed ingredients, perfectly aligning with the Whole30 ethos.
A foolproof method for food pairings.
When it comes to pairing your mocktails with meals, consider the principle, "If it grows together, it goes together." Flavors that originate from the same region often have a natural affinity for each other, creating a harmonious dining experience.
Whole30 Pina Colada Mocktail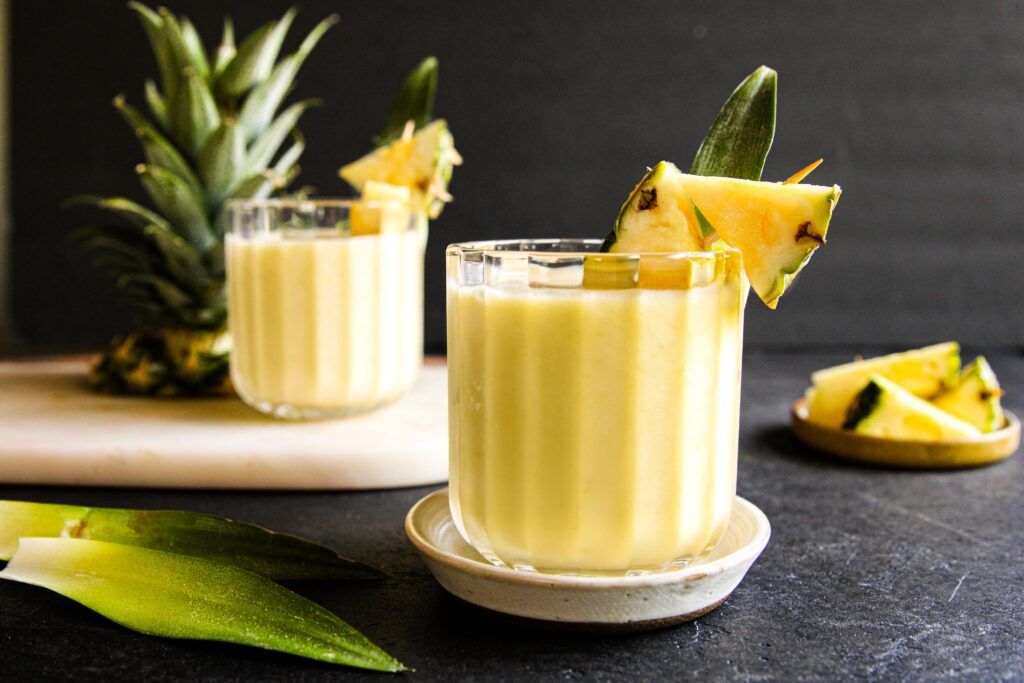 The original Piña Colada is an iconic drink that hails from Puerto Rico, where the fusion of pineapple, coconut, and rum embodies the tropical vibe.
Our Whole30 Pina Colada Mocktail achieves its classic, creamy-sweet consistency with frozen pineapple and banana blended with pineapple juice, coconut cream and apple juice.
For a fantastic pairing, stick with Caribbean cuisines, such as grilled fish or chicken with a tangy, citrus marinade. The cooling properties of the coconut and the sweet-tart pineapple can also offer a fantastic counterpoint to the fiery flavors of spicy grilled shrimp and jerk-seasoned dishes.
Suggested Whole30 Pairings:
Whole30 Strawberry Daiquiri Mocktail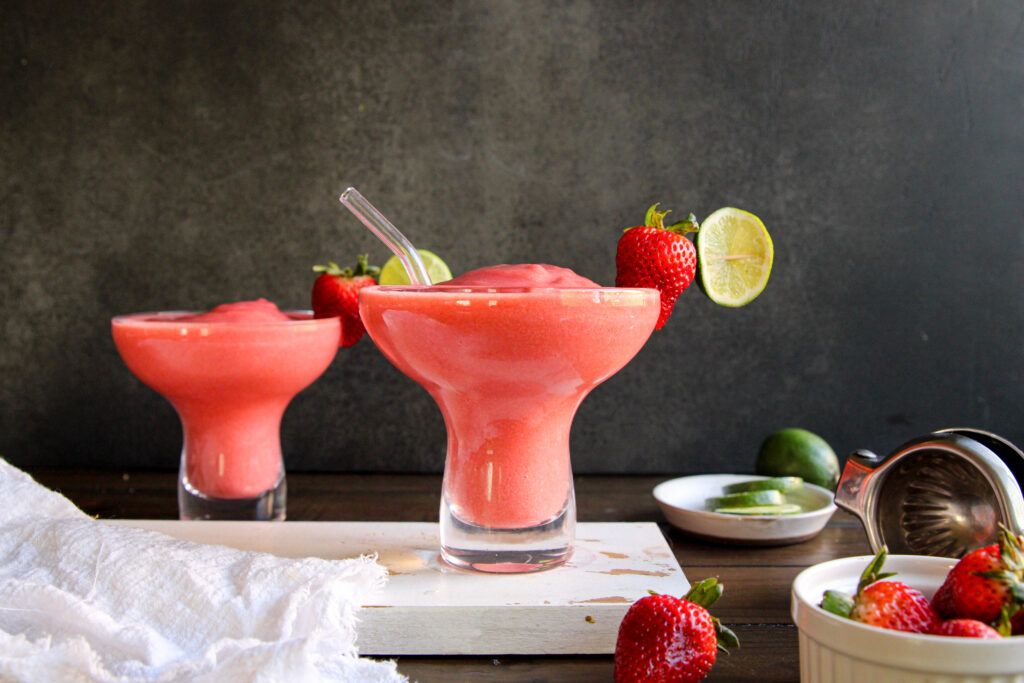 The Strawberry Daiquiri's roots lie in the beautiful island nation of Cuba. Traditionally, this cocktail involves a delicate blend of rum, lime juice, and strawberries. To keep our Strawberry Daiquiri Mocktail aligned with Whole30 principles, we remove the rum and replace it with berry sparkling water, adding an effervescent touch to the bright strawberry flavor.
With its Cuban roots, this daiquiri mocktail is another perfect companion for Caribbean food. Its fresh and tangy flavor profile also complements the mild flavors of light dishes like grilled fish or chicken salads.
Suggested Whole30 pairings:
Whole30 Paloma Mocktail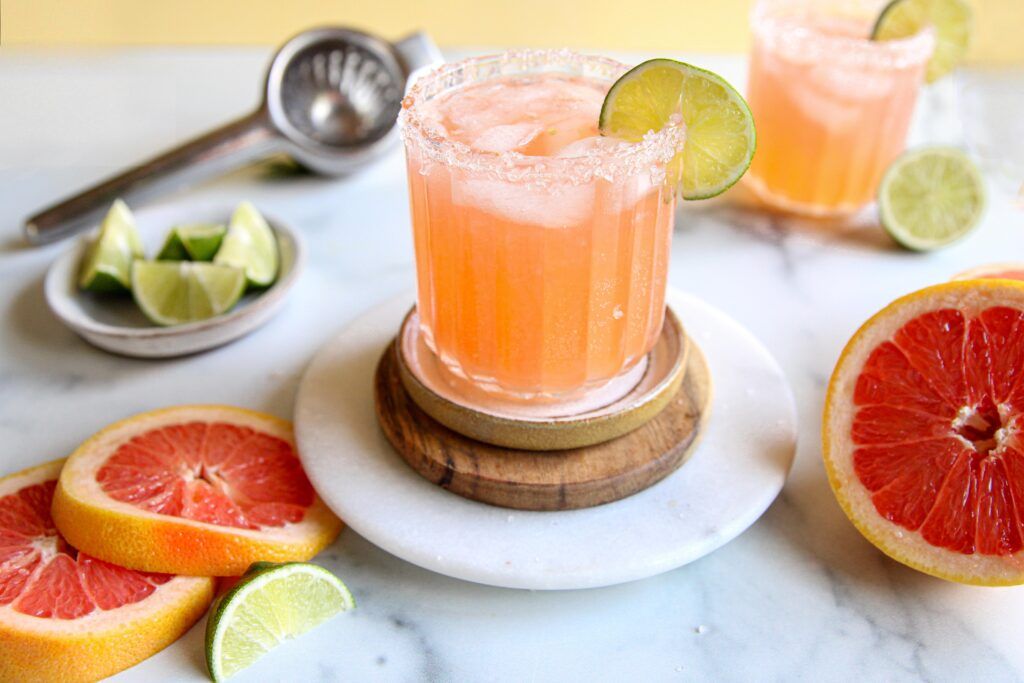 The Paloma, one of Mexico's beloved cocktails, traditionally combines tequila with grapefruit, making for a tangy and zesty refreshment. In our Whole30 Paloma Mocktail, we maintain the signature tartness of grapefruit and lime, replacing the tequila with grapefruit sparkling water for a delightfully fizzy and refreshing drink.
This Paloma mocktail pairs particularly well with Mexican cuisine. It complements the rich, robust flavors of dishes like tacos, fajitas, or enchiladas, providing a zingy contrast that will surely tantalize your taste buds.
Suggested Whole30 pairings:
---
These Whole30 Mocktails are not just healthy alternatives but culinary experiences in their own right. So why not give them a try? Enjoy the vibrant flavors of your favorite summer celebratory sips, without any pesky side effects. Cheers to healthier, refreshing, and delightful drink options!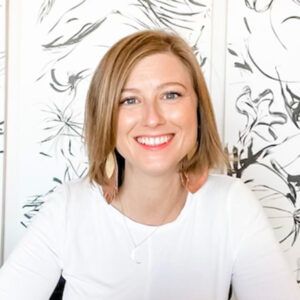 Liz Parrent
Senior Manager, Whole30 Recipes
Liz Parrent is Whole30's Senior Manager, for Whole30 Recipes content.She comes to Whole30 with over a decade of CPG and content marketing experience in the health and wellness space. Having been a part of Primal Kitchen's founding and pre-acquisition team, Liz holds a deep passion for the Whole30 community and the transformative power of a whole foods-focused lifestyle.